An online inclusive dance class using a universal design approach.
About this event
Get Ready to Dance!
Instructors and Occupational Therapists from The Dance Ability Movement will provide an inclusive dance class using a universal design approach. Dancers will be led through a variety of dance based activities that explore creative movement and expression using the Elements of Dance. Each class will offer time to connect with others, learn choreographed dances, explore new movement patterns, and of course involve some freestyle and improvisation opportunities for dancers to show us how they can move and groove! The Dance Ability Movement aims to create safe spaces where all dancers feel welcome and a sense of belonging to their group.
Adaptations to movements will be provided and seated options will be modelled where needed.
2 Dance Instructors will be present for each class.
Classes are limited to 15 participants.
Please let us know if you have any favourite songs that you'd like for them to incorporate in the classes!
The Dance Ability Movement is excited to build a new community with the BIAYR members to bring the joy of dance to more people!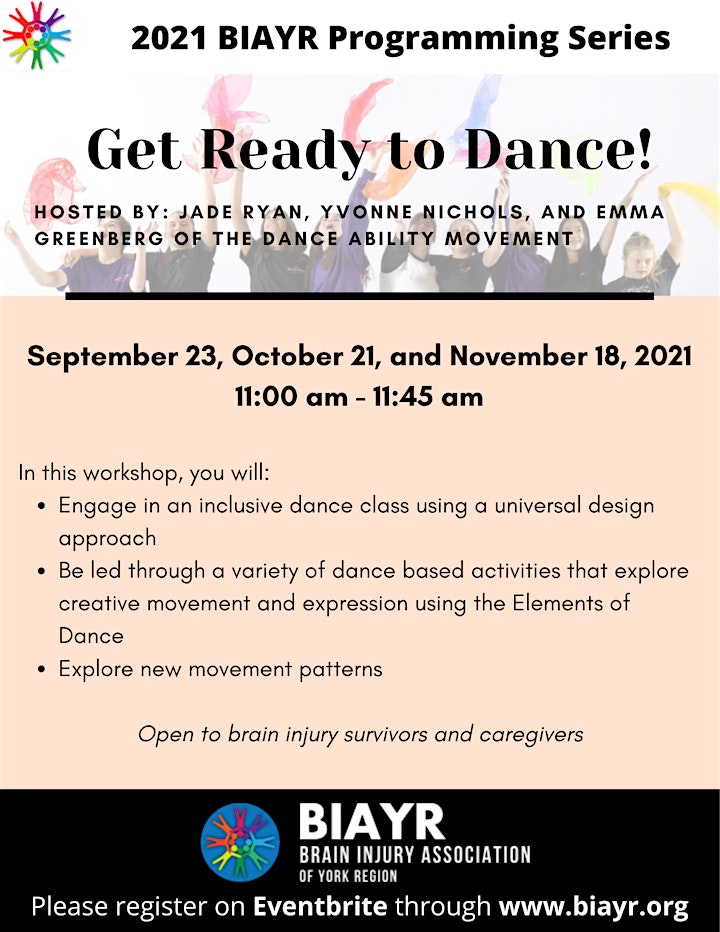 About Jade Ryan:
Jade is the Director of Inclusion & Operations and Co-Founder of The Dance Ability Movement. She is a registered Occupational Therapist and a certified dance teacher through the Canadian Dance Teachers Association. Jade has over 10 years experience teaching dance and has been working in the field of pediatrics and leisure occupations as an OT since 2013. Jade believes in a lifelong learning process and has completed professional development through obtaining the Rhythm Works Integrated Dance Instructor Certification, completing the National Ballet School's Teaching Dance in the Community course, becoming certified in Mental Health First Aid
Jade believes in building inclusive communities to connect everyone to foster health and well-being. Through dance, Jade is able to connect with others to show that everyone is worthy of FUN and to express themselves in a safe and supportive community! Jade will do anything for a shared smile!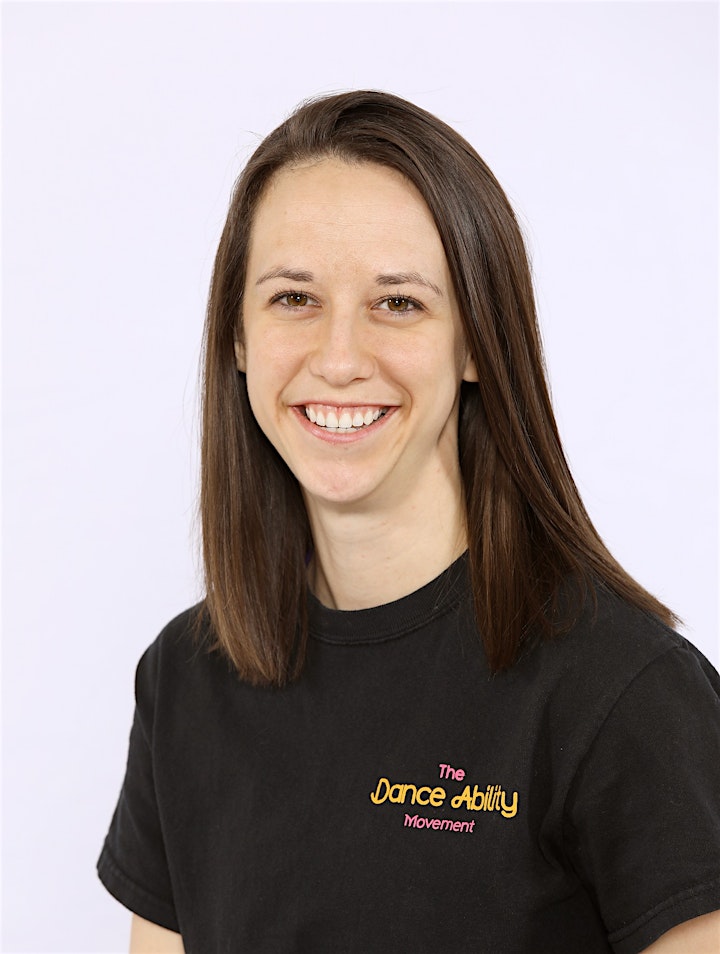 About Yvonne Nichols:
Yvonne holds a BFA with Honours in Dance from York University and is a graduate from Professional Training Program at the School of the Toronto Dance Theatre. While studying at York University, she took a course called Dance for Special Populations and was inspired to take her dance experience in the direction of dance for health. Upon graduation, she has been teaching adapted dance classes and continues to take workshops and courses to learn more about movement and health. Yvonne completed the Advanced workshop with Dance for Parkinson's, obtained Rhythm Works Integrated Dance Instructor Certification, studied Brain Compatible Dance Education with Anne Green Gilbert and recently completed the Personal Training Specialist course with CANFITPRO. Performing highlights include over 15 years with Famous PEOPLE Players, touring nationally and internationally, performing as a Highland and modern dancer and as an aerialist with Gravityworks.Yvonne firmly believes that we should all dance because it helps us live better in our bodies, regardless of challenges we are facing. There is always something for us to dance about!

About Emma Greenberg:
Emma is a certified dance teacher through the Canadian Dance Teachers Association, and has been teaching dance for almost 10 years. Emma is also a registered Occupational Therapist with experience working with children, teens & adults of all abilities. She has been able to combine her love for dance and supporting meaningful participation through OT by working with The Dance Ability Movement for the past 2.5 years as both an Occupational Therapist and dance instructor.
Emma believes that dance has the power to build community in unique ways, and that anyone can dance, anywhere and anytime!

Organizer of Get Ready to Dance! - 2021 BIAYR Programming Series