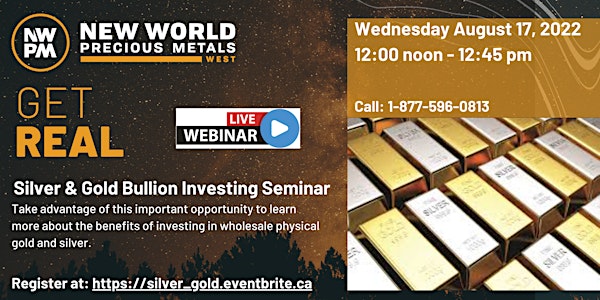 Get Real - Silver & Gold Bullion Investing Online Webinar
Take advantage of this timely opportunity to learn about the benefits of investing in wholesale gold and silver bullion.
About this event
We believe that wealth and financial freedom come from educated and wise decisions. Educate yourself and learn more about this opportunity and the importance of investing in precious metals in physical form in these uncertain times.
Let's study how a well diversified portfolio that includes precious metals in physical form outside the traditional financial system strengthens an investment portfolio and mitigates risk.
We will teach you how to acquire precious metals and show their potential returns in these changing economic cycles.
In this informative session we will talk about:
1) How registered accounts, RRSP/RESP/LIF/RIF etc., can be transferred penalty-free into physical gold & silver bullion.
2) Why are precious metals considered money and an insurance policy against inflation?
3) Why are central banks acquiring more gold and silver right now than in the last 50 years?
4) Why even governments have a percentage of their assets outside the banking system in physical precious metals holdings = true diversification.
5) Why are billionaires turning away from the stock markets and diversifying to gold and silver in numbers never seen before?
6) Why is this considered the best time to invest and own physical metals?
7) Why is silver considered "the best investment opportunity of the decade"?
8) How our unique platform offers the ability to hold insured, allocated & segregated physical metals at wholesale prices with instant liquidity or delivery on a phone call.
(Please note: We are a local, dedicated, precious metals investment firm. This is not an MLM nor pyramid company presentation. )