About this Event
Uplevel Solutions is bringing you our most loved workshop. Learn how to delegate to virtual assistants - perfect for freelancers, small business owners and solopreneurs.
It's time YOU had superpowers!
Join Uplevel Solutions as we demystify how to use virtual assistants to grow your small business.
Led by Uplevel Solutions founder, Katrina McKay, work through a practical worksheet and leave feeling ready to delegate your onerous admin work so that you can focus on what really matters in your business.
What you'll receive:
- exclusive access to a thought leader in outsourcing and delegation to virtual assistants
- worksheet to help you determine what to outsource and how to do it
- five complimentary virtual assistant hours to try out your new delegation skills!
Please note that you MUST attend the workshop to receive your five complimentary VA hours.
About Uplevel Solutions:
We help entrepreneurs and executives get their time back by freeing them from onerous administrative work. Our well trained and brilliant remote assistants are based in the Philippines and Haiti; two areas of the world where we look to create sustainable working opportunities for women and LGBT+ identified folks. Help us free you from crappy admin work — and do good in the world at the same time!
Visit us online - uplevelsolutions.com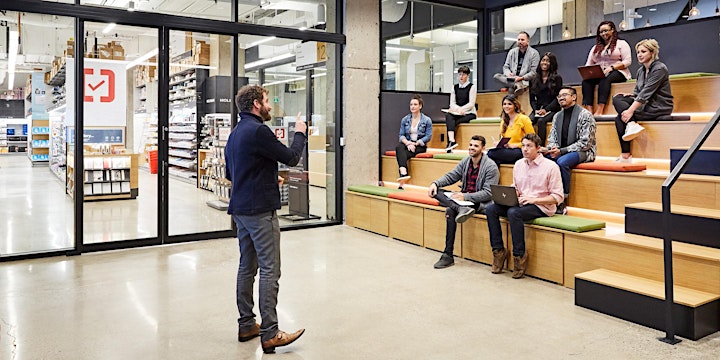 What is Spotlight?We know that staying up to date on today's big ideas and tomorrow's big trends is a job in and of itself.As the world's first working, learning and growing store – we are excited to be introducing Spotlight: a new community gathering and learning space. Spotlight will engage communities with knowledgeable experts to both inspire, inform, motivate and educate.
Spotlight is a space accessible to persons that use mobility devices. We encourage people from all backgrounds to participate in our public programming