Description
Have you ever had a burning idea for a startup, but never started? Maybe you didn't know where to start, or you weren't sure if it was really worthwhile.
This class is for you. You'll learn the skills necessary to act on meaningful, innovative business ideas. Through a series of short lectures and simple exercises, we teach you how to launch your idea into what's called a Minimum Viable Product. The MVP is the bare-minimum product you build so you can start marketing the idea to see if people would actually be interested in it!
---
Join us August 15th, 2016 for Calgary's newest Startup Fundamentals Workshop. Learn the strategy, philosophy and tools for launching that new business with our 3-day introductory course. No development experience required!
Where: Work Nicer Coworking Space (630 8th Ave SW)
When: August 15th, 17th, 19th (Monday, Wednesday, Friday)
Two sessions per day:
Morning session - 10am to 12pm

Evening session - 6pm to 8pm

What you get from the workshop:
Gain access to experts who collectively have backgrounds from Microsoft, Mithril Venture Capital, Signia Ventures, True Market, HubSpot and OneMonth.

Get three days of in-class learning on Startups, WordPress and Digital Marketing. Learn to map out your idea, launch a prototype, and build a business around it.

Setup your domain name and hosting, learn the fundamentals of WordPress with themes, and build your online brand with social media.
What does each day look like?
Each day you will learn about MVP principles, website design, and personal experiences of the ins and outs of a startup business. We're not going to talk about the abstract wonders of entrepreneurship. Rather, our sessions are organized around tactical advice on prototyping, aquiring customers, and setting up your tech startup. Below is a brief outline of what we will be accomplishing throughout the course.
Step 1 - Choose a domain and host provider, download WordPress to your computer, install Wordpress on your host provider and connect your WordPress account. Get familiar with WordPress and the custom GreyADV demo.
Step 2 - Follow a guided tutorial to create your website. Select a WordPress theme, add miscellaneous website details (author/organization details, meta tags for SEO/SMM, Google Analytics), create a site map to choose what pages will be on the website, update the website content (headings, body, pictures, add links).
Step 3 - Market your website! Now that your website is online, you need to get people to see it, so you can measure how interested people are in your idea. You'll learn digital marketing theory, and apply it right away to promoting your new website.
In addition, you will have access to experts who have both succeeded and failed throughout their journey, and can give you valuable advice. Below are snip-its of what you can expect to learn.
How to contact anyone on LinkedIn (and actually be successful in engagement)

How to bootstrap $10K in debt to selling your company

How to get PR for your startup

How solo, non-technical founder can start a 50+ person startup

How to create an app without a technical co-founder
---


Meet some of our experts: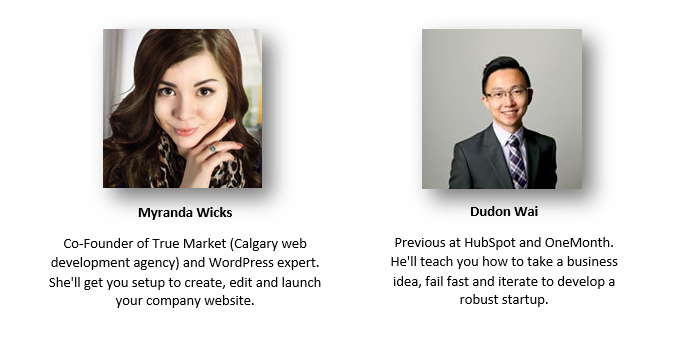 What to bring:
A laptop or computer

A mouse

Your creative ideas and desire to learn!

That's it! We'll set up everything else together in the workshop
Who should take this workshop?
Anyone interested in starting something new and on their own. This course is perfect for many levels from beginners new to websites and startups, to people looking to refine their skills with the newest technologies. As long as you're interested in learning to build an idea from the ground up, then your perfect for this course!
Why the price for the workshop?
The entire process of getting a website built professionally from the ground up would cost a fortune, and we are offering the chance to give your idea a try for a fraction of the price. Not impresssed? Not only do we offer such a great price deal, but we can teach you the skills to get it done in only 6 hours, which would normally take people 10x the amount of time.
Gain access to experts who collectively have backgrounds from Microsoft, Mithril Venture Capital, Signia Ventures, True Market, HubSpot and OneMonth.
These experts can provide you with the resources needed to get you started on your e-business which you can't get access to anywhere else.
---
If you're not overly satisfied with your experience at the workshop, we will happily refund you 100% of your ticket price.
Please send any questions and inquiries to d@greyadv.com we would love to hear from you
Interested to learn more? Check out our website www.greyadv.com
Organizer of Get Your e-Business Online in 6 hours