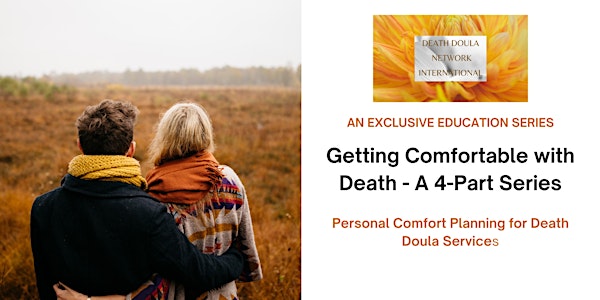 Getting Comfortable with Death - A 4 Part Education Series
AN EXCLUSIVE DEATH DOULA NETWORK INTERNATIONAL EVENT
About this event
Getting Comfortable with Death
Personal Comfort Planning for Death Doula Services
A 4 part intensive educational series focused on mindfully preparing for your Dying Experience that goes far beyond medical care.
This Education Series takes place over 4 weeks as follows:
Saturday, Jan 28th - 9 am to 12:00 pm (PT)
Saturday, Feb 4th - 9 am to 12:00 pm (PT)
Saturday, Feb 11th - 9 am to 12:00 pm (PT)
Saturday, Feb 18th - 9 am to 11:30 pm (PT)
Many people create advance care plans. Some design their funeral. Yet, often overlooked in the end-of-life planning process is mindfully preparing for your dying experience.
When her mum was diagnosed with an aggressive brain tumor, Chelsea Peddle of CircleSpace realized she needed to know more than just her mum's medical wishes; how could she care for her body, mind, heart, and soul? Together, they created Personal Comfort Wishes, the unique things that bring physical, emotional, and spiritual comfort through your final months and moments, such as:
feeling awed by nature
being transported to a happy memory with your favourite music or favourite foods
lovingly told what is happening even if you can't respond
divining a ritual to love
Through storytelling, personal reflection, and end-of-life visualization, you will discover creative ways to define your own personal comfort wishes, using My Personal Comfort Plan, a beautifully-designed guide with 7 inspiring and easy to use checklists.
By the end of this workshop, participants will be able to:
Define your own personal comfort wishes using the My Personal Comfort Plan eBook.
Explain the importance of personal comfort wishes in holistic advance care planning.
Define different approaches to personal comfort planning depending on what stage your client is in (pre-planning, terminal diagnosis, active dying).
Share creative ideas for how your client can find comfort from within themselves and with their loved ones and caregivers.
Confidently support your clients with My Personal Comfort Plan as a valuable tool in defining their own personal comfort wishes and communicating these with loved ones and care providers.

If you recently purchased My Personal Comfort Plan and hope to use it with clients then this is a workshop you'll want to attend.

My Personal Comfort Plan - ebook is included in your registration. For more information and to order printed My Personal Comfort Plan booklets you can purchase here.

THIS IS AN ENGAGING WORKSHOP REQUIRING ACTIVE PERSONAL INTERACTION WITH OTHER PARTICIPANTS. YOU MUST HAVE BOTH AUDIO AND VIDEO CAPABILITY AND BE WILLING TO HAVE YOUR CAMERA ON.
DDNI MEMBERS: $165 with promo code
NON-MEMBERS - $185
Your Hosts & Educators:
Jo-Anne Haun, End of Life Alternatives & Karen Hendrickson, Take the Journey