Getting Started with eCommerce/Introduction au commerce électronique
Getting Started with eCommerce/ Introduction au commerce électronique (EN ANGLAIS)
About this event
In this 2-hour virtual workshop, we'll help participants create their vision for eCommerce, learn the differences between eCommerce platforms vs. marketplaces, and understand the anatomy of great online stores.
Participants in this workshop will:
• Understand that fundamentals of the eCommerce Customer Loop™
• Use The Project Composer™ tool to create a vision for eCommerce and outline any challenges, fears, and obstacles they may have
• Learn the differences between an eCommerce Platform vs. Marketplaces and use a tool to understand what's a better fit (The Sell Planning Matrix™)
• Understand the anatomy of a strong eCommerce website and product listing
• Receive tips and best practices for getting started with eCommerce
*************************************************************************************************************
Dans cet atelier virtuel de deux heures, nous aiderons les participantes à concrétiser leur vision du commerce électronique, à apprendre les nuances entre les plateformes de commerce électronique et les marchés et à comprendre la structure des meilleures boutiques en ligne.
Les participantes à l'atelier :
• comprendront les notions de base de eCommerce Customer LoopMC;
• se serviront de l'outil The Project ComposerMC pour concrétiser leur vision du commerce électronique et souligner les difficultés, craintes et obstacles qu'elles pourraient avoir;
• apprendront la différence entre une plateforme de commerce électronique et un marché et se serviront d'un outil pour déterminer l'option qui leur convient le mieux (The Sell Planning MatrixMC);
• comprendront la structure d'un bon site Web de commerce en ligne et l'affichage des produits;
• obtiendront des conseils et des pratiques exemplaires pour lancer leur commerce en ligne.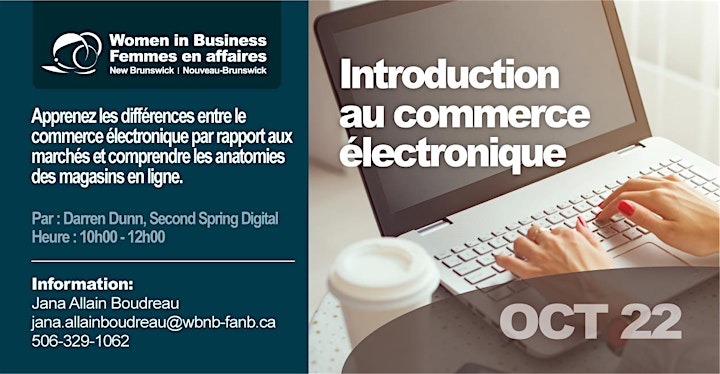 Organizer of Getting Started with eCommerce/Introduction au commerce électronique