Getting Through the Holidays: Honouring Grief and Loss
The holidays can be a difficult time. This free 2 day workshop will provide space for us to explore and process our grief and loss
About this event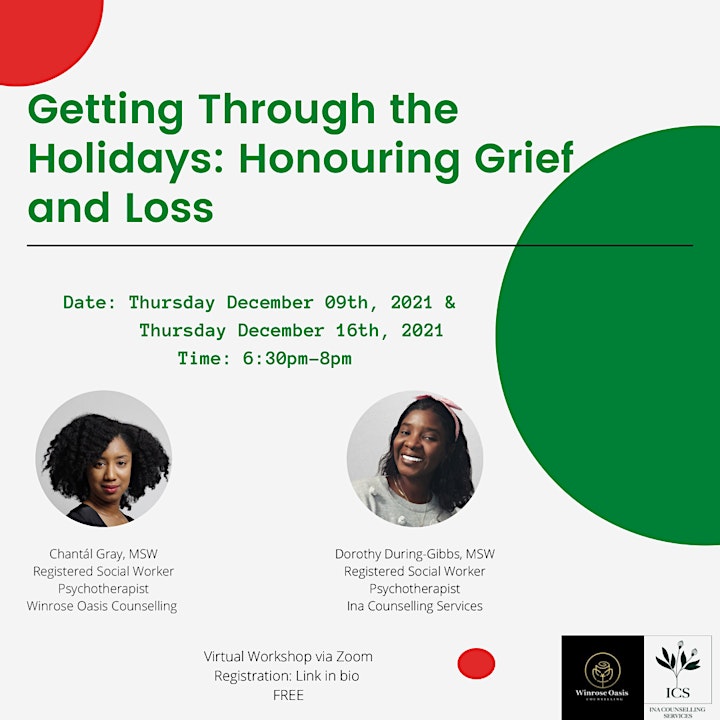 The intention of this 2-day workshop is to create community, a supportive space and to provide coping strategies to help us explore and express our feelings and emotions of grief and loss during the holidays.
This group is free and is open to the community - with limited space
Registration to this workshop means providing consent to confidentiality if people choose to share their stories
About the Facilitators:
Chantal Gray is a Registered Social Worker, Psychotherapist and Co- Founder of Winrose Oasis Counselling Service. Chantal is passionate about working with individuals, youth, and families by focusing on their strengths and resilience. Chantal works from a client centered approach and aim to provide a space for individuals to be heard and supported while working through discomfort or challenges.
Dorothy During-Gibbs is a passionate Registered Social Worker, Psychotherapist and Founder of Ina Counselling Services with over 8 years of experience working with youth and families of all ages and backgrounds. Dorothy believes in fostering a safe and brave space that welcomes vulnerability, self-compassion and authenticity to all individuals, and that healing & growth can be found through human connection.
If you need any accommodation please let us know.
Organizer of Getting Through the Holidays: Honouring Grief and Loss