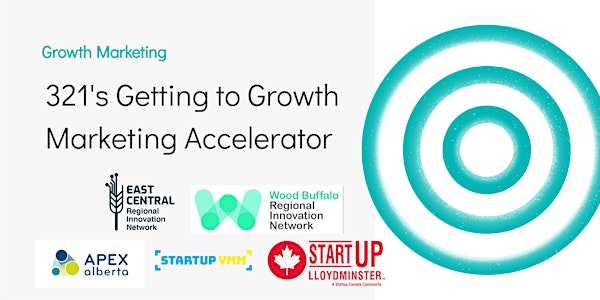 Getting to Growth Marketing Accelerator Spring 2022
"Getting to Growth" Marketing Accelerator brought to you by the East Central RIN, Apex Alberta and Wood Buffalo Regional Innovation Network.
Date and time
Starts on Wednesday, April 20, 2022 · 1pm PDT
Refund Policy
Contact the organizer to request a refund.
Eventbrite's fee is nonrefundable.
About this event
321 Growth Academy's Getting to Growth Marketing Accelerator course, exclusively for companies supported by Startup Lloydminster, Apex Alberta and Startup YMM.
What's 'Getting to Growth ' all about?
"Getting to Growth" Marketing Accelerator is our in-depth course for founders and their team members. Throughout the course, you'll learn the fundamentals of marketing, as well as how to run great marketing campaigns – all while applying what you learn to your business in real-time.
Outcomes include:
Clearly define your marketing audience – your target market, segments and customers
Develop key marketing messages
Understand the basics of branding
Understand the different types of marketing campaigns and tactics – and where they are best used
Learn our framework for designing and executing marketing campaigns
Learn an agile approach to planning your own marketing campaign
Workshopping and discussion with your fellow participants and instructor on your real world marketing tactics throughout the course; including joining a small group ride-along for more personal feedback and discussion
An online Demo Day where we celebrate your progress with a few select guests from the community – including investors and community leaders – and you can win some sweet prizes
How is the course delivered?
The course is a combination of online learning with live, interactive sessions on Zoom with 321 experts.
But this is not your typical online class – it's highly structured, to ensure you make rapid progress each and every week.
Each week, you'll self-drive through some online content to learn key concepts, and apply what you're learning by completing the worksheets provided.
Then, we meet online (hello Zoom!) for an hour each week to discuss those key concepts in more detail, share examples, answer your questions, review your own progress, and give you a chance to learn from your peers in the cohort.
On top of that, companies get a small-group session to receive additional coaching and feedback.
What's the investment?
Check with your supporting organization for a promo code - there are full ride scholarships available.
Regular investment is $1,599 + taxes and fees
And here's the schedule of marketing fun!
We'll hit the gas on April 20th, 2022, and each week thereafter, we'll release a chapter of the course for you to dive into, until our Demo Day on June 22nd. We'll have a series of live sessions on Wednesdays from 2pm-3pm MST.
Live session dates as follows:
Kickoff: Wednesday, April 20th 2pm-3pm MST
Sess. 1: Wednesday, April ``27th 2pm-3pm MST
Sess. 2: Wednesday, May 4th 2pm-3pm MST
Sess. 3: Wednesday, May 11th 2pm-3pm MST
Small Group Sessions - Week of May 16th
Sess. 4: Wednesday, May 25th 2pm-3pm MST
Sess. 5: Wednesday, June 1st 2pm-3pm MST
Sess. 6: Wednesday, June 8th 2pm-3pm MST
Sess. 7: Wednesday, June 15th 2pm-3pm MST
Demo Day: Wednesday, June 22nd 2pm-3pm MST
Have any questions? Please contact us...
hi@321growthacademy.com
**signing up implies that you agree to receive emails from 321; however you can unsubscribe at any time**
About the organizer
Website: https://321growthacademy.com/organizer/321-growth-academy/