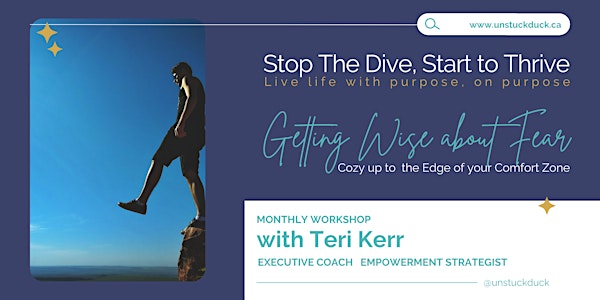 Getting Wise about Fear: Cozy up to the Edge of your Comfort Zone
Getting Wise about Fear: Cozy up to the Edge of your Comfort Zone!
About this event
Do you find that fear is holding you back from playing bigger in your business, or your life? Maybe you don't even know it - but your comfort zone isn't comfortable - it's just familiar.
Let me ask you this...
Instead of doing the very things that will make change in your life, do you find yourself:
taking another course, because you aren't "enough" in a particular area
tinkering in Canva to get that Instagram post "just right"
watching TikTok for hours (OMG did you see the one with the golden retriever?)
catching up on laundry (that's productive right?)
... or some other distraction?
Maybe you don't know the exact steps to move your business or your self forward.
Or you are afraid to put your ideas into the world for fear of being visible.
And because of this, you're struggling to focus and take meaningful, consistent action...
     which leads you to kicking yourself for "knowing better"...
     which leads you to numb out on social media as a form of stress relief...
     which of course, throws you right back into the spin cycle!
That's why things feel hard - not fun - and why you're not making the money you KNOW you could make.
Whether it's fear, procrastination, self-sabotage or something else that's getting in your way, these fun, interactive workshops with Teri Kerr will help you master the muck that's keeping you stuck, and let you live your life (and build you business!) with purpose, on purpose.
__________________________________________________________________________________________________________
Teri Kerr is a life coach for entrepreneurs and women who want to play bigger in their lives. As an ICF accredited ACC Executive Coach, Teri is also Dare to Lead trained and has completed the Facilitator's Training for the Playing Big model. Visit www.unstuckduck.ca to learn more!