#GGDO: Women & the Tech Industry
When and where
Location
Varnish Software AS 12 Gjerdrums vei 0484 Oslo Norway
Description
No tickets left? There is still hope! We always get cancellations, so remember to put your name on the waitlist!
Women & the Tech Industry
Is the Tech-Industry a "Macho Culture", and if so, how can we change it towards being a more including place for women? What needs to be done, and who can help changing it?
These are some of the questions we'll dive into in the next Girl Geek Dinners Oslo event. Varnish Software is the host, and the date is February 10th.
What happened in 1984?
We hear women fleeing from the tech industries, dropping out of informatics and computer science, but this has not always been the case. In fact, a lot of computing pioneers — the people who programmed the first digital computers — were women. And for decades, the number of women studying computer science was growing faster than the number of men. But in 1984, something changed. The percentage of women in computer science flattened, and then plunged, even as the share of women in other technical and professional fields kept rising" (Source: NPR.org)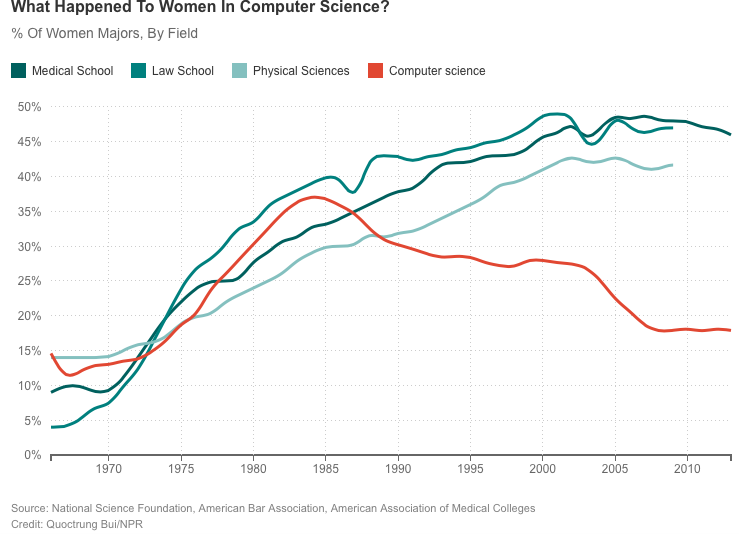 Agenda:
5.30 pm: Doors open, food and networking.
6.00 pm: Introduction by Girl Geek Dinners Oslo, and the traditional "Greeting round".
6.10 pm: Introduction by Per Buer, Founder & CTO Varnish Software
Per reached out to Girl Geeks Dinners Oslo with an important question: "Women in IT tend to leave the business sooner or later. How can a company create a company culture that is both welcoming to women and encourages women to stay throughout to their career?"
6.30 pm: «Girls & Informatics» – Kristin Braa
Kristin Braa is the head of the Global Infrastructures (GI) group at the Department of Informatics at the University of Oslo. Kristin is also leading the "Girls & Informatics" project at UIO, an initiative established to decrease the number of female students dropping out of informatics, she will share some of the results of the project with us.
Kristin was one of the nominees for the first Norwegian Girl Geek Award "Årets Girl Geek" / "Girl Geek of the Year" in 2014.
6.45 pm: «Female@Evry» - Hilde Tank-Nielsen
Hilde is a Regional Director in Evry, and one of the founders of "Female@Evry".
While women make out 19% of the workforce in the Norwegian IT-industry, Evry has a share of 23 % and they are working towards increasing the presence of women even more. Initiatives such as Female@Evry, an internal network for Evry's female employees, is part of their strategy. Hilde will give us an insight in Evry's strategy, and share some of their results with us.
In 2014 Evry won the Oda Network award "Company of the Year" for their work on inspiring and recruiting women to the IT-industry.
7.00 pm: Break
7.15 pm: «Employer Branding - Words, Stories & Company Culture» – Even Sandvold Roland
Even is the Communcation Manager of Adecco Norway. He was also the founder of Norway's first employer branding bureau. Even will give us an insight in employer branding, and talk about how the words we choose and the stories we tell influence what kind of people we attract, and how this affects the company's culture.
7.30 pm: «Why do we say we want girls to come and work for us?» - Nadia Tokerud
Nadia is the Communication Manager in Smallworld Systems, in her talk she will raise and answer the question: "Why do Smallworld Systems focus on hiring more and work towards a more gender-balanced work environment?
7.45 pm: «Reflecting on what we have, what we need and how we could increase the pool of female IT professionals» - Mailen T. Greve
Mailen is the head of Accenture Mobility and and Oda Nettverk board member. She has been working in IT for the last 16 years and has been involved in managing several women networks. She will share her reflections on how to attract, build and retain women IT professionals.
8.00 pm: Break
8.15 pm: Group discussion
8.30 pm: Recap of discussion
9.00 pm: Event ends
All talks will be held in English.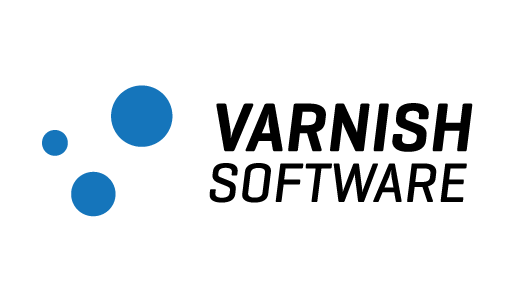 About Varnish Software:
Varnish Software is the company behind Varnish Cache, a widely trusted open source web accelerator, significantly enhancing web performance for businesses online. We power major sites across all industry types—for businesses such as New York Times, Vimeo, Transport for London, and Newsday as well as more than 1.8 million websites worldwide. Varnish Plus is our commercial suite, offering products for scalability, customization, monitoring and expert support services
Directions to Varnish Software´s office:
Address: 12 Gjerdrums vei, 0484 Oslo
Our offices are in a red stonebrick building right next to Akerselva/Nydalensdammen. The meeting room where we are doing the meet-up are on the first floor, to your left when you enter the building.
You can take the T-bane to Nydalen T-banestasjon and walk 7 minutes from there to Gjerdrumsvei 12. This is how you get from the station to our office by foot. If you are driving a car there is paid parking right outside the building.