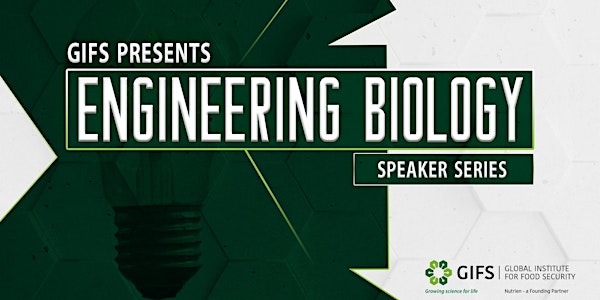 Multiple Dates
GIFS Presents: Engineering Biology Speaker Series
Sales Have Ended
Registrations are closed
Thank you for registering! Zoom links will be circulated to all attendees the day before the event. *Note: Registering for one date will give you access to all the events of the series.
Sales Have Ended
Registrations are closed
Thank you for registering! Zoom links will be circulated to all attendees the day before the event. *Note: Registering for one date will give you access to all the events of the series.
Global Institute for Food Security (GIFS) Presents: Engineering Biology Speaker Series
About this event

*Note: Registering for one date will give you access to all dates*
What is Engineering Biology? Why is it described as the fourth industrial revolution and a multi-trillion dollar industry? What is its potential for agriculture and food?
The Global Institute for Food Security (GIFS) is pleased to present an exciting, informative and educative webinar series that will answer important questions about the scope and impact of Engineering Biology (also termed 'biomanufacturing').
This six-part series will feature renowned experts from across North America sharing insights into this field that's impacting numerous sectors including agriculture, alternative foods, health and medicine, and biomaterials. The series will run in six-hourly editions over the fall, starting on September 1, 2021.
Stay tuned for details to learn more about this bio-revolution that the McKinsey Global Institute estimates will have a global economic impact of up to $4 trillion dollars in the next two decades.
*Note: Zoom links will be shared with attendees via email the morning of the event.*
--
Upcoming Talks
--
October 13 (2 - 3 p.m. CST) | Joerg Bohlmann, Professor at Michael Smith Laboratories, University of British Columbia
Plant Bioproducts, Food and Human Health: A novel treatment for type-2 diabetes and obesity
Dr. Joerg Bohlmann is a Professor, Distinguished University Scholar and Associate Director in the Michael Smith Laboratories at the University of British Columbia, Vancouver and Kelowna, Canada. He holds appointments as Professor in the Department of Botany and in the Department of Forest and Conservation Sciences, and is an Associate of the UBC Wine Research Centre. He is a Fellow of the Royal Society of Canada, Fellow of the American Association for the Advancement of Science (AAAS), E.W.R. Steacie Memorial Fellow of the Natural Sciences and Engineering Research Council (NSERC) of Canada, Feodor Lynen Fellow of the Alexander von Humboldt Foundation, and Fellow of the German Scholarship Foundation. He received his PhD from the Technical University Braunschweig, Germany, was a postdoctoral fellow at Washington State University and research associate at the Max Planck Institute for Chemical Ecology. His research deals with plant specialized metabolism and plant bioproducts, plant and forest genomics, and plant defense. He has published over 240 peer-reviewed publications and holds several patents related to natural products biosynthesis. His research is funded by NSERC and other sources. He has been project leader of seven large-scale Genome Canada projects. He has received numerous awards and distinctions for his research and leadership.
--
Past Talks
--
September 1 (2 - 3 p.m. CST)| Patrick Westfall, Senior Director, Cell Biology at Inscripta, Inc
What is engineering biology and why is it important across different sectors and platforms
Patrick Westfall, PhD is currently a Senior Director of Cell Biology at Inscripta Inc, in Boulder CO. His team is focused on developing the next generation of genome editing technology as part of the Inscripta Onyx technology platform. Prior to joining Inscripta, Patrick served as a Senior Director of Biological Engineering and Exploratory Research at Zymergen, Inc where he helped identify, engineer and scale production the next generation of biotechnology-based products; as a Senior Research Specialist at Dow AgroSciences (now Corteva) where he developed a high throughput platform for enabling genome editing technology for crops; and as a Senior Scientist at Amyris Inc where he led efforts to engineer S. cerevisiae for large scale production of terpene molecules such as the anti-malarial drug, Artemisinin.
--
September 15 (2 - 3 p.m. CST)| Steve Evans, Dow AgroSciences Fellow (Retired) and Founder of Re-Knowvate, LLC - Click here to join the event
Biomaterials, food, fibre and feed (regulatory environment and global scale)
Steven L. Evans spent 30 years bringing biotechnology products to the field in small and large companies. Steve's research blended high-resolution chemical analysis with enzymology and recombinant protein expression to explore agricultural and environmental applications of biotechnology. In 1988 he joined Mycogen Corporation, now Corteva Agriscience, where he was involved in developing natural and recombinant biopesticides, including several crop traits from the Mycogen genome pipeline. He worked to commercialize biochemical actives from natural products, several transgenic crops, and plant genome editing technology. After retiring as a Fellow from Dow AgroSciences he founded Re-Knowvate LLC. His passion is to use this experience and repurpose it today in organizations which drive 21st century biotechnology so that they may learn from the actions of the early pioneers in applied biotechnology, thus accelerating their ability to develop and deploy new technologies to benefit our world. Steve has been active in public-private partnerships such as the National Science Foundation–sponsored SynBERC synthetic biology consortium, which is now the Engineering Biology Research Consortium (EBRC). He served as Chair of the SynBERC the Industrial Advisory Board, and is now active in various roles at the EBRC. Steve served on the National Academies of Sciences Future Products of Biotechnology study and is currently on the NAS Safeguarding the Bioeconomy study. He was co-chair of the Biotechnology Innovation Organization's Industrial and Environmental Section synthetic biology subteam. He received his BA and BS degrees in chemistry and microbiology from the University of Mississippi and a PhD in microbial physiology from the University of Mississippi Medical School. He was a National Institutes of Health postdoctoral fellow at the University of California, Berkeley, and subsequently with the U.S. Department of Agriculture (USDA) in Peoria, Illinois.
--
September 22 (2 - 3 p.m. CST) | Jordan Thomson, PhD, Associate Vice President, Strategic Partnerships and Resource Development at Ontario Genomics
A Canadian Engineering Biology Roadmap
Jordan Thomson (PhD, Chemistry) brings over 10 years experience working in industry, non-profit and academic sectors. He possesses deep technical and business knowledge in the chemical and biotechnology industries coupled with experience in strategy, startup and business support, and R&D funding. He is currently the AVP of Strategic Partnerships & Resource Development at Ontario Genomics where he builds strategic plans and partnership opportunities to advance the genomics & engineering biology ecosystem in Ontario and Canada, driving application of these technologies across key sectors of the economy. He also serves as a Board Member at GreenCentre Canada, a non-profit that accelerates the development of chemical and materials innovation, as well as a Scientist Mentor with the Creative Destruction Lab.
Prior to joining Ontario Genomics, Jordan worked for DuPont as a Research Scientist leading projects in chemical process development and scale-up. He received his Bachelor's degree in the Arts and Science program at McMaster University and completed his Ph.D. in chemistry at the University of Toronto where he studied nanotechnology and synthetic chemistry.
--
October 6 (11 a.m. - 12 p.m. CST) | Vincent Martin, Professor and Senior Research Chair at Concordia University
Drugs from bugs
Vincent Martin is a Professor and the Applied Synthetic Biology Senior Research Chair in the Biology Department at Concordia University. He is the Founder and Co-Director of the Concordia Centre for Applied Synthetic Biology, Canada's only research centre focused on synthetic biology, which is also home to The Genome Foundry, a unique technology platform that aspires to accelerate the design-build-test-learn cycle of biological engineering. Dr. Martin is a co-founder of Amyris Inc, a biotech company established for the purpose of commercializing the development of a yeast strain for the production of the anti-malarial artemisinin. He is now leveraging his entrepreneurship experience as Chief Scientific Officer of the Life Science's hub of Concordia's District 3 Centre for Innovation and Entrepreneurship. Professor Martin's current interests focus on cellular engineering for the production of industrial chemicals, pharmaceuticals and the next generation therapeutics. Prof Martin earned his BSc from McGill University, MSc from the University of Guelph and a PhD in Microbiology from the University of British Columbia. In 2014 he was elected as a member of the Royal Society of Canada, College of New Scholars, Artists and Scientists.
Organizer of GIFS Presents: Engineering Biology Speaker Series