GIFTE's Wake Up to Your Prosperity Jamaica
Exploring the meaning of Prosperity in all areas of your life so as to bring it the natural flow of abundance with ease and grace.
About this event
"If you are committed to being and living a prosperous life you MUST study and practice prosperity".
Wake Up to Your Prosperity is a powerful 2-day learning experience designed to teach you how to master your creative gift, align yourself with the abundant flow of good, and embrace the principles and practices necessary for financial freedom.
Benefits include:
1. Identify and unlearn the beliefs and patterns that push prosperity away.
2. Understand your connection to the creative power and your role in the creative process.
3. Learn the 3 fundamental steps to manifesting anything you desire.
4. Learn 5 universal laws of prosperity and how to align with them daily.
5. Learn the 7 principles for creating, attracting, growing and protecting money.
6. Create a framework for your financial freedom within 5 to 10 years.
7. Discover the true meaning of prosperity .
8. Get into the natural flow of life and allow abundance to flow into your life. Learn how to open your heart and mind to receive all the abundance of the universe.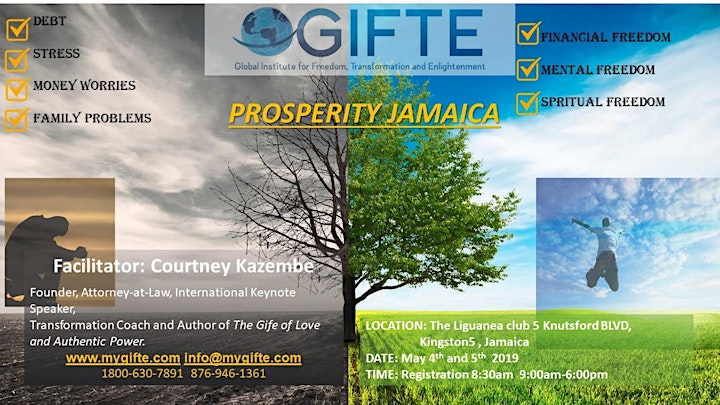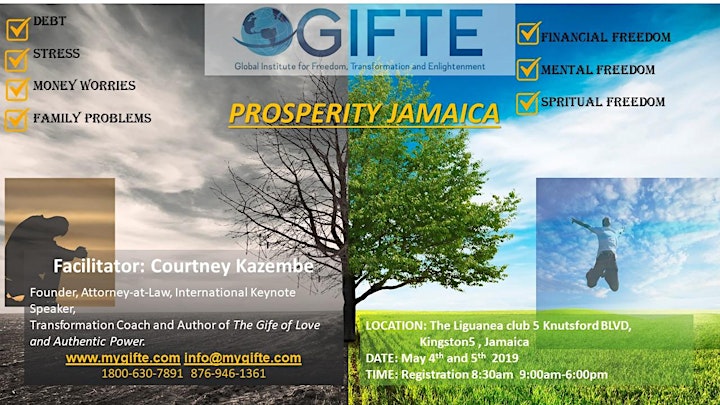 Organizer of GIFTE's Wake Up to Your Prosperity Jamaica