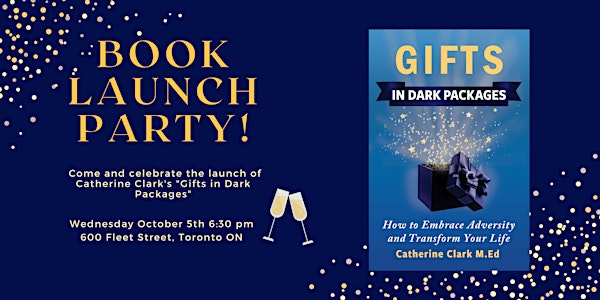 Gifts In Dark Packages Book Launch Party
You're invited to Catherine Clark's "Gifts In Dark Packages" book launch and World Mental Health Awareness week celebration!
When and where
Location
600 Fleet St First Floor Party Room 600 Fleet Street Toronto, ON M5V 1B7 Canada
About this event
• Music, Wine & Cheese
• Book reading and Author Q&A
• Book signing (books will be for sale on site or bring your own copy)
Special appearance by Mike Shoreman, the first paddle boarder with a disability to cross all five Great Lakes in support of mental health awareness.
All proceeds from books sales at the launch will go to Jack.org in support of mental health programming in Canadian schools.
About the author
Catherine Clark is an award-winning speaker, trauma counsellor and mental health resiliency educator. She has worked with the Inuit & Dene Population in the Canadian Arctic, Francophone agencies in Montreal, and a wide range of multinational corporations across North America. Over the past 25 years, she has trained thousands of adult learners and C-suite executives, equipping them with coping tools to thrive personally and professionally.
About the book
In her book, Gifts in Dark Packages, written during the pandemic, Catherine offers readers a roadmap to resiliency and good mental health by harnessing the power of adversity for transforming destructive patterns into constructive growth.
Mental Health Resiliency Roadmap
The easy-to-read narrative unfolds with a visually compelling "roadmap", compelling readers to begin their journey toward mental health resiliency. The significantly symbolic eleven "checkpoints'' are included within four headings for action: Acknowledge, Accept, Embrace and Give.
Catherine shares her own personal downward spiral in life as well as relatable case studies to illustrate how using these actions can channel adversity into resiliency; propelling people forward and helping them emerge from difficult times with newfound insight, strength and prosperity.
Contact Catherine at catherine@clarkconnectsl.com and www.catherineclarkconnects.com
Buy the book at amazon.ca
https://www.amazon.ca/Gifts-Dark-Packages-Adversity-Experience/dp/192282822X
Event Location: 600 Fleet Street, Toronto, ON M5V 1B7
Nearest Parking: Bathurst St. and Lakeshore Boulevard West (surface lot)