Girls Inc. 3rd Annual Zombie Run

Sunday, 21 September 2014 from 12:00 PM to 3:00 PM (MDT)
Event Details
Girls Inc . has planned a unique and fun event as our fundraiser for the United Way Campaign for 2014. We will be running our 3rd annual Zombie Run on Sunday, September 21st. The objective of the run is for the runners to survive a 5 km run with zombies strategically placed along the route trying to capture all three of their flags. Once a runner has lost all 3 flags they are eliminated.  Although, they may purchase additional flags along the route.
Runners will pay a registration fee of $40 or they may have the fee waived if they bring in at least $150 in pledges. - If you choose the registration with no pledges, please bring your $40 on race day. Registration with $150 or more pledges raised can be brought on the day of to the registration table.
If you would like to collect Pledges for the United Way Pledge sheets can be found: http://bit.ly/YqIHM2. Funds are due on race day.
The run will start and end at the Doug Barnes Cabin (Birchwood Trails) – with a barbeque for the survivors, non survivors, zombies and volunteers.
Registration begins at noon, and the race begins at 1pm.
Girls Inc of Northern Alberta has been operating in the Wood Buffalo region for more than a quarter of a century, and our mandate is to inspire all girls to be Strong, Smart and Bold. Our gender-based programming promotes positive self-esteem in girls, encourages positive life choices, teaches girls to resist peer pressure, and how to deal with situations of bullying and violence. Our programs are implemented not only as part of the school curriculum, but also after school and on weekends, throughout the Regional Municipality of Wood Buffalo.
Please feel free to direct any questions to the Girls Inc of Northern Alberta office at 790-9236.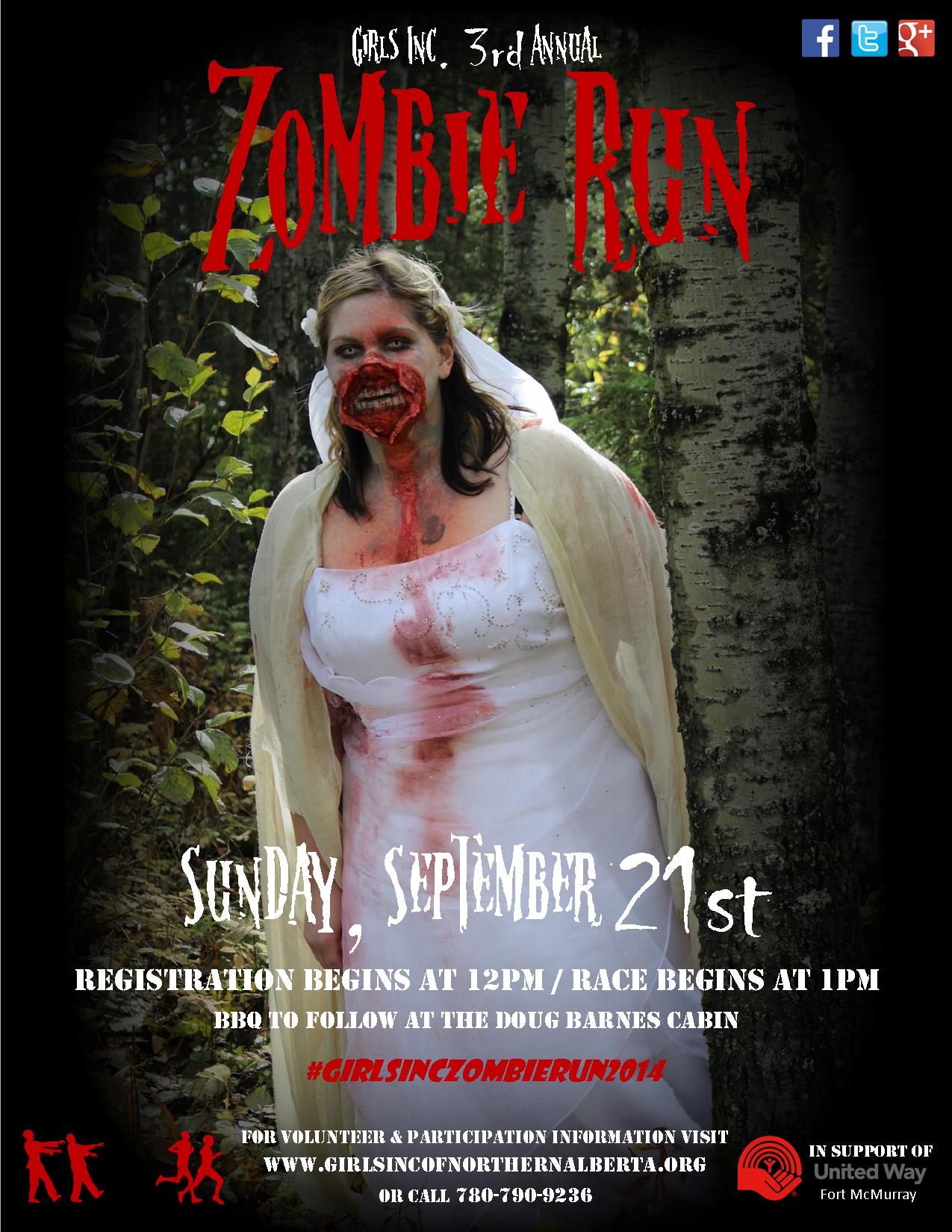 When & Where

Doug Barnes Cabin (Birchwood Trails)
Tamarack Way
Fort McMurray, AB
Canada

Sunday, 21 September 2014 from 12:00 PM to 3:00 PM (MDT)
Add to my calendar
Organizer
Girls Incorporated of Northern Alberta is a non-profit organization with a mission to inspire all girls to be strong, smart and bold. We provide girls 6 to 18 years old with the knowledge and skills needed to break free from gender stereotypes, create social change, be proud of who they are and be confident in their own skin.
Our programs are well developed and researched based, and we partner closely with local schools and youth organizations in order to implement them. Our programmers and volunteers care deeply about the general well-being of our girls, changing the systems within which girls and young women function and working to create an equitable society.
Girls Inc. of Northern Alberta serves communities all over the Regional Municipality of Wood Buffalo, and has partnership agreements with organizations throughout Western Canada to deliver our programs and positively influence girls' lives. 
Mission – Vision
Empowering girls to realize their full potential through gender-specific programming that inspires all girls to be Strong, Smart and Bold.
We are a United Way Fort McMurray Funded Orgnization.