Description
Aspects of all Girls Inc. programs and activities are melded together for one fun, interactive week-long camp! Ages 8-13.
Program Length: 4 days
Program Starts: April 14, 2014
Program Ends: April 17, 2014
Location: Fort McMurray Tarsands Lions Club
(3 TOLEN DRIVE FORT MC MURRAY, AB)
Program Available: Only during spring break.
$100 for the week. Register quickly – space is limited! (Payment required on first day of camp.) -payment can be made by Cheque, Cash or Credit. Official Receipts will be issues after camp.
8:30am to 4:30pm daily. We do ask that your daughter brings her own PEANUT FREE lunch & Snacks.
Girls Inc. Spring Camp has many exciting activities for the girls to participate in each day. The campers will learn about themselves, others and the world around them through activities that match their age, interests, needs and abilities. Camp sessions include activities from our Girls Inc. programs, arts and crafts, games, sports, science experiments, and outdoor activities. We will also have a community outing and a visit from a Yoga instructor. For more information contact us at programs_girlsinc@telus.net or 780-790-9236.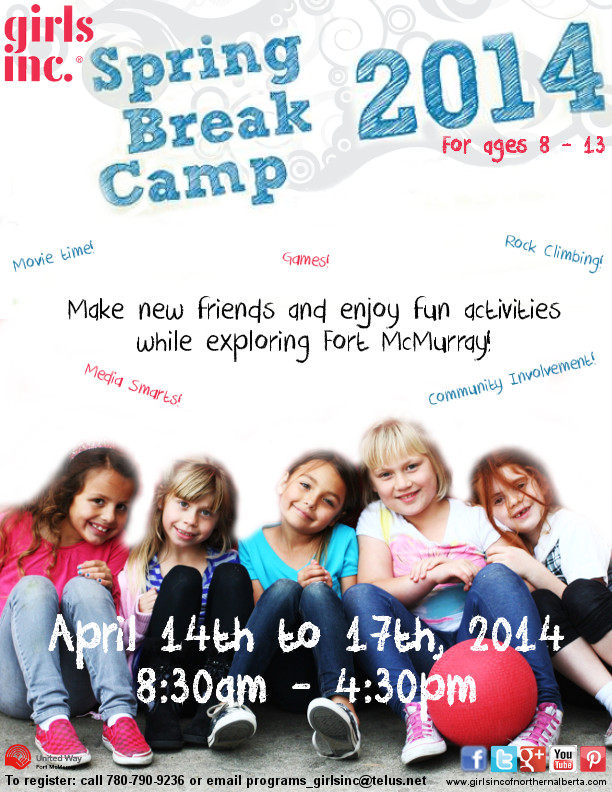 Organizer of Girls Inc. Spring Break Camp
Girls Incorporated of Northern Alberta is a non-profit organization with a mission to inspire all girls to be strong, smart and bold. We provide girls 6 to 18 years old with the knowledge and skills needed to break free from gender stereotypes, create social change, be proud of who they are and be confident in their own skin.
Our programs are well developed and researched based, and we partner closely with local schools and youth organizations in order to implement them. Our programmers and volunteers care deeply about the general well-being of our girls, changing the systems within which girls and young women function and working to create an equitable society.
Girls Inc. of Northern Alberta serves communities all over the Regional Municipality of Wood Buffalo, and has partnership agreements with organizations throughout Western Canada to deliver our programs and positively influence girls' lives. 
Mission – Vision
Empowering girls to realize their full potential through gender-specific programming that inspires all girls to be Strong, Smart and Bold.
We are a United Way funded organization.