Location
Pacifico Nightclub (new location!)
5171 George St
Halifax, NS
Canada
Gold, Feathers, Glitz and Glam! Hosted by Halifax's own internet star Alicia Mccarvell. Ladies night of fun, entertainment, drinks and more!
About this event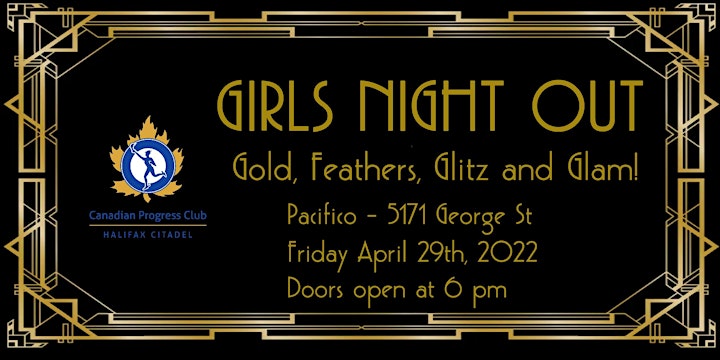 Our signature event - GIRLS NIGHT OUT is back!
Each year, since 2004, Canadian Progress Club Halifax-Citadel, has partnered with presenting sponsors, to bring this fabulous evening to life. It's well known in Halifax that Girls Night Out is a great time for women to get together! This year we will be partying like its the 20's .... 1900s that is. Dig out your fringe and feathers, and anything retro glam - and get ready to have some fun. Our event is always a sold-out success, so we encourage guests to reserve their tickets early.
We are thrilled to have Halifax's internet star Alicia Mccarvell as our guest host for the evening! Based in Halifax, Nova Scotia, Alicia uses humour to tackle conversations around body image, worth, and self-love. Sharing everything from workout routines and dance videos to updates on her relationship with her husband, Alicia hopes to relate, inspire laughter, and break down barriers.
This event boasts tons of fun for you and your friends and has been touted as the "THE MUST ATTEND" women's event of the year! All proceeds go to the women and children focused charities we support. Please note - must be 19 years of age or older to attend.
This year, early bird tickets will be sold at $45 each until February 25, 2022. On February 26, 2022 ticket prices will be $60 each.
We look forward to seeing you on Friday, April 29, 2022 at Pacifico – 5171 George St.
Please note tickets are non-refundable and you must be 19 years of age or older to attend.
Proof of vaccination will be required for event entry. Public health guidelines in effect at the time of the event will be in place and enforced.