Event Information
Refund policy
Contact the organizer to request a refund.
Eventbrite's fee is nonrefundable.
Morrin Centre's Annual Fundraising Campaign // Campagne de financement annuelle du Morrin Centre
About this event
Although it has been hard on everyone, the pandemic has helped us appreciate our need for human contact. Knowing that the holidays will be very different this year, we need to find new ways of connecting with our loved ones.
That's why we're calling on our community and its friends to participate in the GivingTuesday: A Time to Reconnect fundraising campaign. Just in time for the holiday season, the campaign focuses on sharing and the importance of reconnecting with loved ones during this special time. It's an opportunity to raise the spirits of friends and family while helping ensure the future of our beloved Morrin Centre. That means continuing to offer a wide range of cultural activities and services, including the Imagination Writers' Festival, our magnificent 19th-century library and excellent educational programming for youth.
In addition to helping maintain a vibrant part of our history, you can spoil those closest to your heart.
Meals
While we wait for festive gatherings to return, you can have a meal delivered to the home of someone dear to you. Whether it's for a family feast, an online get-together or just to show someone you're thinking of them, these four-course gourmet meals for two are sure to meet your culinary expectations. With more than 25 years of catering experience, Le Groupe Je Reçois is offering its delectable Marché à la Carte menu, which combines the best options from the Je Reçois Traiteur, Deux Gourmandes and Vitalité catering services. A perfect combination of tastes, right in the comfort of your dining room.
$ 84 for a 4-course meal for two, taxes and delivery included. The Morrin Centre will receive a percentage of all sales.
*Home delivery anywhere in Eastern Canada
*Please note that meals must be ordered at least 10 days in advance.
Cards
Show your friends and family they're in your thoughts by reviving the greeting card tradition. Mark the new year by sending personalized wishes of comfort and love for 2021. We may be limited to virtual get-togethers, but traditional greeting cards will always have their place on the mantelpiece.
$10 for a 3-cards bundle, blank 5x7" cards with envelopes.
Membership
This Christmas, give the joy of reading. Help us grow the Morrin Centre community by purchasing a Friends of the Society membership for a loved one. From the comfort of their home, they will have access to our e-book collection and online activities, while enjoying a range of other benefits once the Centre reopens.
Donations
Your donations have a real impact on our ability to maintain the Morrin Centre and offer high-quality programming. Donors like you play a vital role and, more than ever, we need your support. Make a charitable donation and leave your mark on the history of this historic organization.
Open your heart, we'll get through this together!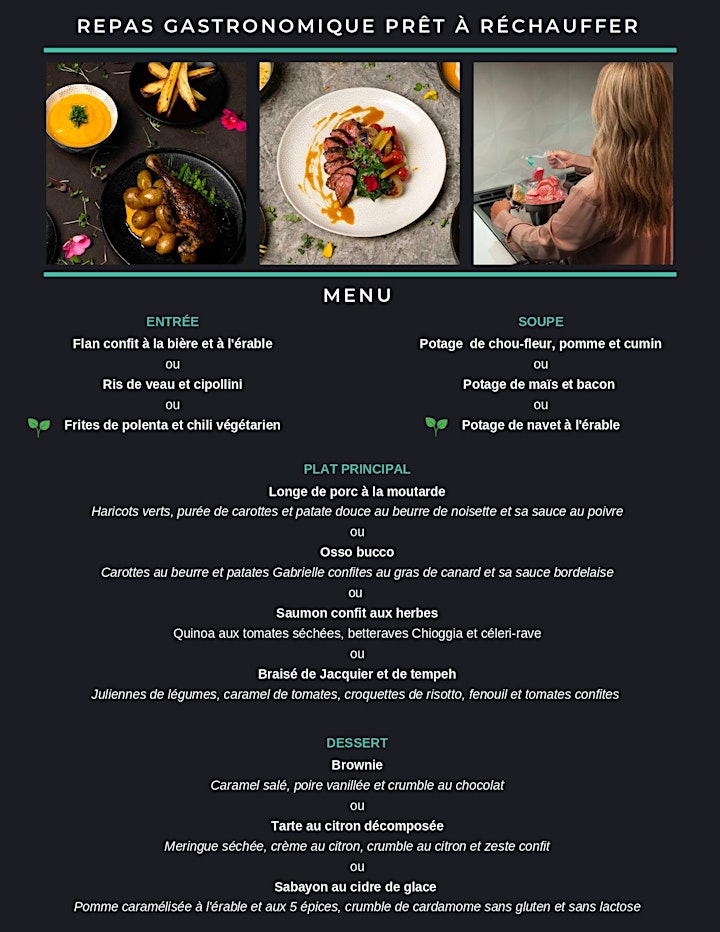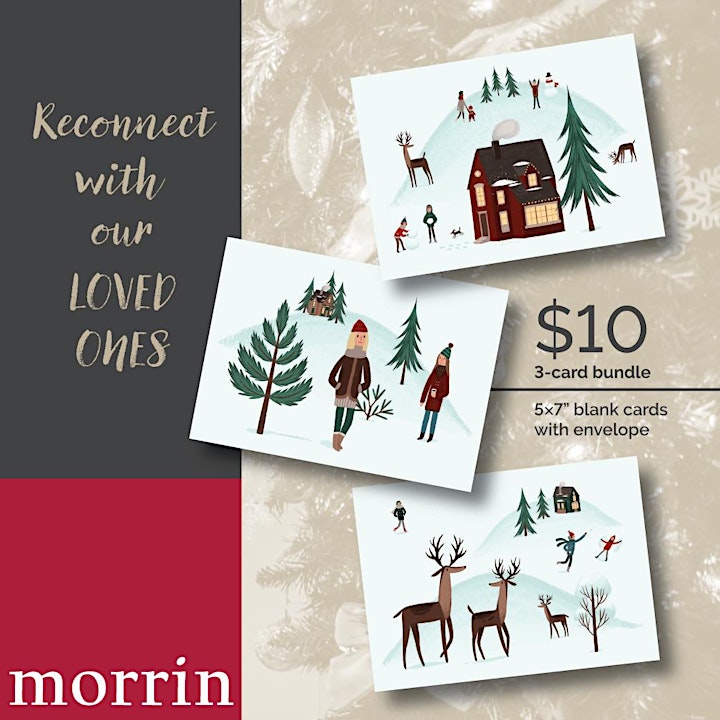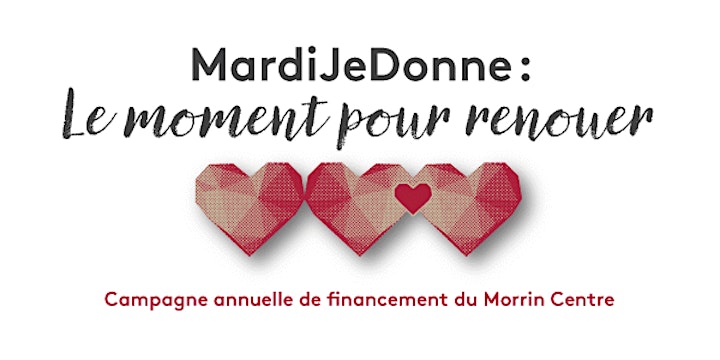 Cette période difficile de la pandémie nous aura permis de constater que la chaleur humaine est un besoin essentiel; sachant que la période des fêtes sera très différente cette année, il est primordial de renouer avec nos êtres chers.
C'est pourquoi nous invitons notre communauté et ses ami.e.s à participer à notre campagne de financement MardiJeDonne : Le moment pour renouer. Juste à temps pour les fêtes, cette campagne mise sur le partage et sur l'importance de renouer avec nos proches en cette période particulière. C'est l'occasion de remonter le moral de vos êtres chers tout en contribuant à la pérennité de notre cher Morrin Centre, afin que nous puissions continuer à proposer une large gamme d'activités culturelles (notamment le festival d'écrivains Imagination), les services de sa magnifique bibliothèque du 19e siècle, ainsi qu'une programmation éducative jeunesse de choix.
Non seulement votre contribution permettra de maintenir un pan de notre histoire vivant, mais vous pourrez en profiter pour gâter votre entourage.
Repas
En attendant le retour des rencontres festives, offrez un repas livré au domicile d'un être cher. Que ce soit pour vos soirées en famille, pour partager un moment en ligne, ou simplement pour démontrer à un ami que vous pensez à lui, ce repas gastronomique quatre services pour deux personnes saura satisfaire vos attentes culinaires. Avec plus de 25 ans d'expérience dans le service traiteur, le Groupe Je Reçois vous propose un menu de qualité traiteur, signé Marché à la carte, façonné avec les meilleures saveurs des divisions traiteur Je Reçois Traiteur, Deux Gourmandes et Vitalité. Une fusion gourmande parfaite, dans le confort de votre salon.
84 $ pour un repas 4 services pour deux personnes, taxes et livraison incluses. Le Morrin Centre recevra un pourcentage des ventes.
* Livraison à domicile partout dans l'Est du Canada
*Notez que les commandes de repas doivent être effectuées au minimum 10 jours avant la date prévue de l'événement.
Cartes
Faites savoir à vos proches que vous pensez à eux en renouant avec la tradition des cartes de souhaits. Pour célébrer la nouvelle année, offrez un peu de réconfort et d'amour en personnalisant vos vœux pour 2021. Nous nous sommes résignés aux rencontres virtuelles, mais la traditionnelle carte de souhaits aura toujours sa place sur le manteau de la cheminée.
10 $ pour un trio de carte vierges 5x7" avec enveloppes.
Abonnement
Offrez le plaisir de lire pour Noël. Aidez-nous à faire grandir la communauté du Morrin Centre en offrant un abonnement aux Ami.e.s de la Société à une personne chère. Elle pourra ainsi, dans le confort de son foyer, consulter notre catalogue de livres numériques et participer à nos activités en ligne, en plus de profiter de nombreux avantages dès la réouverture du Morrin Centre.
Dons
Vos dons contribuent réellement à l'entretien du Morrin Centre et au maintien de sa programmation de choix. Votre engagement est important et plus que jamais, nous avons besoin de votre appui. Faites un don, et laissez votre empreinte philanthropique dans l'histoire de cet organisme historique.
Ouvrez votre cœur : ensemble, nous y arriverons !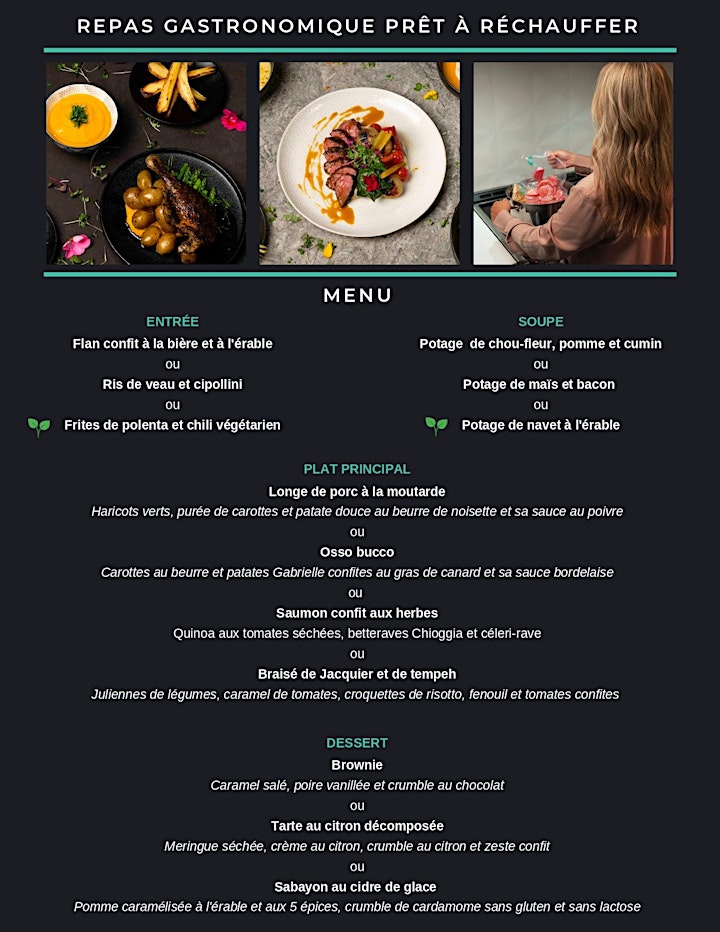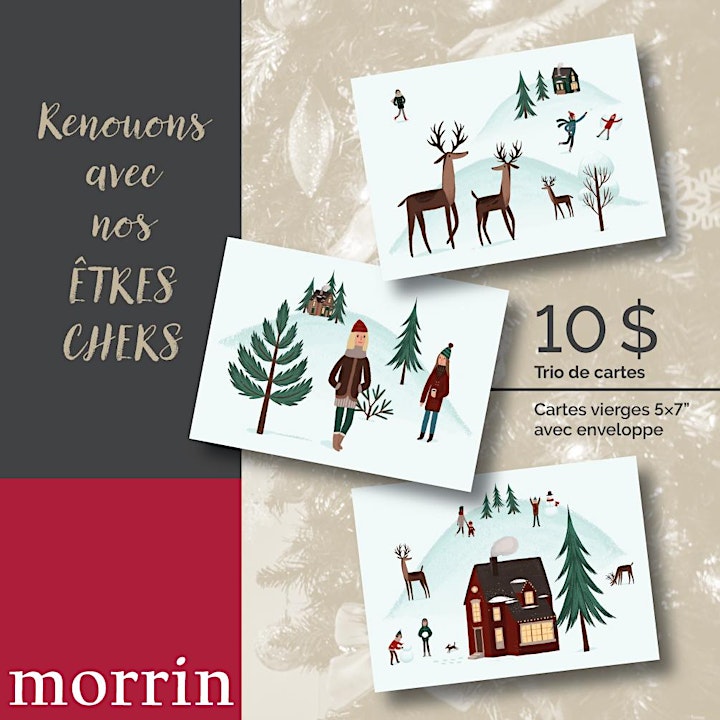 Location
Refund policy
Contact the organizer to request a refund.
Eventbrite's fee is nonrefundable.
Organizer of GivingTuesday: A Time to Reconnect / MardiJeDonne: Le moment pour renouer
As an English-language cultural centre located in the historical quarter of Quebec City, the Morrin Centre strives to be a leading cultural institution of national standing, providing the Francophone and Anglophone public with rich, engaging programming in the areas of heritage interpretation, education, and the arts.  Building upon our building's history and key institutions, our programming aims to provide historical perspective on Quebec City's unique French-English heritage, develop enhanced educational opportunities for youth,  and act as a springboard for artistic creativity.
--
Le Morrin Centre est un centre culturel de langue anglaise qui fait la promotion du patrimoine de la communauté anglophone à Québec, encourage les échanges culturels et offre une grande variété d'activités, telles que des services de bibliothèque, des visites guidées, des rencontres avec des auteurs, des ateliers d'écriture et un festival d'écrivains. Son édifice de 200 ans, situé au coeur du Vieux-Québec, est géré par la Literary and Historical Society of Quebec et fait partie des lieux historiques nationaux du Canada.