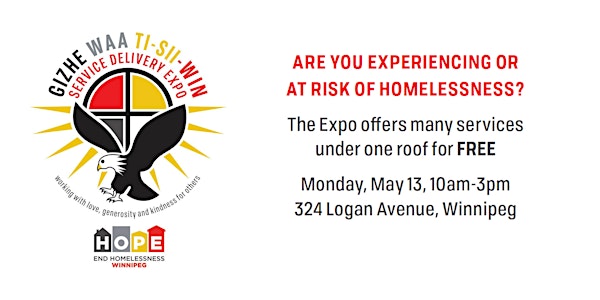 Gizhe Waa Ti-Sii-Win Service Delivery Expo
Event Information
Location
324 Logan Ave
324 Logan Avenue
Winnipeg, MB R3A 0L5
Canada
Are you experiencing or at risk of homelessness? The Expo offers many services under one roof for FREE.
About this event
Two dozen service providers come together to deliver essential and dignity-enhancing services for people who are experiencing or at risk of homelessness. Access FREE hair, foot & dental care, pet care, financial services, income tax, ID and housing applications, BBQ, care packs and more! Some services may require ID.
This event is supported by dozens of volunteers, more than 30 partnering organizations as well as the generosity of community sponsors including Assiniboine Credit Union, Canad Inns, Qualico, CP Loewen Foundation, Canada Life, Hockey Helps the Homeless and the Winnipeg Foundation.
End Homelessness Winnipeg initiated Gizhe Waa Ti-Sii-Win in partnership with the Manitoba Financial Empowerment Network and agencies in the homelessness service sector in 2018. The first annual Service Delivery Expo took place at the Neeginan Centre. More than 500 guests attended, with help from more than 100 volunteers. The event name, Gizhe Waa Ti-Sii-Win, aptly means "working with love, kindness and generosity for others" in Ojibwe. The success of this event demonstrates the need in our community as well as the challenges individuals experiencing homelessness can face in accessing supports and services. Through collective action, we know we can positively impact and transform our community and sustain change. Spread the word!
Date and time
Location
324 Logan Ave
324 Logan Avenue
Winnipeg, MB R3A 0L5
Canada