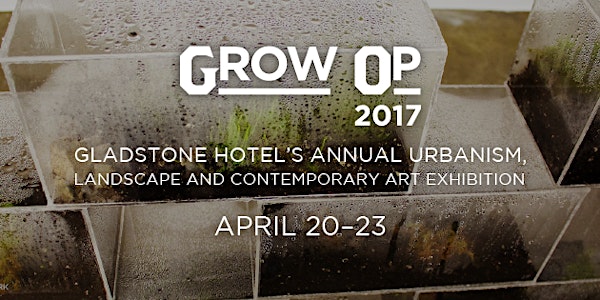 Gladstone Hotel's Grow Op 2017
When and where
Location
Gladstone Hotel 1214 Queen Street West Toronto, ON M6J 1J6 Canada
Refund Policy
Contact the organizer to request a refund.
Description
Why do we leave the comforts of our home to go camping in a tent? Why do we bring plants and animals in our homes to share our lives with us? What is left after a forest fire? A flood? A drought?
In conjunction with Gladstone Art Hut installation by Rui Pimenta + Layne Hinton, Grow Op at the Gladstone Hotel, Toronto, celebrates its fifth year as an exhibition of art and design that cultivates ideas across a broad range of disciplines, examining how humans and other species live within and without natural systems of growth, change, abundance, scarcity, decay and life.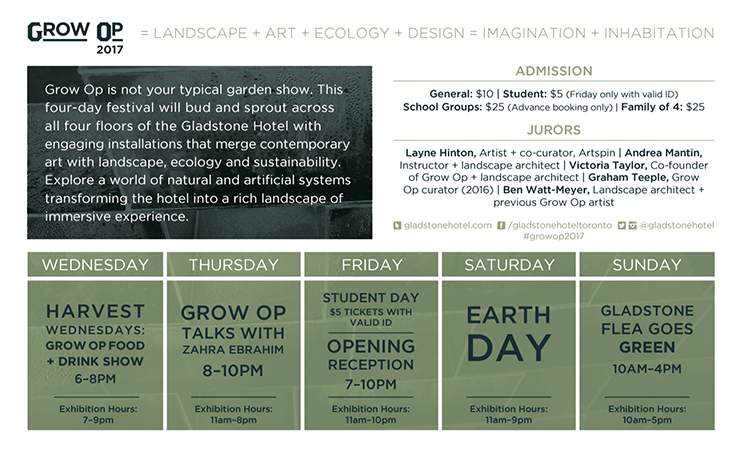 #GrowOp2017 employs the tools of art, craft and design to question our conceptions of urban and wild, culture and nature for the upcoming juried exhibition, curated by Christine Leu and Alan Webb of LeuWebb Projects with Lukus Toane. Grow Op was founded by Victoria Taylor & Christina Zeidler.
Grow Op's installation works engage participants through sight, touch, sound, and taste to create a landscape of immersive experience. Interdisciplinary collaborations are encouraged, combining creative practitioners such as: artists, biologists, historians, anthropologists, musicians, botanists, architects, poets, craftspeople, chefs, geographers, filmmakers, ecologists, performers, landscape architects, writers, planners, agriculturalists and more.
*Guests staying in the hotel receive complimentary admission! Check out our rooms here.
2017 Artists:
David Ballantine, Melanie Billark, Bruno Billio, Liam Blackwell, Micah Donovan, Jordan Duke & Dayne Roy-Caldwell, Agnieszka Forfa, Eve Gane, Julie Gladstone, Martha Barron Griffith, Monica Gutierrez, John Haney, Byron Hodgins, Rebecca Jane Houston, Hayden King and Susan Blight, Aisling O'Carroll & Sara Jacobs, Olga Klosowski, Becky Lauzon, Katie Lawson, Lindy Wilkins & Dushan Milic, Michelle Hunniford & Magdalena Milosz, Kate & Claire Nelischer, D & S Projects, PseudoStudio, Rachel Grice & Rekha Ramachandran, Shadi Ramos, Safiya Randera, Daniel Ranger, Miles Rufelds, The Urban Apothecary
Tickets are non-refundable.