Glean n' Mingle Networking Event | Soirée Furetage et réseautage (Moncton 2...
Description
[Une version française suivra...]
It is our pleasure to invite you to join us for this exclusive networking reception, an evening to celebrate the harvest season with us! Hear saucy stories about local food projects and warm yourself with local beverages from the trees at Belliveau Orchard. This free networking reception is an opportunity to connect with sustainability leaders, social entrepreneurs, and other groups and social enterprises in the city.
---
Glean n' Mingle: Networking and Food Rescue Stories of Abundance
Friday, November 25, 2016, 5:00-7:00pm, at the Venn Centre. Finger food and beverages provided.
Network with existing and upcoming social enterprises and sustainability projects.
---
How does positive change get started, and what inspires groups keep going? We'll have Atlantic fruit rescue experts joining founders from two nationally-recognized fruit rescue projects to share their stories about building a movement.
Network with leaders in sustainability, and with like-minded individuals

Vegetarian and vegan finger foods will be served along with beverages from Belliveau Orchard

Connect with local food rescue experts from The Community Inclusion Network and Red Rover Craft Cider

Hear from Laura of Toronto's Not Far From The Tree and Katrina of Ottawa's Hidden Harvest
This reception is open to all ages of activators and leaders in sustainability-related fields in the area. The event is a part of the IMPACT! Youth Sustainability Leadership Training, activating upcoming leaders aged 19-30.
Feel free to invite colleagues, friends, and other groups who may be interested, and kindly ask them to RSVP.
IMPACT! is an award-winning initiative of The Co-operators and The Natural Step Canada. We happily acknowledge our local supporters for this session, including: The Town of Riverview, and Atlantic Credit Unions.
We hope to see you there!
The Co-operators and The Natural Step Canada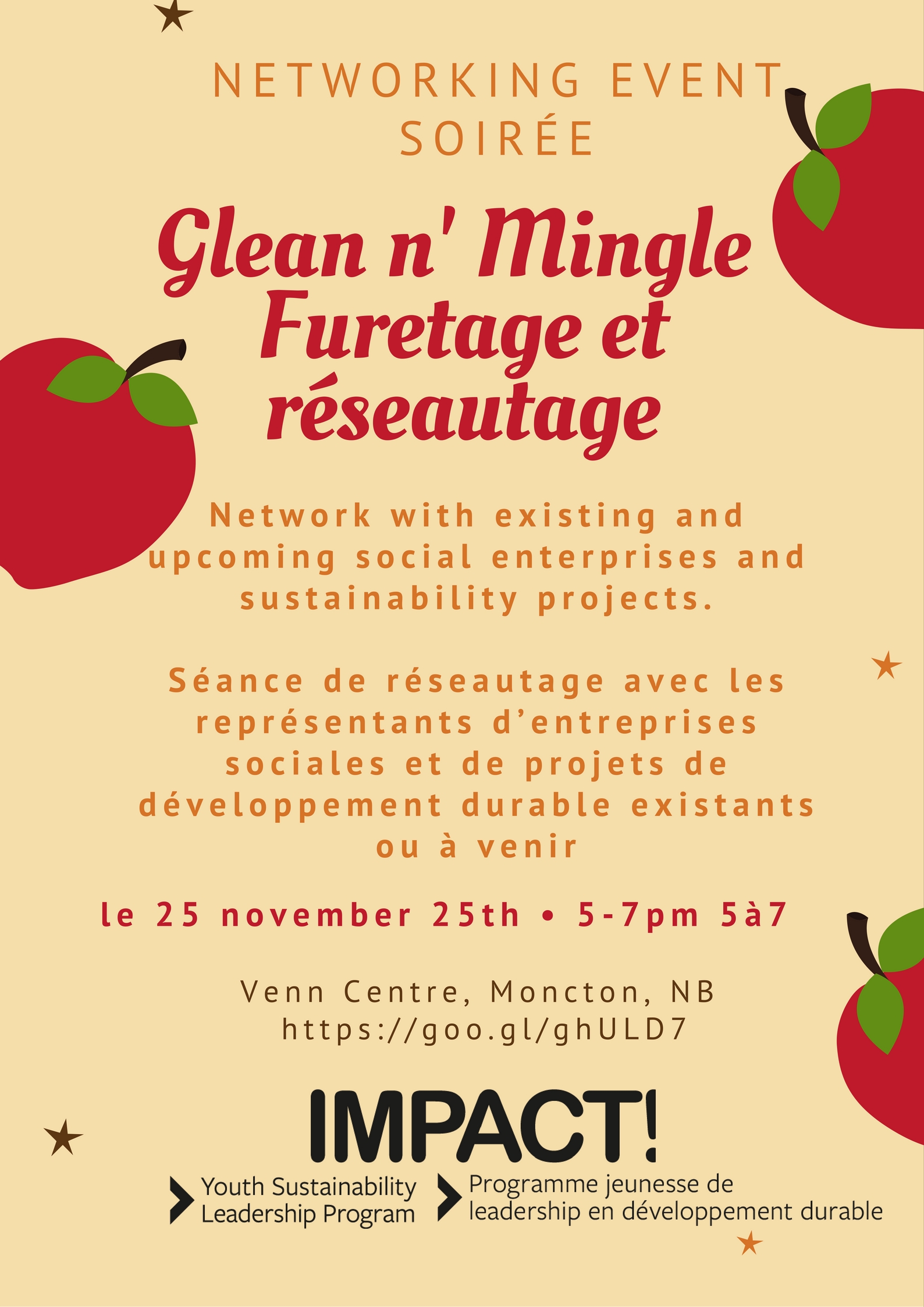 Nous sommes heureux de vous inviter à notre soirée exclusive de réseautage! Écoutez des récits savoureux qui portent sur des projets alimentaires locaux et sirotez des boissons provenant du verger Belliveau. Cette soirée gratuite de réseautage vous permettra de rencontrer des leaders en développement durable, des entrepreneurs sociaux et d'autres représentants de groupes et d'entreprises sociales.
---
Soirée Furetage et réseautage – Maillage et récits sur la récupération d'aliments
Le vendredi 25 novembre 2016, un 5 à 7 se tiendra au Centre Venn. Des amuse-gueules et boissons seront servis.
Séance de réseautage avec les représentants d'entreprises sociales et de projets de développement durable existants ou à venir
---
Joignez-vous à nous pour pouvoir faire ce qui suit :
Tissez des liens avec des leaders en développement durable et des personnes qui partagent vos idées.

Des amuse-gueules végétariens et végétaliens ainsi que des boissons du Verger Belliveau seront servis.

Rencontrez des experts locaux en récupération d'aliments œuvrant auprès des organisations The Community Inclusion Network et Red Rover Craft Cider.

Écoutez les propos de Laura de Not Far From the Tree (Toronto) et de Katrina de Hidden Harvest (Ottawa).

En savoir plus sur IMPACT! Formation jeunesse sur le leadership en développement durable et sur les possibilités de collaboration entre votre entreprise et IMPACT!
Cette soirée est ouverte aux initiateurs et aux leaders de tout âge qui œuvrent dans un domaine connexe au développement durable. Elle est organisée dans le cadre du programme IMPACT! Formation jeunesse sur le leadership en développement durable, qui forme les futurs leaders de 19 à 30 ans.
Le programme IMPACT! est une initiative primée de Co-operators et de The Natural Step Canada, et bénéficie de l'appui d'organismes régionaux, notamment la ville de Riverview et Atlantic Credit Unions.
Invitez vos collègues, amis et autres groupes souhaitant y participer et dites-leur de confirmer leur présence. Les places sont limitées.
Nous espérons vous y voir!
Co-operators et The Natural Step Canada
---
About the program / À propos du programme :
Empowering young sustainability leaders / Préparer de jeunes leaders du développement durable


This is an opportunity for students and recent grads aged 19-30 from throughout Atlantic Canada, who care about sustainability and want to make a difference in their community. Participants will deepen their sustainability understanding, build their skills as leaders, and develop meaningful sustainability projects and social enterprises or scale-up existing opportunities in the region. /
Cet événement est une occasion formidable pour les étudiants et nouveaux diplômés de 19 à 30 ans qui habitent à Moncton ou ailleurs au Canada atlantique, qui ont le développement durable à cœur et qui veulent changer les choses dans leur collectivité. Les participants approfondiront leurs connaissances du développement durable et amélioreront leur aptitude au leadership en plus de mettre sur pied des projets importants de développement durable et des entreprises sociales ou de faire croître ceux qui existent déjà dans la région.
The program is anchored by a 3-day in-person workshop taking place in Moncton on November 25 - 27. Participants receive top-notch training, project development tools, as well as mentorship and other helpful supports for 4 months following the workshop to ensure their initiatives have the highest chance of success. /
Le programme repose sur un atelier de trois jours qui se tiendra à Moncton du 25 au 27 novembre. Les participants auront droit à une formation de premier ordre, à des outils de développement de projets, à un programme de mentorat et à d'autres ressources utiles pendant les quatre mois suivant l'atelier afin de garantir la meilleure chance de réussite à leur projet.

For more information: www.impactleaders.ca / Renseignements supplémentaires : www.impactdurabilite.ca
Le programme IMPACT! est une initiative de /
IMPACT! is an initiative of :

Le programme est géré en collaboration avec /
Delivered in partnership with :

Avec l'appui de / With support from :