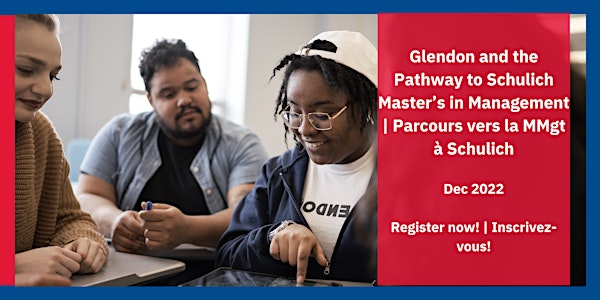 Glendon and the Pathway to Schulich Master's in Management | Parcours MMgt
The Pathway to Master of Management Program | Le parcours du programme de maîtrise en gestion
About this event
Glendon maintains a special partnership with Schulich, Canada's #1 Ranked Business School.
Students can complete a Master's in Management in one year, immediately after one of our 4-year BA or BSc programs, except for Business Economics, Economics and the Dual degree.
Glendon entretient un partenariat spécial avec Schulich, l'école de commerce la mieux classée du Canada.
Les étudiantes et étudiants peuvent obtenir une maîtrise en gestion en un an, immédiatement après l'un de nos programmes de B.A. ou B. Sc. de 4 ans, à l'exception du programme d'économie et commerce, d'économie et du double diplôme.
https://schulich.yorku.ca/pathway-to-master-of-management-program/