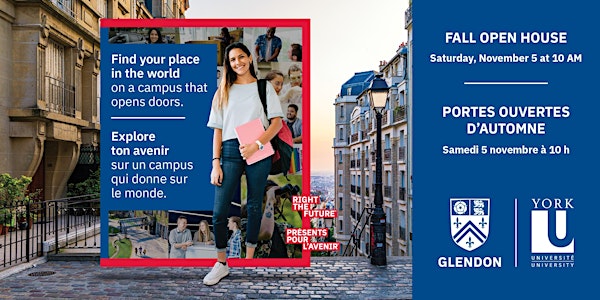 Glendon Fall Campus Day: Open House | Journée d'automne sur le campus
Explore York U's founding campus and speak to profs & students. Explorez le campus fondateur de York et discutez avec nos profs et étudiants
When and where
Location
Glendon Campus, York University 2275 Bayview Avenue Toronto, ON M4N 3M6 Canada
About this event
Find your place in the world on a campus that opens doors.
Visit York University's Glendon Campus Open House Nov 5th
Meet our professors and students, and learn more about admissions, scholarships, exchanges, campus life, and succeeding in university. Register now and attend for a chance to win one year of free tuition ! 
With information sessions and kiosks offered over the course of the day, you have the flexibility to consult the schedule and choose when you would like to attend.
Complimentary parking, guided campus and residence tours available all day; family and friends welcome. 
Click here to view the agenda of the day.
Program presentations:
Psychology at 10 :30am and 11 :30am in A204
Education at 11am in A201
_________________
Explore ton avenir sur un campus qui donne sur le monde.
Inscris-toi aux portes ouvertes du 5 novembre à Glendon
Rencontrez nos professeurs et étudiants et renseignez-vous sur les admissions, les bourses d'études, les échanges, la vie sur le campus et la manière de réussir vos études. Inscrivez-vous maintenant et assistez pour la chance de gagner une année sans frais de scolarité !
Les séances d'information et les kiosques étant proposés tout au long de la journée, vous avez la possibilité de consulter le programme et de choisir le moment où vous souhaitez y assister.
Des visites guidées du campus et des résidences sont proposées toute la journée ; familles et amis sont les bienvenus !
Cliquez ici pour consulter le programme de la journée.
Présentations des programmes :
Psychologie à 10h30 et 11h30 dans la salle A204
Éducation à 11h dans la salle A201