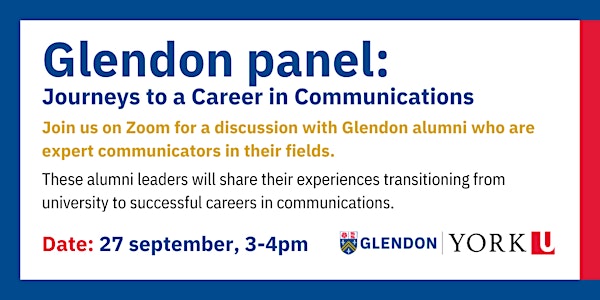 Glendon panel: Journeys to a Career in Communications
Join us on Zoom for a discussion with Glendon alumni who are expert communicators in their fields.
About this event
These alumni leaders will share their experiences transitioning from university to successful careers in communications.
Get to know more about our panelists:
Marie Gomez (iBA'20, Communications) is currently a reporter and anchor at CityNews 680 in Toronto, but getting there was not always the most direct path. Marie graduated from Glendon College, York University with a Trilingual Bachelor of Arts in Communication, and from Seneca College with a Journalism Diploma. She started working at CityNews Winnipeg in July 2020 and covered events during the height of the pandemic. After a year, Marie left to pursue different avenues in life, leading her to a communications role at Crossroads International. In the summer of 2022, she went back to school to pursue meteorology while continuing her career in journalism. Marie's latest dream is to become a broadcast meteorologist and continue to travel around the world.
Anna Weigt-Bienzle (BA'11, Multidisciplinary Studies) graduated with a degree in individualized studies in communications and international relations. She has worked in the private and public sector as a public relations professional for more than a decade, where she oversees strategic communications, issues, and media relations for a variety of global clients, including her current role at the University of Toronto.
Suzanna Alsayed (BA'16, Political Science - BA'17, International Studies) is an Emergency Management and Security Specialist in Toronto with over eight years of diverse experience in roles within both public and private sectors with expertise in facilitating multi-disciplinary projects involving internal and external stakeholders. In 2020, Suzanna founded Hilt International Security Inc., a holistic security firm that focuses on bridging the gap between Emergency Management and Security. She also founded Evolutz Inc., an independent global brand, design, copy, social media management, and website development agency. Evolutz's mission is to help businesses and professionals within various industries, with a particular specialization and focus vis-à-vis tech and security sectors.
Suzanna was named #2 in 2020 for the IFSEC Global Top Influencers in Security & Fire in the "Commercial Security Association Figures/Academics/Thought Leaders" category. Suzanna is also one of the Top 25 Influencers within the security industry as determined by International Security Journal (2021 and 2022), was selected by Security Systems News Top 40 under 40 (2021), Top 30 under 30 Alumni for York University (2022), and was also awarded the ''2021 Emerging Leader award'' by the Canadian Security magazine.
*******************************************************************************
Ces diplômés partageront leurs expériences de transition entre l'université et une carrière réussie dans la communication.
Apprenez-en davantage sur nos panélistes :
Marie Gomez (iBA'20, Communications) est actuellement présentatrice et journaliste d'informations à CityNews 680 à Toronto, mais son parcours n'a pas toujours été des plus directs. Marie a obtenu un baccalauréat en arts trilingue en communication à Glendon, à l'Université York, et un diplôme de journalisme au Seneca College. Elle a commencé à travailler à CityNews Winnipeg en juillet 2020 et a couvert les événements au plus marquants de la pandémie. Au bout d'un an, Marie est partie pour poursuivre différentes aventures dans la vie, ce qui l'a conduite à un rôle de communication à Crossroads International. À l'été 2022, elle est retournée à l'école pour faire de la météorologie tout en poursuivant sa carrière en journalisme. Le dernier rêve de Marie est de devenir une présentatrice météorologue et de continuer à voyager dans le monde entier.
Anna Weigt-Bienzle (BA'11, études multidisciplinaires) a obtenu un diplôme d'études individualisées en communications et en relations internationales. Elle travaille dans le secteur privé et public en tant que professionnelle des relations publiques depuis plus de dix ans, où elle supervise les communications stratégiques, les questions et les relations avec les médias pour une variété de clients internationaux, y compris son rôle actuel à l'Université de Toronto.
Suzanna Alsayed (BA'16, sciences politiques - BA'17, études internationales) est une spécialiste de la gestion de crise et de la sécurité à Toronto, avec plus de huit ans d'expérience diversifiée dans des rôles au sein des secteurs publics et privé, avec une expertise dans la facilitation de projets multidisciplinaires impliquant des parties prenantes internes et externes. En 2020, Suzanna a fondé Hilt International Security Inc, une entreprise de sécurité holistique qui s'efforce de combler le fossé entre la gestion de crise et la sécurité. Elle a également fondé Evolutz Inc, une agence indépendante spécialisée dans les marques, la conception, la rédaction, la gestion des médias sociaux et le développement de sites web. La mission d'Evolutz est d'aider les entreprises et les professionnels de divers secteurs, avec une spécialisation et une attention particulières vis-à-vis des secteurs de la technologie et de la sécurité.
Suzanna a été nommée n° 2 en 2020 pour le classement IFSEC Global Top Influencers in Security & Fire dans la catégorie "Commercial Security Association Figures/Academics/Thhought Leaders". Suzanna est également l'une des 25 personnes les plus influentes dans le secteur de la sécurité, selon l'International Security Journal (2021 et 2022), elle a été sélectionnée par Security Systems News parmi les 40 personnes de moins de 40 ans (2021), parmi les 30 meilleurs diplômés de moins de 30 ans de l'Université York (2022), et elle a reçu le prix "2021 Emerging Leader" du magazine Canadian Security.