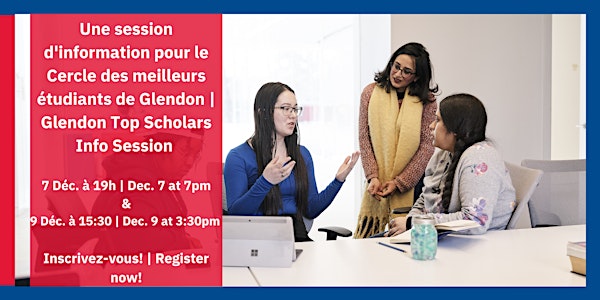 Glendon Top Scholars Info Session | Cercle des meilleurs étudiants de GL
Celebrate your success and boost your CV | Enrichissez votre CV et célébrez votre succès
About this event
Le français suit l'anglais.
Perks for Top Scholars? You bet! Join us to find out more!
Glendon's Top Scholars program offers high achieving (90%+ admission average) incoming students the opportunity to start their own hands-on research projects immediately in their first year. In their upper years, students continue to receive mentorship and guidance from faculty through our Research Apprenticeship Program and G21 Research Incubator. Explore opportunities to enhance and personalize your Glendon experience and expand your resume.
Quels sont les avantages pour le Cercle des meilleurs étudiants? Rejoignez-nous pour en savoir plus!
Le programme du Cercle des meilleurs étudiants et étudiantes de Glendon offre aux nouveaux étudiants les plus performants (moyenne d'admission de 90%+)la possibilité d'entamer leurs propres projets de recherche pratique dès leur première année. Par la suite, les étudiants et étudiantes continuent de recevoir du mentorat et des conseils des professeurs et chercheurs, par l'entremise de notre Programme d'apprentis chercheurs et de notre incubateur de recherche G21. Explorez les possibilités d'améliorer et de personnaliser votre expérience à Glendon et d'enrichir votre CV.