Glenn Greenwald in conversation with David Walmsley

Tuesday, 21 October 2014 from 7:00 PM to 9:30 PM (EDT)
Event Details
 CJF J-Talk
Journalism matters. 
#CJFjtalk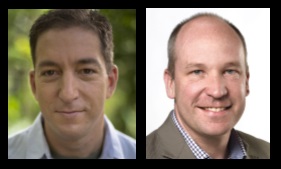 Glenn Greenwald
in conversation with 
David Walmsley
Tickets will be available at the door (cash only) now that online ticket sales have closed. You can also follow the J-Source liveblog or the CBC livestream and Twitter at #CJFjtalk.


Open source hero or every government's worst nightmare? Glenn Greenwald has championed making secret documents part of the daily news. Working with Edward Snowden to publish NSA secrets, Greenwald is a Pulitzer Prize-winning journalist, lawyer and co-founding editor of The Intercept. He speaks with David Walmsley, editor-in-chief of The Globe and Mail, about power, secrecy and journalism's role in an era of digital openness.
Each ti
cket purchase includes a hardcover copy of Glenn Greenwald's latest book No Place to Hide: Edward Snowden, the NSA, and the U.S. Surveillance State and entry to the reception with our speakers at 8:30 p.m.






*Please note the reception includes hors d'oeuvres and a cash-only bar.
Registration 6:30 p.m.  |  Discussion 7:00 p.m.  |  Reception 8:30 p.m.
Glenn Gould Studio, CBC, 250 Front St. W., Toronto

ABOUT THE SPEAKERS

GLENN GREENWALD is a journalist, constitutional lawyer, co-founding editor of The Intercept, and author of four New York Times best-selling books on politics and law. His most recent book, No Place to Hide, is about the U.S. surveillance state and his experiences reporting on the National Security Agency documents leaked by Edward Snowden. Prior to his collaboration with Pierre Omidyar at The Intercept, Greenwald's column was featured at The Guardian and Salon. He was the debut winner, along with Amy Goodman, of the Park Center I.F. Stone Award for Independent Journalism in 2008, and also received the 2010 Online Journalism Award for his investigative work on the abusive detention conditions of Chelsea Manning. For his 2013 NSA reporting, he received the George Polk award for National Security Reporting; the Gannett Foundation award for investigative journalism and the Gannett Foundation watchdog journalism award; the Esso Premio for Excellence in Investigative Reporting in Brazil (he was the first non-Brazilian to win), and the Electronic Frontier Foundation's Pioneer Award. Along with Laura Poitras, Foreign Policy magazine named him one of the top 100 Global Thinkers for 2013. The NSA reporting he led for The Guardian was awarded the 2014 Pulitzer Prize for public service.
@ggreenwald

DAVID WALMSLEY is the editor-in-chief of The Globe and Mail. Before his appointment in March 2014, he was the director of news content at CBC News responsible for coverage across digital, radio and television. He is a veteran of leading media organizations in Canada, having come to Canada as a launch editor of the National Post in 1998. He has also worked at the Toronto Star and held two previous positions at The Globe, as the managing editor and national editor. Before his arrival in Canada he worked as a news reporter for The Belfast Telegraph, The Daily Record in Glasgow and in London he worked for The Daily Mail and The Daily Telegraph. He was the associate producer of a documentary for Channel 4 television, The Final Flight of Zulu Delta 576, that culminated in a successful 17-year-long investigation into the worst helicopter accident in the Royal Air Force's history.
@WalmsleyGlobe
EXCLUSIVE J-TALKS SERIES SPONSOR
     MEDIA PARTNER
 


          

 
 
PRODUCTION SPONSOR
 
                       IN-KIND SUPPORTER

     


    

              
    
When & Where

Glenn Gould Studio
CBC
250 Front St W
Toronto, ON M5V 3G5
Canada

Tuesday, 21 October 2014 from 7:00 PM to 9:30 PM (EDT)
Add to my calendar
Organizer
The Canadian Journalism Foundation promotes excellence in journalism by celebrating outstanding journalistic achievement. Our signature events include an annual awards program featuring a must-attend annual industry gala where Canada's top newsmakers meet Canada's top news people. Through J-Talks, our popular speaker's series, we facilitate dialogue among journalists, business people, academics and students about the role of the media in Canadian society and the ongoing challenges for media in the digital era. The foundation also supports and fosters opportunities for journalism education, training and research. Please visit us at http://cjf-fjc.ca.