Glider Pilot Ground School

Saturday, 9 February 2019 at 9:00 AM

-

Saturday, 23 March 2019 at 3:00 PM (SST)
Event Details
Take the ground school this winter and be ready to start flying in the spring!
What is Soaring?
Soaring, or gliding, is an exhilarating, green and affordable way of flying. Without an engine and using only rising air currents, glider pilots can fly for hours and cover hundreds of kilometres. Just like eagles.
The challenge to make longer flights, besides the sheer beauty of soaring, is what gets most glider pilots hooked to this unique sport that offers a sense of freedom second to none.
About Montreal Soaring Council
Montreal Soaring Council is one of the larger gliding clubs in Canada. We operate from Hawkesbury, ON, and fly almost daily from mid-April to October. Our team of Transport Canada qualified flight instructors can teach you in english as well as french. We offer a fleet of modern gliders and a cheerful club environment.
How to become a Glider Pilot?
You can start by following the Ground School offered here. In this course you will learn all the basics of piloting knowledge required to become a glider pilot. 
Then once you join a gliding club you can start the actual flying lessons with an instructor. It takes about 40 flights to master the basic piloting skills. Then comes an unforgetable moment: your first solo flight! You need at least 20 solo flights before passing the practical exam. You will also need to pass the Transport Canada "Glide" written exam and obtain a radio operator license.
2019 Glider Pilot Ground School
The course follows the Transport Canada recognized training program and is taught by experienced instructors. 
Classes take place on the following Saturdays, 9am to 3pm:
- Feb 9: Aerodynamics and Theory of Flight
- Feb 16: Meteorology, Flight Instruments
- Feb 23: Canadian Aviation Regulations
- Mar 2: Navigation, Radio
- Mar 9: Flight Operations, Human Factors
- Mar 23: course revision & exam preparation
Course participants get a printed copy of course notes and access to further online learning material. 
The course fee covers all six days of the course. 
Puis-je suivre ce cours en français ?
Le Club de Vol à Voile de Montréal / Montreal Soaring Council est une organisation bilingue - et nous en sommes fiers. Nous offrons l'instruction de vol chaque année tant en français qu'en anglais. Nous envisageons ultérieurement d'alterner le cours théorique dans les deux langues. En 2019 le cours théorique sera donné en anglais uniquement.
Want to know more?
Contact us by email to info@montrealsoaring.ca 
or call 514.919.7374.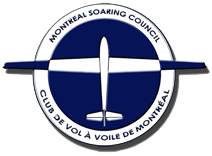 Save This Event
When & Where

Collège André-Grasset
1001 Bd. Crémazie East
Montreal, QC H2M 1M3
Canada

Saturday, 9 February 2019 at 9:00 AM

-

Saturday, 23 March 2019 at 3:00 PM (SST)
Add to my calendar
Organizer
Le Club de Vol à Voile de Montréal (CVVM) est basé à l'aéroport de Hawkesbury, ON. Les activités de vol ont lieu chaque fin de semaine de mai à octobre, tant que le météo le permet. Pendant les mois d'été on vole presque chaque jour. Le CVVM est une organisation sans but lucratif; son opération dépend complètement de la participation volontaire de ses membres.
 Montreal Soaring Council (MSC) has its home base airfield in Hawkesbury, ON. The gliding club's activities take place each weekend from May through October, weather permitting. During the summer months we fly almost every day. MSC is a non-profit organisation; its operation relies fully on the volunteer participation of its members.