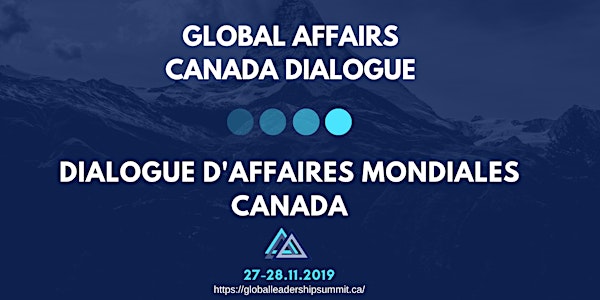 Global Affairs Canada Dialogue | Dialogue d'Affaires mondiales Canada
Location
Ottawa Conference and Event Centre
200 Coventry Road
Room 106D
Ottawa, ON K1K 4S3
Canada
Global Affairs Canada dialogue on civic space. | Un dialogue avec Affaires mondiales Canada sur l'espace civique
About this event
CCIC and Global Affairs Canada will be hosting our Annual Dialogue on the 29th of November. The theme for this year's dialogue will focus on civic space and the civil society enabling environment in Canada and globally.
The dialogue will offer an opportunity to learn about Canada's efforts globally and engage with Global Affairs Canada on the implementation of Canada's Policy for Civil Society Partnerships for International Assistance. Much progress has been made to operationalize this policy, including through the Civil Society Policy Advisory Group.
Join us to discuss how Canada and its partners can address closing civic space globally and next steps as the implementation of Canada's policy for civil society partnerships continues. This event will take place on November 29th at the Ottawa Conference Centre, following the Summit on Canada's Global Leadership. The event runs from 11:00am-3:00pm, with registration opening at 10:30am.
Please note only 2 individuals from any given organization can register.
Agenda:
10:30-11:00 Registration
11:00-11:05 Opening welcome and panel introduction
11:05-12:00 Facilitated panel discussion
12:00-13:00 Lunch
13:00-15:00 Short opening panel to introduce the session followed by roundtable discussions and report back
**********************
CCCI et Affaires mondiales Canada seront les hôtes du Dialogue annuel le 29 novembre. Le thème du dialogue de cette année sera axé sur l'espace civique et l'environnement propice à la société civile au Canada et dans le monde.
Ce dialogue sera l'occasion de mieux connaître les efforts du Canada à l'échelle mondiale et de s'engager auprès d'Affaires mondiales Canada sur la mise en œuvre de la Politique du Canada des partenariats avec la société civile pour l'aide internationale. La mise en œuvre de cette politique a beaucoup progressé, notamment par l'intermédiaire du Groupe consultatif sur les partenariats avec les organismes de la société civile.
Joignez-vous à nous pour discuter de la façon dont le Canada et ses partenaires peuvent s'attaquer à la réduction de l'espace civique à l'échelle mondiale et aux prochaines étapes à mesure de la mise en œuvre de la politique canadienne sur les partenariats avec la société civile. Cet événement aura lieu le 29 novembre au Centre des congrès d'Ottawa, après le Sommet sur le leadership mondial du Canada. L'événement aura lieu de 11 h à 15 h et l'ouverture des inscriptions aura lieu à 10 h 30.
Veuillez noter que seulement deux personnes d'une organisation donnée peut s'inscrire.
Ordre du jour :
10 h 30-11 h 00 Inscription
11:00-11:05 Mot de bienvenue et présentation du panel
11 h 05-12 h 00 Table ronde animée
12:00-13:00 Déjeuner
13:00-15:00 Bref panel d'ouverture pour présenter la session, suivi de tables rondes et de discussions rapport en retour