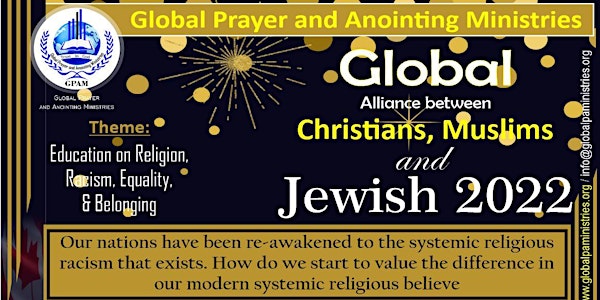 Global Alliance between Christians, Muslims, and Jewish
Our nations have been re-awakened to the systemic religious racism that exists. How do we start to value the difference in our modern believ
When and where
Location
2001 Albion Rd 2001 Albion Road Toronto, ON M9W 6V6 Canada
Refund Policy
Contact the organizer to request a refund.
Eventbrite's fee is nonrefundable.
About this event
About this event
Diversity and inclusion are pillars of Canadian identity, a source of social and economic strength, and something all Canadians can be proud of. Even in our open and diverse society, we know that there are still very real challenges. Building a Foundation for Change necessitates first admitting that there is a problem that needs to be addressed. We know that throughout our history, and even today, there are people and communities in our country who face systemic racism and discrimination. Recent events in the United States and abroad have also demonstrated that no community is immune to the effects of hateful rhetoric. Whether it is anti-Indigenous, Islamophobic, anti-Semitic, or anti-Black and discrimination, It is clear that the Canadian government must do more to combat racism and discrimination in all of its forms.
Racist and discriminatory experiences of racialized communities and Indigenous Peoples can also differ. Using an intersectional lens reveals a more complex picture of how various groups and individuals are excluded and harmed. The Government of Canada is committed to laying the groundwork for change by removing barriers and promoting a country in which everyone has the opportunity to fully participate and succeed. Bringing this vision to fruition is more than just a way to build a better country; it also addresses the human cost of racism and discrimination. Building a racist-free society necessitates ongoing dedication. Our nations have been re-awakened to the systemic religious racism that exists. How do we start to value the difference in our modern systemic religious believe?
About the Workshop:
There is still so much to talk about when it comes to systemic religious racism, and often there is not a safe space with which to have this discussion or have conversations, ask questions, self reflect, learn from others, and identify the next action step.
Let's meet at the workshop to discuss about Religious Racism, Race, Justice & Belonging is a SAFE space for all colors, all races, and all ethnicities in which to grow ourselves and our community to create a more inclusive world.
We ask that you attend the workshop to discuss:
• An open heart
• An open mind
• Respect for others
• Confidentiality - when in small breakout groups.
The workshop platform is an opportunity for all of us to be the change!
So, Let's meet and then TAKE ACTION!
Join us every 3month as we educate you on various topics as it relates to systemic racism, identity, equity, and belonging. We will have guest facilitators, panelists, speakers, along with breakout rooms for more meaningful and intimate discussion and connection through out the program.
Join us in our workshop where you will hear from experts on strategies that can help your systemic religious racism.
• Mixed Race - May 2021
• Mixed Race- Part 2 - Unintentional Harm - June 2021
• Overcoming Toxic mindset
• Mistaken Mental Health to be religious racism
• Privilege, Politics, Bias
Theme: Education on Religion, Race, Equality, & Belonging
Title: Global Alliance between Christians, Muslims and Jewish 2022
Duration: 3months training program, will be running for 4 times every year