Global Awakening: Indigenous Rights in Canada and the World, with John Ralston Saul, Lee Maracle and Dr. Dawn Harvard

Saturday, 21 March 2015 from 9:00 AM to 4:00 PM (EDT)
Event Details
UNSOC and the U of T Pre-Law Society are excited to announce their inaugural academic conference Global  Awakening: Indigenous Rights in Canada and the World on March 21, 2015, in partnership with the Hart House Social Justice Committee and Dalla Lana School of Public Health's Institute for Indigenous Health. 
We are delighted to welcome keynote speakers Dr. Dawn Harvard, John Ralston Saul, and Lee Maracle. 
The conference schedule is as follows - click on any of the links for more information on speakers on our conference website! Admission includes breakfast, lunch, refreshments and a book signing with copies of John Ralston Saul's latest works The Comeback and A Fair Country available for purchase.
Conference Schedule

09:00-09:30AM    Registration and Breakfast
09:30-10:30AM    Morning Keynote: John Ralston Saul, CC
10:30-11:30AM    Panel 1: Aboriginal Rights and Politics in Canada
11:30-12:30PM    Lunch and Book Signing with John Ralston Saul
12:30-01:30PM    Afternoon Keynote: Lee Maracle and Dr. Dawn Harvard
01:45-02:45PM    Panel 2: Indigenous peoples, Globalization & International Law
03:00-04:00PM    Panel 3: Indigenous Health
Keynote Speakers and Selected Panelists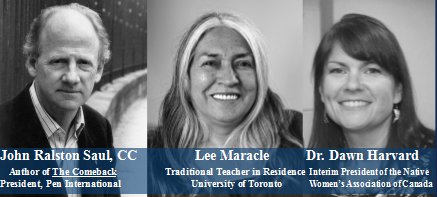 John Ralston Saul is an award-winning essayist and novelist. A long-time champion of freedom of expression, he was elected President of PEN International in October 2009. Saul has had a growing impact on political and economic thought in many countries. Declared a "prophet" by TIME magazine, he is included in the prestigious Utne Reader's list of the world's 100 leading thinkers and visionaries. His 14 works have been translated into 25 languages in 36 countries. Saul's most recent essay is The Comeback published in October, 2014. 
Lee Maracle is a Sto:Loh nation; grandmother of four, mother of four who was born in North Vancouver, BC. Her works include: the novels, Ravensong, Bobbi Lee, Sundogs, short story collection, Sojourner's Truth, poetry collection, Bentbox, and non-fiction work I Am Woman. She is Co-editor of My Home As I Remember and Telling It: Women and Language Across Cultures, editor of a number of poetry works, Gatherings journals and has published in dozens of anthologies in Canada and America. Ms. Maracle is a both an award winning author and teacher. She currently is Mentor for Aboriginal Students at University of Toronto where she also is a teacher and also the Traditional Cultural Director for the Indigenous Theatre School, where she is a part-time cultural instructor.
Dr. Dawn Harvard
Dawn Memee Lavell-Harvard is the Interim President of the Native Women's Association of Canada. She is a member of the Wikwemikong First Nation and was previously president of the Ontario Native Women's Association. Following in her mother's footsteps, she is committed to breaking cycles of poverty for Aboriginal women and their children. Dawn urges young women to "fight fire with fire" by using their academic achievement to resist colonization and oppression. Dawn is co-editor of "Until Our Hearts Are on the Ground: Aboriginal Mothering, Oppression, Resistance and Rebirth," and the mother of three girls. She was the first Aboriginal person to receive a Trudeau Scholarship.
The Hon. Carolyn Bennett, MD, MP for St. Paul's, was first elected to the House of Commons in the 1997 general election and was re-elected in 2000, 2004, 2006, 2008 and again in 2011 representing the electoral district of St. Paul's.
In December 2003, in the wake of the SARS outbreak, Prime Minister Paul Martin appointed Carolyn as the first ever Minister of State (Public Health). In her two years as Minister, she set up the Public Health Agency of Canada, appointed the first Chief Public Health Officer for Canada and established the Public Health Network which enabled all provinces and territories to work with the Federal Government on protecting the health of Canadians.
Currently Carolyn is Critic for Aboriginal Affairs. She is also Chair of the National Liberal Women's Caucus.
Panelists
ABORIGINAL POLITICS IN CANADA:
- The Hon. Carolyn Bennett , MD, MP: Aboriginal Affairs Critic, Chair of the Women's Caucus, and MP for St. Paul's.
- Professor Douglas Sanderson: U of T Law Associate Prof and previously a Senior Policy Advisor in the Ministry of Aboriginal Affairs.
-Paul Seaman: Associate at Gowlings LLP practicing in Aboriginal law and energy law
-Jessica Keeshig-Martin: Senior Justice Policy Advisor, Chiefs of Ontario.
INDIGENOUS PEOPLES, GLOBALIZATION, AND INTERNATIONAL LAW
- Professor Peter Russell: previously President of the Canadian Political Science Association and Chair of the Research Advisory Committee to the Royal Commission on Aboriginal Peoples.
-Karen Restoule, JD: Justice Coordinator, Chiefs of Ontario
-Professor Mairi MacDonald: Director of the International Relations Program
INDIGENOUS HEALTH
-Professor Cyndy Baskin: Chair of Ryerson University's Aboriginal Education Council and Vice-President of the Native Women's Resource Centre of Toronto.
-Professor Suzanne Stewart: Director of OISE's Indigenous Education Network and Chair of the Aboriginal Section of the Canadian Psychology Association
-Professor Dan Allman: Co-Director of the HIV Studies Unit and a member of the CIHR Social Research Centre in HIV Prevention (SRC) at the Dalla Lanna School of Public Health
-Dr. Anglela Mashford-Pringle: Aboriginal Studies Lecturer at U of T, formerly worked with Health Canada on Aboriginal Health Programs and Policies
When & Where

Hart House Great Hall
7 Hart House Circle
Toronto, ON M5S 3H3
Canada

Saturday, 21 March 2015 from 9:00 AM to 4:00 PM (EDT)
Add to my calendar
Organizer
The University of Toronto United Nations Society (UNSOC) is a student-run organization that sends delegates to conferences all across North America and seeks to raise awareness of the role and functiong of the United  Nations. Along with NAMUN, SSICsim, and UTMUN, our club constitutes part of the Model UN community at U of T.
Our high-calibre delegates represent the prestige of the University of Toronto, receiving many awards and accolades around the circuit. Our team has travelled to and competed in conferences held at distinguished schools such as Yale, McGill, Harvard, Queen's and even London School of Economics. This past year, we were honored to win Outstanding Large Delegation at the Queen's Model United Nations Invitational and our team has been recognized as ranking in the Top 50 Model UN teams in North America.
UNSOC ultimately provides students with a community to discuss global affairs and to debate some of the world's most pressing issues. Students develop personal and transferable skills while taking their knowledge outside of the classroom to recognize the difficulties in decision-making. We hope that the experiences and relationships that students make through UNSOC continue after university.