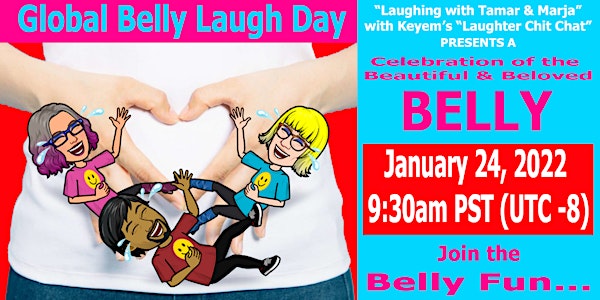 Global Belly Laugh Day: A Celebration of the Beautiful and Beloved BELLY
SPECIAL POP-UP LAUGHTER YOGA SESSION! Ho.. Ho.. Ho.. Belly Ho.. Ho.
About this event
Please register in advance: https://bit.ly/Laugh-with-Tamar-and-Marja
************************************
SPECIAL POP-UP LAUGHTER SESSION!
Ho.. Ho.. Ho.. Belly Ho.. Ho.
"Laughing with Tamar & Marja" with Keyem's Laughter Chit Chat" present a celebration of the Beautiful and Beloved BELLY in honor of Global Belly Laugh Day.
Global Belly Laugh Day was created by Elaine Helle in June 2005. A day to connect, create, and celebrate laughter. According to Elaine, Global Belly Laugh Day is about celebrating with "the people in your life past and present, who laughs with you and help you laugh and smile... And remembering the strange, funny, 'now I can laugh at it' moments 24 hours a day, 7 days a week on the 7 continents". Support Global Belly Laugh Day because Every Laugh Matters. Join the January 24th Belly Laugh Bounce Around the World.
Wherever you may be at, 1:24 p.m. (your local time) January 24 please take a moment to enjoy a wonderful belly laugh, smile, throw your arms in the air and laugh out loud.
Embrace your belly as we wiggle and jiggle our bellies and delight in laughter!
It's EASY and FREE to Join.
You MUST be preregistered on zoom to join. Please be sure to register in advance in case of any GREMLINS.
https://bit.ly/Laugh-with-Tamar-and-Marja
Ideally sign into the Session 5-10 minutes early, so you can get all your settings in order. After registering, you will receive a confirmation email containing information about joining the meeting.
If you are not on Pacific Time, here is a time converter: https://www.timeanddate.com/worldclock/converter.html
MONDAY JANUARY 24, 2022
Vancouver BC Canada PST (UTC -8) - 9:30 am
(UTC -10) Hawaii HST - 7:30 am
(UTC -9) Alaska AKST - 8:30am
(UTC -8) Pacific Time PST - 9:30 am
(UTC -6) Costa Rica & El Salvador CST - 11:30 am
(UTC -6) Central Time CST - 11:30 am
(UTC -6) CST (Mexico City, Costa Rica) - 11:30 am
(UTC -5) Colombia COT, Peru PET, Ecuador ECT - 12:30 pm
(UTC -5) Eastern Time EST - 12:30 pm
(UTC -3) Argentina ART, Chile CLST, Uruguay UYT, Rio De Janeiro - Brazil BRT - 2:30 pm
(UTC +0) Portugal WET, United Kingdom GMT - 5:30 pm
(UTC +1) CET (France, Germany, Italy, Spain, Poland) - 6:30 pm
(UTC +2) Israel IST, South Africa SAST, Greece EET - 7:30pm
(UTC +3) Bahrain AST, Turkey TRT - 8:30 pm
(UTC +3:30) Iran IRST - 9:00 pm
(UTC +5:30) India IST - 11:00pm
- - - - - - - - - - - - -- - - - -- - - - -- - - - -
NEXT DAY (TUESDAY)
(UTC +13) Auckland, New Zealand NZDT - 6:30 am
Come join the Laughter FUN!
WE RECOMMEND HAVING SOME WATER ON HAND FOR THE SESSION.
Logon Early: We play a fun song or video related to our theme while people are logging in, usually beginning about 9:27pm so join us early for the merriment!
Laughterside Chat: Laughter Session is one hour, and we keep our Zoom Room open for our popular "Laughterside Chats" where you can ask questions, make comments, or just chat with us!
KEEPING THE MEETING ROOM SAFE: Having trouble registering? ***You Must Have Your Own Zoom Account (free one is fine) to Register and You Must Be Logged Into Your Own Zoom Account in Order To Join The Meeting. *** If you are not logged in you will receive the message that says, "This meeting is for authorized attendees only". Log into your own Zoom account and you will be able to join the meeting.
Our sessions are advertised in multiple mediums. Most people who attend are regulars and you will not see the numbers reflected in tickets sold. We usually get quite a large group.
NOTE GUESTS ARE WELCOME: Every person attending this session on a unique device (i.e., computer, laptop, tablet, phone) must preregister with zoom. The link you will receive should not be shared with others; it is unique to you and will not work for others. If you are sheltering in place with others and planning to connect together on one device, one registration is sufficient.