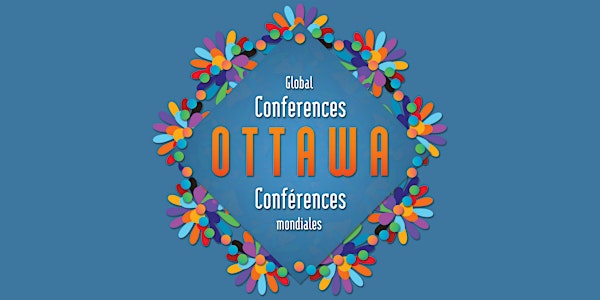 Global Conferences | Ottawa 2022
A global conference exploring the inherent oneness of humanity and a universal call to work for the betterment of the world.
By Ottawa Baha'i Community
Date and time
Sat, Jun 11, 2022 9:30 AM - Sun, Jun 12, 2022 6:00 PM EDT
Location
EY Centre 4899 Uplands Drive Ottawa, ON K1V 2N6 Canada
About this event
A rising wave of conferences is sweeping across the globe, bringing together the well-wishers of humanity to consult about how they can channel their energies to promote unity and serve their fellow citizens by addressing the needs of their communities.
Conscious of the global challenges facing humanity – be it climate change, the pandemic, war and conflict, or widespread injustices – participants are finding a renewed sense of hope in humanity's capacity for altruism, and are feeling connected by bonds of love and fellowship with others in a global effort aimed at social betterment.
This gathering will offer opportunities to find our common ground and discuss ways we can collaborate to create vibrant communities together. We welcome everyone into a process of building spiritually and materially vibrant communities.
Activities for children (5-10), junior youth (11-14), and adults will include devotions, group discussions, musical presentations and the arts.
Saturday: 9:30-5:30pm, Sunday: 9:30am - 5:45pm
----
Please note that food, with vegetarian options, will be provided. Regrettably, it is not possible to accommodate all dietary restrictions.
Parking is available on-site for $8/day.
The health and well being of participants is paramount. The conference will follow all current local and provincial public health measures. Masks will be provided to anyone who does not bring one. The conference venue is a very large space and efforts will be made to maintain distance between small groups.
Deadline to register is June 9, 2022 at 8pm
--------------------------------------------------------------------------
Une des conférences à l'échelle mondiale qui explorent l'unité inhérente de l'humanité et un appel universel à travailler pour l'amélioration du monde.
À propos de cet événement
Une vague montante de conférences balaye le globe, réunissant les personnes qui souhaitent le bien de l'humanité pour se consulter sur la manière dont elles peuvent canaliser leurs énergies pour promouvoir l'unité et servir leurs concitoyens en répondant aux besoins de leurs communautés.
Conscients des défis mondiaux auxquels l'humanité est confrontée - qu'il s'agisse du changement climatique, de la pandémie, des guerres et des conflits, ou des injustices généralisées - les participants trouvent un regain d'espoir dans la capacité de l'humanité de faire preuve d'altruisme et se sentent liés par des liens d'amour et de fraternité avec les autres dans un effort mondial visant à l'amélioration de la société.
Ce rassemblement sera l'occasion de trouver un terrain d'entente et de discuter des moyens de collaborer pour créer ensemble des communautés dynamiques. Nous accueillons tout le monde dans un processus de construction de communautés spirituellement et matériellement pleines de vie.
Les activités pour les enfants (5-10 ans), les jeunes adolescents (11-14 ans) et les adultes comprendront des prières, des discussions de groupe, des présentations musicales et des formes d'expression artistique.
En raison d'une demande limitée, un programme pour les tout-petits (les enfants de 1 à 4 ans) n'est actuellement pas disponible. Toutefois, si le besoin s'en fait sentir, l'équipe organisatrice étudiera les possibilités de créer un espace adapté. Veuillez contacter l'équipe organisatrice pour des mises à jour.
Veuillez noter que les repas, avec des options végétariennes, seront fournis. Malheureusement, il n'est pas possible de tenir compte de toutes les restrictions alimentaires.
---
Un parc de stationnement est disponible sur place pour 8 $/jour.
La santé et le bien-être des participants sont de la plus haute importance. La conférence suivra toutes les mesures de santé publique locales et provinciales en vigueur. Des masques seront fournis à toute personne qui n'en apporte pas. Le lieu de la conférence est un très grand espace et des efforts seront faits pour maintenir la distance entre les petits groupes.
La date limite d'inscription est le 9 juin 2022.
About the organizer
A series of global conferences, exploring the inherent oneness of mankind and a universal call to work for the betterment of the world.