Be inspired as five design alumni take the stage to share their journeys after college and how they launched their companies
About this event
From November 18-24, 2019, Global Entrepreneurship Week (GEW) will inspire people around the world through local, national and global activities designed to help them explore their potential as self-starters and innovators.
In conjunction with StartGBC, the School of Design will be hosting an Alumni Founders Panel on Tuesday, Nov.19 at 3 Lower Jarvis.
We invite you to the School of Design to be inspired and hear practical advice from five design alumni who will take the stage to share their journeys after college and how they launched their companies.
Alumni speakers from the School of Design:
Alexandra El-Asfahani, President, ModernKind Inc. (Class of 1992)
Dymika Harte, Founder, UNSGND (Class of 2019)
Francis Luta, Filmmaker and Designer (Class of 2008)
Jamie Mageau, Sr. Art Director and Toymaker, Magoob Toys (Class of 2005)
Amy Wong, Digital Producer and Entrepreneur (Class of 2009)
PROGRAM: TUESDAY, NOV. 19, 2019
6:00 pm - Welcome and sign-in - PIZZA will be served
6:15 pm - Introductions and presentations by 5 alumni
7:15 pm - Q&A with moderator
7:45 pm - Questions with audience and wrap-up
-----------------------------------------------------------------------------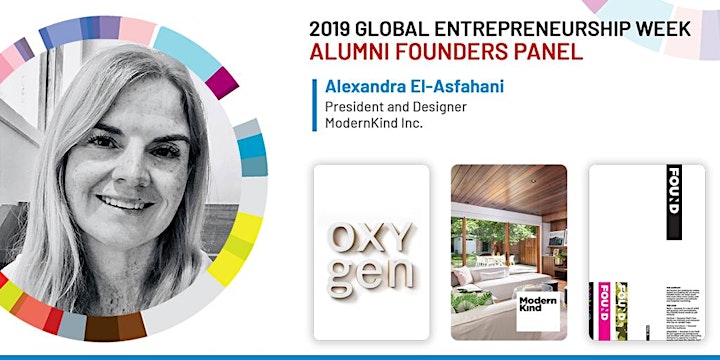 Alexandra El-Asfahani
Born in Toronto, Alex graduated at the top of her year from George Brown's Graphic Design Program in 1992. After working for three years, she started her independent design business, Oxygen Design, growing the company over seventeen years into one of Toronto's leading design agencies.
In 2012, she left Oxygen to start a completely new career and company, ModernKind Inc, and now extensively redesigns and renovates residential homes. Recently featured by House & Home Magazine, Alex believes creative individuals have the potential to work in many mediums. She also writes, is a passionate photographer and recently started painting.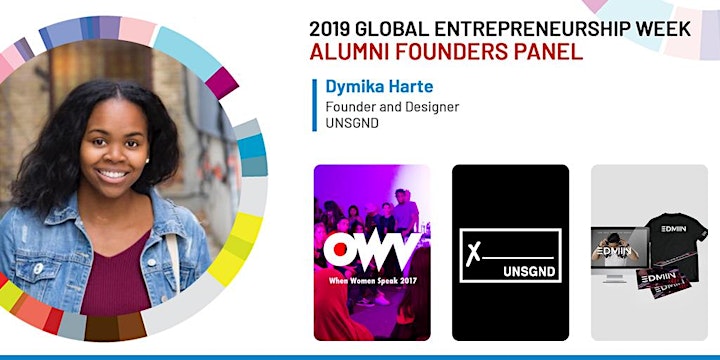 Dymika Harte
Dymika is a designer and the founder of UNSGND, a female lead design, branding & print agency focused on building brands for small businesses and recording artists. Prior to joining the School of Design, Dymika joined the Incubators' Empowered Youth Startup Hub's twelve-week program for youth where she pitched her business plan and took home first prize. She then joined the School of Design graduated from the graphic design program this past spring.
Dymika was presented with the 2018 Entrepreneur of the Year Award from George Brown College, the 2014 Youth of the Year Etobicoke and the 2014 Youth Leadership Award from the City of Toronto.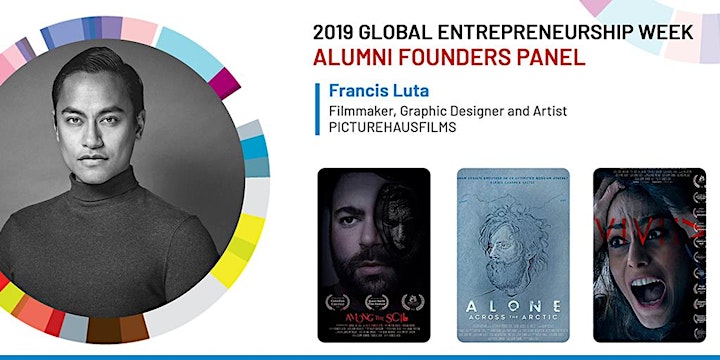 Francis Luta
Francis is a Canadian documentary and fiction filmmaker. He has written, directed, shot, edited and graphic designed his own fiction and documentary films which have won awards and premiered in film festivals internationally.
He co-founded PictureHausFilms in 2015 where he has been creating documentaries, dramas, art films and corporate videos. His most recent films include the documentary "Alone Across The Arctic" about Canadian explorer Adam Shoalts' expedition across the Arctic as well as "Vivid" (2017) a short horror film produced by Canon Canada.
Francis graduated from the School of Design and received one of the Best in Show Advertising awards at the Year End Show in 2008. After graduating, he went on to work with Umbra and art galleries in Berlin (Germany).
The world premiere for "Alone Across the Arctic" will be shown at the 2019 Whistler Film Festival in December.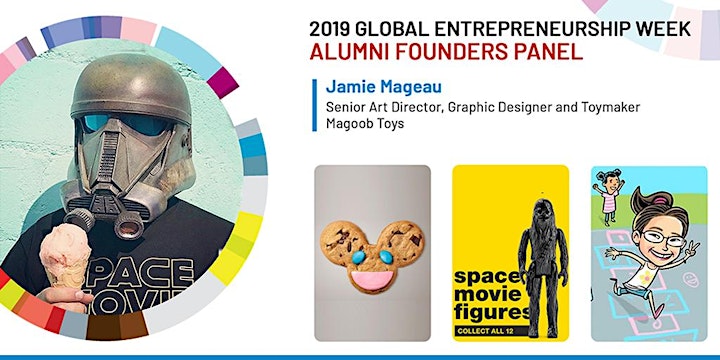 Jamie Mageau
Jamie is a Senior Art Director, Graphic Designer and Toymaker.
He graduated from the School of Design and received the Best in Show Corporate Design Award at the Year End Show in 2005.
After graduating, his career took him full-time to Yield and Zulu Alpha Kilo and as a freelancer he's worked at McCann, Dentsu, Umbra and other Toronto agencies. Over his career he has worked with diverse clients including Tim Hortons, Whirlpool, Bell, Jack Astors, Coca-Cola, Scotiabank, Metrolinx and Workopolis.
Jamie took an agency break over the last year and started a passion project which turned into Magoob Toys, launching with a "no frills" line of Space Movie (Star Wars-like) figures. Available for purchase online, these inaction figures come with names like Villain (Darth Vader), Farmboy (Luke Skywalker), and Blabberbot (C3-PO).
Jamie is currently working as a Freelance Art Director and Designer with Naked Creative an agency in Toronto's own Distillery District.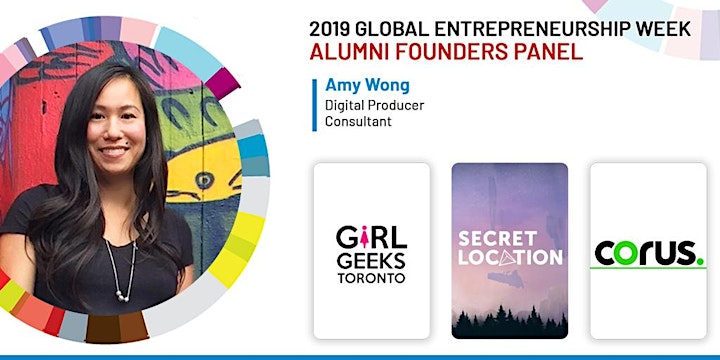 Amy Wong
Amy is a digital producer, mentor and entrepreneur. She has been working as a digital producer with Secret Location, part of the Entertainment One family, as well as being the Managing Director of Girl Geeks Toronto. As an entrepreneur, she helps emerging start-ups with strategic advice on building their digital products.
Amy graduated from the School of Design in 2009 and her career has taken her from Corus Entertainment, Agility Inc. to Secret Location. In her spare time she volunteers with Girl Geeks Toronto and Ladies Learning Code.
Organizer of Global Entrepreneurship Week 2019 - School of Design
The Digital Media and Gaming Incubator is an on-campus space for early-stage digital startups, and is located in the School of Design at George Brown College. 
Our aim is to nurture and assist recent graduates and digital start-ups from both the College and the community to apply their business ideas to grow and suceed. We offer co-working space, resources, hold an annual conference as well as the IT'S A START Pitch Competition.