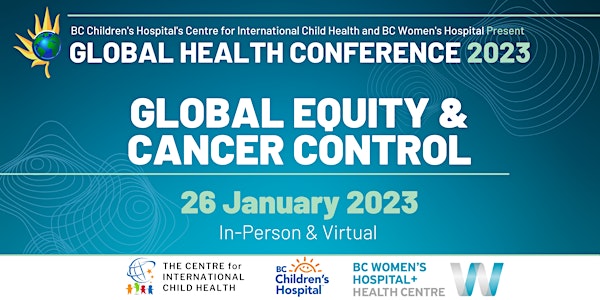 Global Health Conference 2023
A conference for global health researchers, students and organizations to come together re-examine cancer control from a global equity lens.
When and where
Location
Chan Auditorium 950 W 28th Ave Vancouver, BC V5Z4H4 Canada
About this event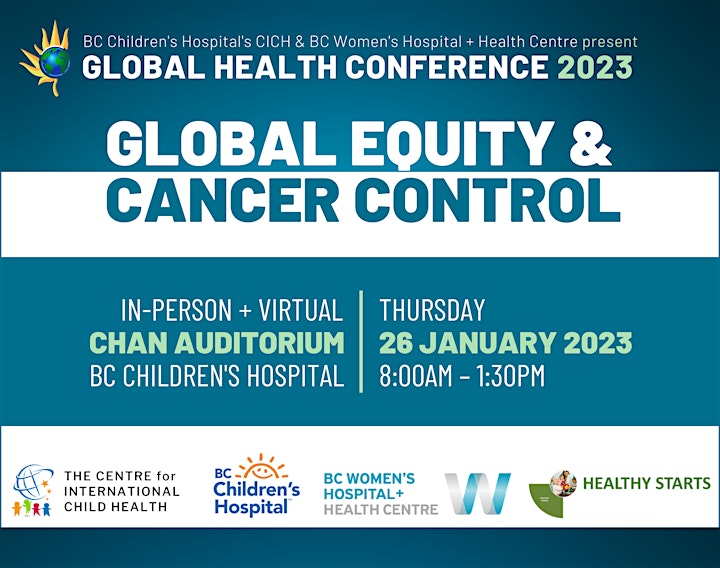 Global Equity & Cancer Control
The Global Health Conference is an annual event bringing together a community of students, trainees, clinicians, researchers, and faculty from across health professions and disciplines to share knowledge. This year's conference will re-examine cancer control from a global equity lens with a particular focus on the global cancer burden on children and women.
The 5th Global Health Conference is presented by BC Children's Hospital's Centre for International Child Health (CICH) and BC Women's Hospital + Health Centre.
When: Thursday, January 26, 2023 | 8:30 am - 1:00 pm PST
Where: Virtual & In-Person at the Chan Centre for Family Health Education, BC Children's Hospital
Coffee and lunch from Tayybeh will be provided to all attendees.
Keynote Speakers
Dr. Simon Sutcliffe
Dr. Simon Sutcliffe (MD, FRCP, FRCP(C), FRCR) is a clinical oncologist (non-practicing), having been President & CEO of Princess Margaret Hospital/Ontario Cancer Institute (1994-1996) and the BC Cancer Agency (2000- 2009). He is currently the President of Two Worlds Cancer Collaboration, a non-profit Society and charitable foundation - a volunteer organization bridging the disparities in cancer control between the two worlds of the higher and lesser-resourced world.
He is an Adjunct Clinical Professor (UBC) and an Associate Scientist (BC Cancer Research Centre), and serves on a number of clinical and scientific advisory committees. He enjoys people, travel, music, global cuisine and particularly values imagination and innovation in all endeavours.
Dr. Carlos Rodriguez-Galindo
Dr. Carlos Rodriguez-Galindo, M.D., is the director of the St. Jude Global program at St. Jude Children's Research Hospital and an executive vice president within the organization. He is also the chair of the Department of Global Pediatric Medicine and holds the Four Stars of Chicago Endowed Chair in International Pediatric Research. Rodriguez-Galindo led an institutional effort to become the first World Health Organization (WHO) Collaborating Centre for Childhood Cancer. As part of this partnership, WHO and St. Jude are collaborating with other organizations on the Global Initiative in Childhood Cancer.
In addition to his global work, Dr. Rodriguez-Galindo's clinical research has focused in retinoblastoma, bone sarcomas, histiocytic disorders and rare childhood cancers, and has been the primary investigator of several clinical studies at St. Jude and Dana-Farber/Boston Children's Cancer Center. Dr. Rodriguez-Galindo is the Chair of the Rare Tumors Committee at the Children's Oncology Group (COG) and the primary investigator of COG studies for nasopharyngeal carcinoma, adrenocortical carcinoma, and recurrent malignant germ cell tumors. He is also the past-President of the Histiocyte Society and co-PI of the frontline LCH-IV study.
---
Stay tuned for more details!
Please note this is a hybrid event with both virtual and in-person attendance.
Zoom details for virtual participation will be sent out closer to the date via email.
All attendees must register via Eventbrite.
Check out our website for more information and to watch last years SOLD OUT conference: bcchr.ca/global-health-conference
Cancellations will be accepted up to January 19th, 2023 with a full refund, less the administrative and service fee. Refunds will not be provided after January 19th, 2023.
Conference Schedule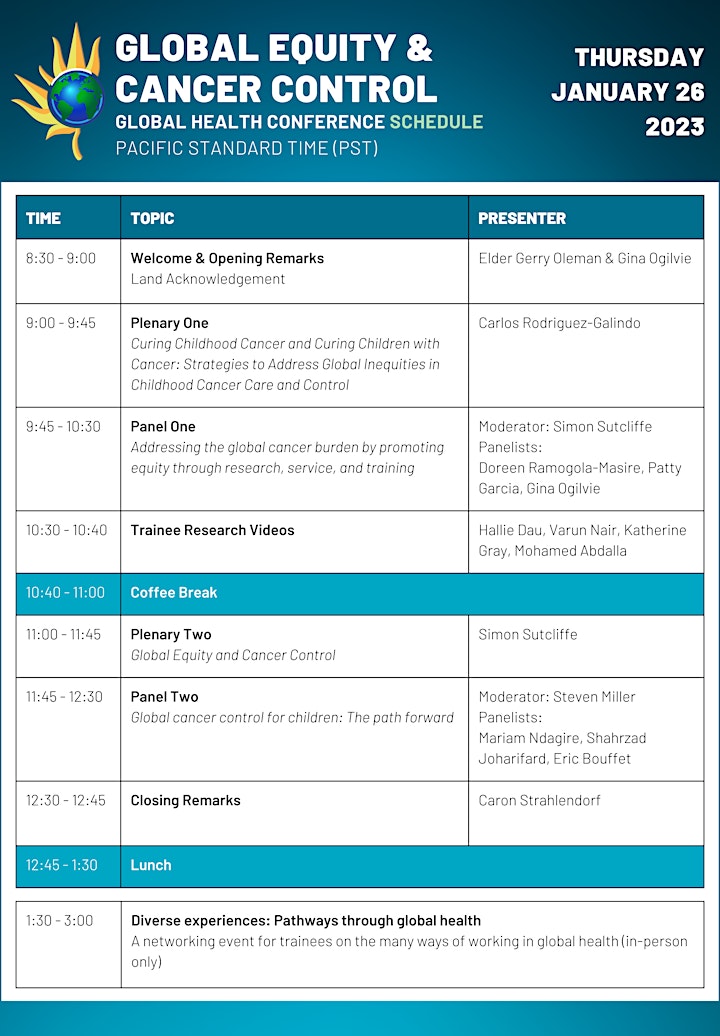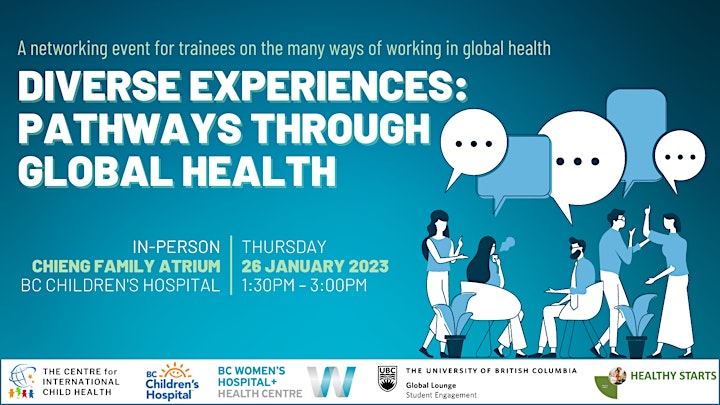 As part of the 5th Annual Global Health Conference, BC Children's Hospital's Centre for International Child Health and BC Women's Hospital + Health Centre are hosting an in-person trainee event entitled "Diverse experiences: Pathways through Global Health" on January 26th, 2023 from 1:30 PM – 3:00 PM at BC Children's Hospital Research Institute.
Trainees will have the opportunity to participate in small group discussions with mentors to explore a variety of pathways to working in global health and different ways of making an impact. The break-out sessions will cover a range of topics and trainees will be able to attend two sessions of their choice.
This is a free event for trainees. Register here.