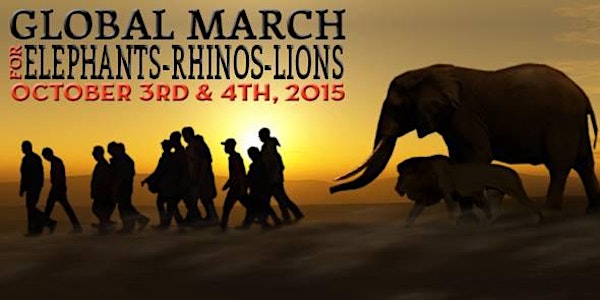 Global March for Elephants and Rhinos Vancouver
When and where
Location
Vancouver Public Library - North Plaza 350 W Georgia St Vancouver, BC V6B 6B3 Canada
Description
Please help spread the word and join the march on Oct 3rd 2015. #March4ElesandRhinos #MarchAgainstExtinction

Join us on Twitter: @condofire @elephanaticsBC

Speakers: Dr. Hedy Fry - MP Vancouver Centre
Dr. Jake Wall (Save the Elephants)
Rosemary Conder BC SPCA
Vancouver will once again be taking part in the Global March for Elephants and Rhinos to draw attention to the crisis facing these two species and to call for an end to the ivory and rhino horn trade that is pushing them rapidly towards extinction.

The poaching of elephants and rhinos has reached unprecedented heights in recent years as the demand for ivory and rhino horn has soared in China and other mainly Asian markets. The ivory trade is also fueling terrorist groups, transnational criminal gangs, and armed militias that are destabilizing African countries as well as posing serious threats to international security.

An elephant is brutally killed every 15 minutes – that's around 100 every day, and at least 35,000 every year. With so few numbers left (some estimates put the figure as low as 250,000 for the entire continent), and with such a slow reproductive cycle, the outlook is looking tragically bleak for elephants. If we don't take action now to stop this massacre, it will be too late to save them. They will vanish forever – in about 10 years.

A rhino is poached every 11 hours with an estimated 24,000 left in the world. Over 1,000 rhinos were poached last year alone, compared to 13 in 2007. If the rate of killing continues to rise, rhinos too face extinction within the decade.