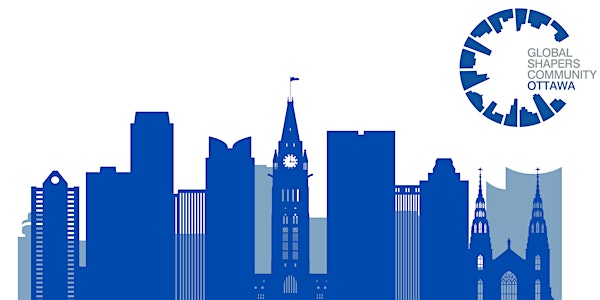 Global Shapers Ottawa Hub Recruitment 2022 Info Session
We are looking for inspiring changemakers between 18 and 27 years to join our thriving community in Ottawa! Could that be you?
When and where
Location
Impact Hub Ottawa 123 Slater Street #6th floor Ottawa, ON K1P 5H2 Canada
About this event
(le texte en français suit)*
We acknowledge that our Hub, located in Ottawa, is on the unceded, unsurrendered Territory of the Anishinaabe Algonquin Nation whose presence here reaches back to time immemorial.
-------
The Global Shapers Ottawa Hub is recruiting new volunteers to join its community! This will be an information session for you to learn more about Global Shapers.
What is the Global Shapers Community?
The Global Shapers Community is a global movement of extraordinary & inspiring young people, working together to address local, regional and global challenges through dialogue, action and change. Shapers all over the world are united by a common desire to build a more peaceful and inclusive world.
In the community, there are 400+ hubs across 153 countries with a total of 9000+ Shapers.
Who are Global Shapers?
Shapers come from all walks of life. The community prides itself on inclusivity and brings together people from intentionally different backgrounds. What unites shapers is our ambition to create a better world and our dedication to taking action.
The event:
During this event, we will be introducing the Global Shapers community, highlighting some of the projects we have worked on, and answering any questions attendees have about applying or joining our community. If you require a specific accommodation because of a disability or a medical need, please contact globalshapersottawarecruitment@gmail.com.
Apply now: https://buff.ly/3SvgUpe
Agenda:
6:00 - 6:30 - Networking
6:30 - 7:00 - Presentation with Q&A
7:00 - 7:30 - Meet Shapers and get information on the recruitment process
Event background image alt-text: (Top) Logo of Global Shapers Community Ottawa Hub; (Bottom) Silhouette of downtown Ottawa.
###
Nous reconnaissons que notre centre, situé à Ottawa, se trouve sur le territoire non cédé et non soumis de la nation algonquine Anishinaabe dont la présence ici remonte à des temps immémoriaux.
------
Le centre Global Shapers d'Ottawa recrute de nouveaux bénévoles pour rejoindre sa communauté ! Il s'agit d'une séance d'information qui vous permettra d'en savoir plus sur Global Shapers.
Qu'est-ce que la communauté Global Shapers ?
La communauté Global Shapers est un mouvement mondial de jeunes extraordinaires et inspirants, qui travaillent ensemble pour relever les défis locaux, régionaux et mondiaux par le dialogue, l'action et le changement. Les Shapers du monde entier sont unis par un désir commun de construire un monde plus pacifique et inclusif. La communauté compte plus de 400 centres dans 153 pays, avec un total de plus de 9000 Shapers.
Qui sont les "Global Shapers" ?
Les Shapers viennent de tous les horizons. La communauté est fière de son caractère inclusif et rassemble des personnes issues de milieux intentionnellement différents. Ce qui unit les shapers est notre ambition de créer un monde meilleur et notre volonté d'agir.
L'événement :Au cours de cet événement, nous présenterons la communauté Global Shapers, tout en mettant en lumière certains des projets sur lesquels nous avons travaillé et nous répondrons à toutes les questions des participants concernant le processus d'application ou leur adhésion à notre communauté. Si vous avez besoin d'une accommodation spécifique en raison d'un handicap ou d'un besoin médical, veuillez contacter globalshapersottawarecruitment@gmail.com.
Postulez maintenant : https://buff.ly/3SvgUpe
Ordre du jour :
6:00 - 6:30 – Réseautage
6:30 - 7:00 - Présentation avec Q&R
7:00 - 7:30 – Rencontrez les Shapers et obtenez des informations sur le processus de recrutement
Arrière-plan image alt-text : (En haut) Logo de la communauté Global Shapers du Centre d'Ottawa ; (En bas) Silhouette du centre-ville d'Ottawa.