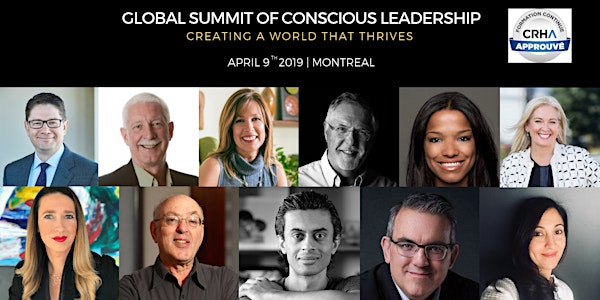 GLOBAL SUMMIT OF CONSCIOUS LEADERSHIP
When and where
Location
Montreal Convention Centre 1001 Place Jean Paul Riopelle Montréal, Qc H2Z 1H5 Canada
Description
GLOBAL SUMMIT OF CONSCIOUS LEADERSHIP
CREATING A WORLD THAT THRIVES
The Global Summit of Conscious Leadership is the premier gathering of Conscious Leaders around the world who want to elevate their leadership to make a difference for all their stakeholders, achieve breakthrough performance and co-create a promising future for the next generations.
This is a unique, innovative and immersive event that will gather more than 500 business leaders, entrepreneurs, academics, thought leaders, and community organizations to embrace Conscious Leadership as the leadership paradigm for the new economy.
WHAT IS CONSCIOUS LEADERSHIP?
Conscious Leadership is a new leadership paradigm that balances the common good with individual self-interests. It is driven by vision and powered by values and targets the well-being of all stakeholders as well as the success of the organization. A leadership inspired to co-create a promising future for the next generations.
OUR ENQUIRY
What does it mean to thrive?
What does it take?
And who do we need to be if we are to create a world that thrives?
3 REASONS TO ATTEND:
LEARN: Understand the power of Conscious Leadership as a new leadership paradigm for the new economy

CONNECT: Meet world-renowned thought leaders and teachers on Conscious Leadership, Mindfulness, and Transformation as well as other inspiring leaders.

BE INSPIRED: Find inspiration to transform your leadership, improve your well-being, rise to your full potential and make a meaningful difference.
TICKETS INCLUDE :
Participation in all the conferences

Networking Coffee Breaks

Networking lunch
PROGRAM
07:30: Welcome and registration
08:30: Welcome remarks - Michelle Holliday
08:35: Presence exercise - Bhaskar Goswami
08:50: Guided group reflections - Michelle Holliday
09:05: Moving into an Age of Thrivability - Michelle Holliday
09:35: Elevating consciousness in leadership - Stephane Leblanc
10:00: Transforming the organizational culture - Eric Martel
10:30: Networking break
11:00: Scaling leadership - Bob Anderson
12:30: Networking lunch
01:45: Who do you choose to be as a leader - Alan Seale
03:15: Networking break
03:45: Business panel - Women In Leadership (Genevieve Fortier, Salwa Salek, Karine Bah Tahe)
04:30: Embodiment of consciousness - Andreea D. Vanacker
05:00: Rebalancing society - Henry Mintzberg
05:30: Group reflections - Michelle Holliday
05:45: Closing remarks
06:30: VIP Cocktail
MASTER OF CEREMONY
Michelle Holliday is the author of the book, The Age of Thrivability: Vital Perspectives and Practices for a Better World. For the past two decades, her vision and thought-leadership have inspired many, including a community of pioneering and purpose-driven clients. As a writer, presenter, facilitator and consultant, her work centers around "thrivability" — a set of perspectives, intentions, and practices based on a view of organizations and communities as dynamic living systems.
SPEAKERS
Eric Martel is President and CEO of Hydro Quebec and he also sits on the board of the Global Sustainable Energy Partnership and chairs the World Economic Forum's Electricity Industry community. Eric has been a senior leader for many years and was previously President of Bombardier Business Aircraft. In his position, he is accountable for the strategic direction and execution of Hydro Quebec, the largest Hydro company in Canada, employing more than 20,000 employees and serving more than 4.3 millions of clients.

Bob Anderson is the Founder and Chairman of The Leadership Circle and the Co-Author of Mastering Leadership. He has dedicated his career to exploring the intersections between leadership and personal mastery, and between competence and consciousness and he is a true pioneer in the field of leadership development and research. He is the creator of The Leadership Profile which has been used by organizations of all sizes around the world to help leaders rise in consciousness.
Alan Seale is the founder and Director of the Centre for Transformational Presence. He is an award-winning author, inspirational speaker, transformation catalyst, master teacher and mentor to many leaders and coaches. He has published many books and his latest: Transformational Presence: How to Make a Difference in a Rapidly Changing World. He has also led transformation workshops in many countries, in America and Europe.
Andreea D. Vanacker, PhD is an entrepreneur, author, speaker with a passion for life. She is the CEO of SPARKX5, an AI-based well-being technology company who is on a mission to amplify the vitality of over 500,000 people globally by 2030. She is also the author of Successonality, The Ten Secrets To A Success-Focused Personality. Her upcoming book Perspective, Life and leadership lessons to allow you to thrive, explores the journey into human fulfillment and well-being.
Bhaskar Goswami is an impactful yoga and meditation teacher from India who helps leaders embody their wisdom so they can thrive in their lives and their leadership. He is the Founder of BODHI, a company dedicated to offering genuine wellbeing to people in workplaces and the co-founder of daana, a non-profit organization making wellness accessible to all by creating anonymous contribution activities around the world.
Henry Mintzberg is Cleghorn Professor of Management Studies at McGill University. He is a writer and educator, mostly about management originations, developing managers, and rebalancing societies, and he is also an outdoorsman and collector of beaver sculptures. He is the author of 20 books, including his latest: Bedtimes Stories for Managers. He co-founded and is still active in the International Masters Program for Managers and the International Masters for Health Leadership as well as a CoachingOurselves, a peer coaching, and development program.
Stephane Leblanc is the Founder and CEO of the International Center for Conscious Leadership. He is a catalyst for the transformation of leaders and organizations and the rise of consciousness in organizations around the world. He is an experienced senior executive with over 25 years of experience in major international organizations. He is passionate about transformation and has been trained by teachers and masters of transformation around the world.
PANEL
Geneviève Fortier, Fellow CRHA, is Senior Vice President, Sales and Distribution at SSQ Insurance.
Salwa Salek is Senior Director of the Centre of Expertise in Organizational Development and Employee Experience for Desjardins.
Karine Bah Tahe is the Co-Founder and CEO of Gender Bridge, a firm providing training solutions to bridge the gender gap, for good.