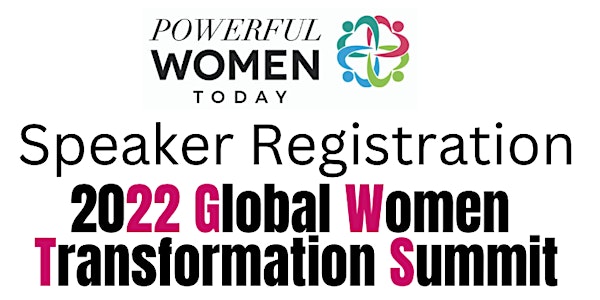 Global Women's Transformation Summit FALL 2022. Happiness. Money. Success
Speaker Registration: Global Women Empowerment Summit: Happiness. Money. Success
About this event
50 Powerful Presenters reaching Thousands of Women with messages of empowerment, hope and inspiration.
Let them get to know you & your offer and giveaway.
You are invited to the kick-off of our Yearly 16 Days of Advocacy. featuring incredible speakers, experts, mentors and empowered women. Our speakers will share their stories and expertise to help you grow and thrive in business today.
Click on TICKET TO RESERVE YOUR SPOT and to get your FEATURED SPEAKER KIT.
Meet other like-minded women, network, have fun and discover our global impact. Experience the magic of Powerful Women together for this life-changing event.
Featured Speaker Criteria A Professional Practitioner and/or Thought Leader, Author, Podcaster, Speaker, Coach, ready to unite women globally. We are Diversity & Inclusion in Action. Whether you are a beginner or a pro. The world needs your voice.
Why 10 mins? Because that is the length of video that can be uploaded directly to the major social distribution channels to be considered prime/original content for direct distribution. (Opposite to a link for a secondary source ie. Youtube, vimeo etc.)
Keynotes receive both 10 minute TalkLikeTED track plus a 10 Minutes Podcast Interview.
The time is right for you to lead and provide global access to knowledge, support and inspiration. To create a global movement of emotional and financial independence. We will hear, share and inspire with stories of how other 100+, powerful women created success in both their business and personal lives. We are #StrongerTogether
www.powerfulwomentoday.com
Championing and Empowering Women's Emotional and Financial Independence since 2010