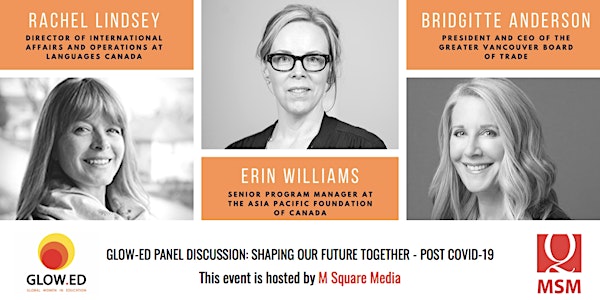 Glow Ed Panel Discussion: Shaping our Future Together - Post COVID-19
Join us for our webinar Shaping our Future Together - Post COVID-19
About this event
You are invited to join a panel discussion with Rachel Lindsey, Erin Williams, and Bridgitte Anderson as they share their perspectives on navigating through this current crisis. The conversation will focus on Shaping our Future Together - Post COVID-19.
Our panelists join us with extensive leadership experience in the language sector, international education sector, business and industry.
To ensure a productive conversation, the GlowEd moderator will present questions received from participants via the webinar chat. You will have an opportunity to contribute through a live chat, and messaging your questions and comments.
We also welcome you to share this email and webinar registration link within your institution/organization, to friends and colleagues in order to ensure all colleagues in our industry benefit from having access to this content.
We recognize that you may be busy during this time. If you can't join us live, please join the Glow-Ed Facebook Community, where the recording will be posted.
This event is facilitated by M Square Media