| | |
| --- | --- |
| Gluten-free Baking for Beginners | |
Event Details
Get your hands dirty in the South Health Campus Wellness Kitchen!  Join Nutrition & Culinary Solution's registered dietitian Kristyn Hall & bake up delectable dishes using gluten-free flours and ingredients!  
During this hands-on cooking session, we will:
Discuss gluten free flours and their unique properties 

Work with gluten-free flours and lentils

Taste delicious gluten free baking

Discuss the nutritional challenges of eating gluten-free

Discuss who needs to follow a gluten-free diet

Share recipes, ideas and tips for gluten free baking

Meet and network with people interested in gluten-free baking

 
Each participant will walk away with:
Scrumptious gluten-free recipes

Gluten-free resource package

Skills to help you confidently prepare and enjoy gluten-free baking
 Dates available:   Tuesday November 17, 2015.  Bake 5:30 – 8:00 pm.  
 Location:       Wellness Kitchen
                        Wellness Centre – South Health Campus (Main floor)
                        4448 Front Street SE Calgary AB 
http://www.albertahealthservices.ca/Facilities/SHC/page86.asp 
Cost: $79
$69 for Canadian Celiac Association (CCA) Members.  To access this $10 discount, please enter the promotional code, from the CCA.
Receipts available from Registered Dietitian Kristyn Hall for reimbursement from flexible health spending account

Recipes will include eggs, butter.

  Please advise if you have any food allergies. 
Questions?  Contact Kristyn Hall at 403.874.1715 khall@nutritionandculinarysolutions.ca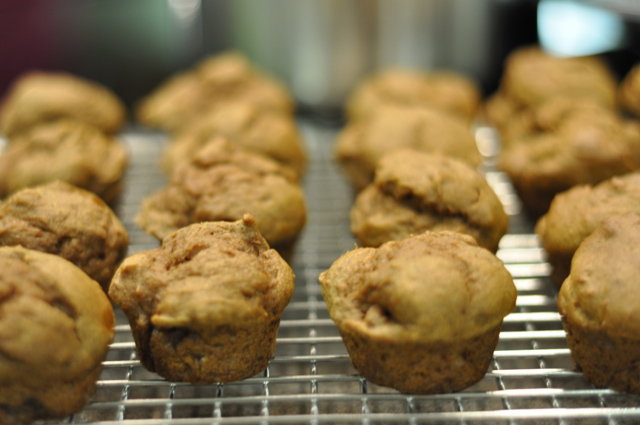 MENU
Culinary Bootcamp: Gluten Free Baking and Cooking
 Baking (all gluten-free)
Apple Spice Cake or Gingerbread Cupcakes

Gluten-free biscuits

Gluten-free pizza 
Notes about the class:
Recipes will include eggs, butter.  

Please advise if you have any food allergies. 

This class will include some hands-on baking.  

We will be working in small groups.  Everyone will have an opportunity to sample the foods prepared.

Please bring close-toed shoes and something with which to tie back your hair.

 
How to find South Health Campus
 South Health Campus (SHC) is located in the southeast of Calgary.  Take Deerfoot Trail to Cranston Av/Seton Blvd exit and head one block east on Seton Boulevard.  South Health Campus will be on your right.   www.albertahealthservices.ca/Facilities/SHC/page86.asp
Parking at South Health Campus 
Access to underground public parking is on Front Street (south side of South Health Campus).  Park in Lot 1 on Level P1 (parkade entrance B). Park in the Forest section. Parking rate is $2.25 per half hour. Pay stations are located throughout the campus and accept cash and all major credit cards. Two-hour free parking is available on the south side of SHC on Front Street, by the main entrance.
How to find the Wellness Kitchen
Turn left off the Forest elevators or turn right from the stairs from the Forest parking lot. Follow the hallway to the Wellness Centre on the right (climbing wall across from Diagnostic Imaging). The Wellness Kitchen door is just inside the main doors.
Brought to you by Nutrition and Culinary Solutions and the South Health Campus Wellness Kitchen
Cancellation policy: To maintain our operations, we must receive your request to cancel your registration via email by the Friday prior to the event.  Otherwise, you will be charged the full amount of the session.  Completion of registration will count as understanding and acceptance of this policy.  Cancellations will be subject to a $20 administration fee.
When & Where

Wellness Centre – South Health Campus (South Hospital, Main floor)
Front Street Southeast
Calgary, AB T1X
Canada

Organizer
Kristyn Hall MSc, RD - Food, Nutrition & Culinary Coach
Kristyn is a high-energy and knowledgeable Nutritionist and Dietitian. She'll infect you with her passion and enthusiasm for good quality food and sound nutrition. Kristyn has worked with hundreds of women and men over the age of 40 years, inspiring them to use food as fuel for their vitality and wellness, one bite at a time.
Kristyn is the CEO (Chief Energizing Officer & Chief Eating Officer) with Energize Nutrition. 
Kristyn was named as one of the Top 10 Dietitians in Calgary, 2016. She was also named a Centennial Alumni of Influence by the College of Pharmacy and Nutrition, University of Saskatchewan in June 2014. Kristyn is an active contributor to Dietitians of Canada, receiving two Volunteer Recognition Awards from this national professional association.
Kristyn has a Master's of Science in Nutrition from the University of Saskatchewan and is in her 17th year of practice as a nutritionist and dietitian. Over her career, Kristyn has worked in community nutrition and in public health, helping people across the life span – pregnant women, children, youth, men, women, and parents. Her degrees in nutrition and psychology, her certificate in Culinary Arts, along with training in Solution-Focused Counseling and motivational interviewing, have helped Kristyn coach people about food and eating to help them feel better.
Kristyn is an experienced writer, publishing evidence analyses in the internationally recognized Practise-based Evidence in Nutrition database on diverse topics including toddler and preschooler nutrition, pediatric obesity intervention, safety of soy across the lifespan, and lactose intolerance.
Kristyn "lives it to lead it", eating (mostly) nourishing food to fuel an active lifestyle, while saving room for indulgence! Kristyn has completed several 10 km road races, two sprint triathlons, two Gran Fondos, and has run three half marathons. She is a busy mother of two very active boys.
Kristyn has travelled around North America to expand her knowledge and skill around food and cooking including:
Certificate in Culinary Arts, Rouxbe Online Cooking School.
Nutrition Intuition in the Kitchen, Field to PlateTM, Shelton, CT, USA
Exploring Phenomenal Foods and Flavours:  A Culinary Master Course for Dietitians at the Culinary Institute of America, hosted by the Food and Culinary Professionals Dietetic Practice Group, Academy of Food and Nutrition.

Cooking for Low FODMAP diets.

Demos for Dietitians Culinary Bootcamp.
Demos for Dietitians Workshop.
Julie Negrin's Intensive Course: How to Teach Cooking to Kids
Introduction to Cooking, SAIT. 

Courses from ATCO Blue Flame Kitchen: Raw Foods; Soups and Stews; Healthy School Lunches; Vietnamese Foods; Thai Foods; Mexican Foods; Hor D'Oevres

Courses from Calgary's own Cookbook Company Cooks: Weeknight supper solutions, Breadmaking, Cookbook Company, Small batch preserving, An evening with the chef from Bonterra, Sugar with Anna Olson, The Girl Can't Cook with Cinda Chavich, Knife, Skills with Dee Hobson-Smith, Thai Cooking with Drew, Soups with Drew, French Farmhouse, Sauces to make while the pasta cooks, Weeknight supper solutions.
Kristyn has held a number of leadership positions including 2010-2013 Board of Directors with Dietitians of Canada, representing Alberta and the Territories.  She is an active member of:

Dietitians of Canada

Food and Culinary Professionals, Academy of Nutrition and Dietetics


Diabetes, Obesity and Cardiovascular Network, Dietitians of Canada


Dietitians in Integrative and Functional Medicine, Academy of Nutrition and Dietetics.

College of Dietitians of Alberta

April Matsuno is the Wellness Kitchen Consultant responsible for food skill programming in the new Wellness Kitchen within the Wellness Centre at South Health Campus.  The Wellness Kitchen strives to inspire people to make better shopping, cooking & eating decisions to promote happier and healthier lifestyles for themselves and their families.  Programs are open to patients & their families, staff, physicians and community members.  
April is a registered dietitian with a masters degree and a life-long love of delicious food and cooking!  She has worked in clinical dietetics, childhood obesity, project and operations management and a commercial kitchen.  She also holds a diploma in Professional Cooking from SAIT.