| | |
| --- | --- |
| GO BLUE! Invest in rare BLUE ZONE real estate: COSTA RICA! | |
Event Details
GO BLUE!

 If You Want to Live a Longer,
Healthier & Happier Life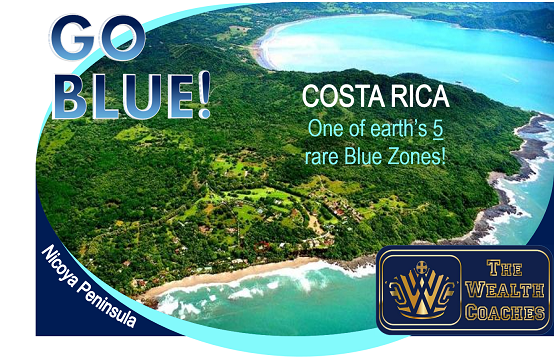 Come & learn why the NICOYA PENINSULA in Costa Rica is one of only FIVE rare Blue Zones on earth, where people live happily & healthily past 100 years of age!
*************************************************
BLUE ZONES:
Demographic and/or geographic areas of the world where people live measurably longer, healthier lives. The concept grew out of demographic work done by researchers, Gianni Pes and Michel Poulai, who first identified Sardinia's Nuoro's Province as the region with the highest concentration of male centenarians.
When Costa Rican demographer, Dr. Luis Rosero-Bixby revealed in 2005 that Costa Ricans who survive to the age of 60 "have the longest life expectancy of anyone in the world," National Geographic funded an expedition led by Buettner with a team of demographers, physicians and scientists to investigate.Buettner's expedition confirmed Rosero-Bixby's findings and discovered further that in the specific region of Nicoya, in the northwestern part of Costa Rica, residents were longer-lived even than other Costa Ricans, making it the "Blue Zone" of the Americas.
Years of study revealed FIVE relatively small regions on Earth with the longest, disability-free life-expectancy, and concentration of persons over 100 years of age who testified to also living happier, more satisfied lives according to the empirical data; scientific observations, and extensive interviews conducted onsite.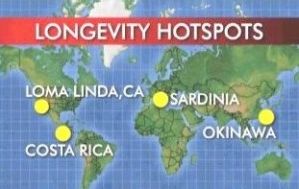 These FIVE RARE regions include Sardinia (Italy); Nicoya Peninsula (Costa Rica);  Okinawa (Japan); Icaria (Greece); and Loma Linda, (California).
***********************************************

GO BLUE in COSTA RICA FACT SHEET
Again, it's one of earth's FIVE rare BLUE ZONES!!! (Just sayin!)

Home to 300 of the fortune 500 companies!

The safest country in S. America; the lowest crime rate & a disbanded army.

FREE healthcare and education for residents and citizens.

Affordable at 1/3 the average cost of living in America.

EDEN: boasting 0.03% of earth's land-mass & 6% of earth's biodiversity.

A $45 billion economy, exporting 4,763 products to 153 countries,

Main exports include electronics, medical instruments, & INTEL Pentium chips

Highly educated population: 95%+ literacy rate; software engineering schools.

Comparable to Hawaii for the tropical paradise lifestyle at a fraction of the cost of current Hawaiian real estate prices.

In the next few years, 80 Million North American Baby Boomers will retire. 20% will seek warmer, more affordable, southern climates, with comparable living standards to enjoy their golden years.

So why are so many flocking to Costa Rica? It's all about Location, Location, Location! Come learn how you can benefit from this massive wave of retirees just begging to rent or buy property from our investors.
With ALL this we have one question - WHY invest in a vacation or retirement home anywhere else?
GO BLUE!!!  GO BLUE!!!  GO BLUE!!!
*******************************************
So, Come & Learn How
YOU Can LIVE FREE  in Paradise!
NO credit checks; NO qualifications financing!
Full Vendor Financing Available!
Only 10% Down, and 11-25% ROI!
Fully Permitted properties, Chicago Title Appraised!
90 Day Money-Back Guarantee with visit!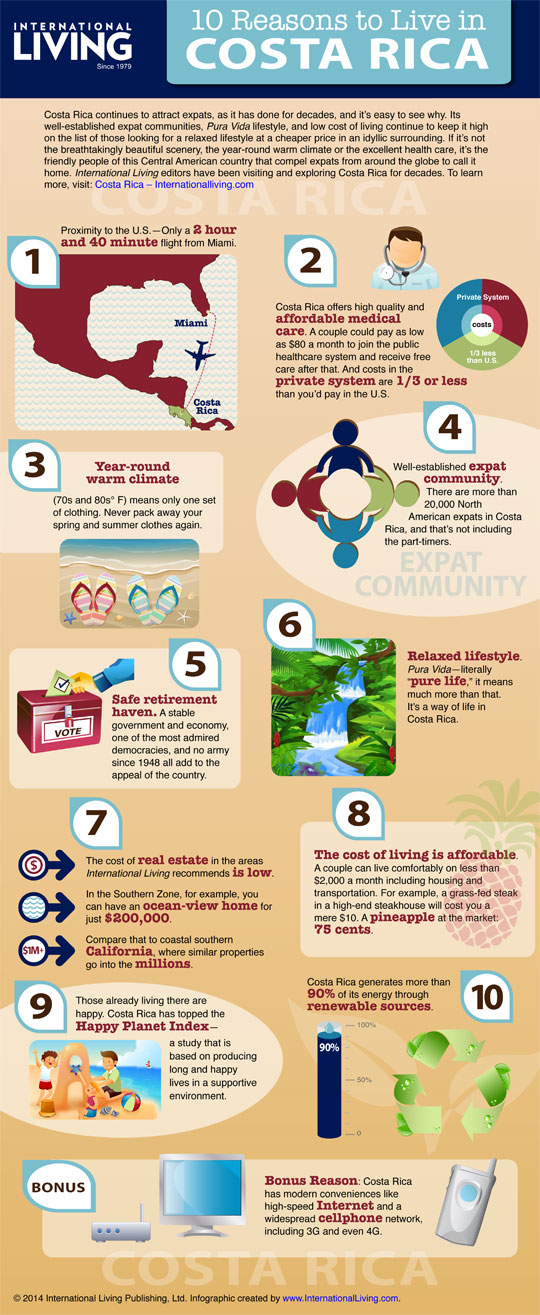 GO BLUE! OWN COSTA RICA:
Be Smart! Measure your Wealth in Paradise Assets!
When & Where

Crowfoot CO-OP Seminar Room
35 Crowfoot Way NW
Calgary, Alberta T3G 2L4
Canada

Organizer
The Wealth Coaches are dedicated to promoting life-long learning and financial self-education to individuals and companies, so that they may know the Hidden Investment Strategies and Secrets of the Ultra-Rich that can serve to create multi-generational Monetary Wealth.
We are a financial consulting firm devoted to empowering clients to take their futures, wealth and legacies back into their own hands where it belongs, by educating them on the ancient strategies & secrets of money known to the super-wealthy.
The Wealth Coaches teach basic money mastery skills that will help you Save, Make, Protect, Manage, and Grow money over a lifetime. We utilize a suite of state-of-the-art financial wealth management tools, known as Core Services, that leverage digital technology to help clients put $400 - $900 a month back in their pockets.
As Wealth Coaches and Financial Educators, we teach people the Hidden Strategies and Investment Secrets of the Ultra-rich. We utilize hard asset investments such as Gold, Silver, Natural Fancy Colored Diamonds, Income-Producing Real Estate, Asset Protection Trusts, Debt Reduction Strategies, Benefit Programs, Life Insurance Products, Segregated Investment Funds, and Residual Income Programs to accomplish each client's financial goals. "Learn from History; Reap the Rewards!"
We consult to businesses and individuals alike, who want to earn more income, accumulate wealth, diversify their portfolios, and protect their assets from financial calamity. At Asset Pro, we utilize a Total Privacy and Impenetrable Asset Protection program known as the Specialized Trust Strategy that has been pioneered and perfected by the super wealthy over the last 600 years.
We coach, teach, mentor, and encourage our clients with the specific knowledge and personal development skills required to succeed. Training of the mind and spirit is a prerequisite for exceptional accomplishment in today's complex world.
We are the Calgary Regional Wealth Coaches and Financial Educators for Solid Financial Solutions Inc., based in Red Deer, Alberta. We facilitate financial education learning through seminars, workplace 'Lunch & Learns,' webinars and newsletters.
Solid Financial Solutions Inc. caters to investors of all kinds, from first-time savers to ultra-high net worth individuals and corporations. Our clientele typically seek to earn solid, monthly incomes from cash-flowing investments that also earn long-term capital appreciation such as gold & silver bullion, real estate, and Natural Fancy Colored Diamonds, without the inherent risks of the stock market, as evidenced since 2008.
We educate people on financial self-management. Our approach is comprehensive, drawing common sense links between real life events and their financial implications. The goal is to engage everyone in a straightforward process that will lead them away from procrastination, fear, confusion, and stress towards knowledge, competence, control, and peace of mind.
We begin our financial programs by utilizing debt-reduction programs, asset privacy and protection strategies, and health insurance and benefits programs to insulate our clients from financial attack or disaster. We objectively coach them in creating and managing their own personalized portfolios utilizing land, single family, multi-family, and commercial real estate-based investments. These portfolios feature diversification by company, location, project type, and length. They are excellent investment vehicles to utilize, not only cash monies, but also registered funds such as RRSPs, Spousal RRSPs, LIRAs, LIFs, RIFs, RESPs, Pension Plans, TFSAs, etc.
Contact our Calgary-area representatives at The Wealth Coaches to learn more.
GO BLUE! Invest in rare BLUE ZONE real estate: COSTA RICA!