Event Information
Refund Policy
Refunds up to 30 days before event
Description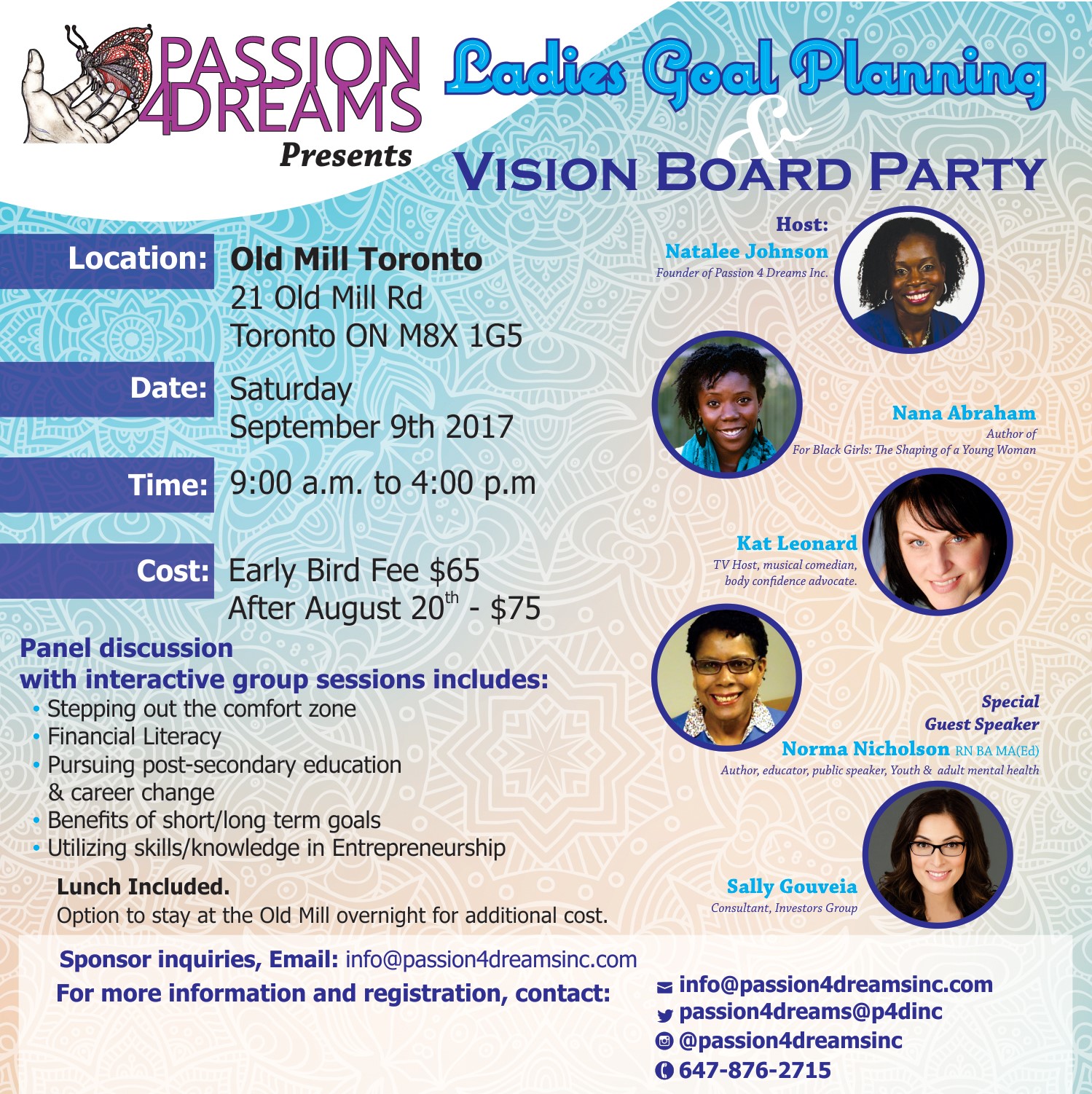 Ladies, you are invited to join us for a dynamic day of learning, growing and networking. We would never build a house without a plan or layout. Then why should we go through life without setting goals? We will discuss what it takes to pursue your passions and dreams. We will plan, set short and long term goals, discuss accountability and achievement. Have you been thinking about entrepreneurship, opening up your business (part-time or full-time), pursuing your passion, going back to school, career change, writing your first book, purchasing your first home? As ladies, we face daily setbacks and challenges, but we are capable overcoming. You will hear from a group of passionate and dedicated ladies, impacting their communities as change agents.
Lunch included. Invite a friend and join us, as we learn, grow and network with other ladies. As lifelong learners, don't pass this opportunity to learn, grow, network and build positive relationships with like-minded ladies. Regardless of our positions, there are always opportunities to grow and learn. You will be empowered, inspired and motivated to begin or continue your journey. "Goals on the road to achievement cannot be achieved without discipline and consistency." Denzel Washington
Ladies interested in staying at Old Mill Toronto overnight, please email info@passion4dreamsinc.com for more details on accommodation cost.
Order Tickets through
Email Transfer payment to info@passion4dreamsinc.com (before or after email transfer send a message with your name and contact information via email)

Passion 4 Dreams website, under the event tab (additional fee charged)

Eventbrite (additional fee charged )
Evening Event Includes:
Supporting Women in Small Business/Entrepreneurship
Time: 4pm to 7pm
General public is invited to support women in business from 4pm to 7pm. Opportunity to purchase from vendors from 4pm to 7pm. Persons must RSVP by ordering a Vendor Shop Ticket through Eventbrite or by emailing info@passion4dreamsinc.com
Our Guest Speakers Include:
Sally Gouveia
Sally Gouveia – Investors Group – Holistic Financial Planner
Sally.gouveia@investorsgroup.com or 416-845-7465
"I want to get the word out"
Thanks for letting me introduce myself, I am Sally Gouveia. People that are just meeting me for the first time ask me how I can help. They are typically individuals who do quite well for themselves but we can all use a helping hand. I look forward to taking the guess work out of your financial situation. Every one of my clients possess a financial plan that guides them through the myriad of decisions that gets us to our goals.
Your plan will guide you to your destination, such as, holding the keys to your first home, looking into the eyes of your precious newborn baby, waking up without an alarm clock in retirement, ensuring the cottage is around for generations of family memories, or looking after your loved ones when you change your address to heaven.
My clients are typically individuals or families looking to maximize their income by having it work for them. Together we creatively come up with strategies that work best for you. The key ingredient; the implementation of a plan made specifically for you. This will enable you to reach your financial goals during each stage of your journey and allow you to focus more on creating memories. Celebrating achievements is too much fun to pass up! It all started at a young age for me. My father, who is a farmer taught me the importance of money and hard work. When I had received 'gift money' at seven, we walked to the bank and opened up my first savings account. I later invested in RRSP's which I used towards a down payment in my mid-twenties on my first home. The last two decades I spent working with finances, banks and credit. This assisted in paying for my York University education but also peaked my interest into this vast landscape of managing money, maximizing this ever changing legislation, interest rates and the list goes on.
I want to get the word out. We all deserve to have our money work for us and celebrate with our loved ones when we reach our goals, so I plan to pay it forward. I look forward to getting to know you and your family. Creating these precious memories that we get to relive in our hearts is truly what this life is all about. Sally.gouveia@investorsgroup.com or 416-845-7465
---
Nana Abraham
Nana Abraham Author of
A thought provoking coming of age mentorship book for women of all ages and cultures. Individual and group study questions included.
Nana Abraham is the author of "For Black Girls" a coming of age mentorship book that discusses identity, family relationships, health, and beauty while encouraging decision making, visioning, and goal setting for the future. Nana shares from her own life experiences growing up as a proud 'Torontonian' with West African roots.
Nana earned her B.A in psychology from York University in 2002 and has spent the last 15 years actively mentoring young women in many capacities. Currently she works as a child and youth worker for The Scott Mission in the heart of Toronto. Her focus has been youth from one of Toronto's priority neighbourhoods. She has served them through after school programs, assisting their success in the classroom and organizing retreats and outings. Nana has designed leadership-in-training curriculums for The Scott Mission Camp and for their inner city programs. In addition she has volunteered and worked within the Toronto District School Board in different capacities during the last 20 years, giving support to students.
She has a passion for literacy and education, she also enjoys blogging and telling stories. She wants to see an entire generation take charge of their future. Her first book, For Black Girls, is only the beginning.
---
Norma Nicholson
Norma Nicholson, RN, BA, MA (Ed), Author, Educator, Public Speaker, Youth & Adult Mental Health
A published author, speaker, educator, youth and adult mental health advocate, Ms. Nicholson is a Registered Nurse, with a BA in Sociology and Psychology from the University of Toronto, and an MA in Adult Education from Central Michigan University, USA.
She has served as President of the Alzheimer Society of Peel, President of the Registered Nurses Association of Peel and as a member of the Board of Directors of the Registered Nurses Association of Ontario. Norma is presently the Vice Chair of the Regional Municipality of Peel Police Services Board and a member of two community advisory boards: Free For All Foundation and Peel Region Homelessness Partnering Strategy (HPS).
Her first book "Young Lives on the Line: You can make a difference", was borne out of her practice as a healthcare manager in the largest secure youth custody facility in Ontario and her community engagement with youth and families. She recently published a second book "Walking Miles in Sensible Shoes" which focuses on her nursing memoirs.
Ms. Nicholson has been recognized on a number of occasions for her mentorship and community engagements. Most recently with the following awards: Rose Fortune Award, Ontario Black History Society; Leading Women Building Community, the Ontario Legislature; Fabulous Woman Community Engagement, Mississauga Community; Life Time Achievement in Nursing, Region of Peel RNAO Chapter and Excellence in Nursing Leadership, Jamaica Canadian Association of Nurses.
Books by Norma Nicholson are available on Amazon at: Books by Norma Nicholson
---
Kat Leaonard
Kat Leaonard, TV Host, musical comedian, body confidence advocate
I'm about singing, dancing, laughing, and finishing a bag of chips in one go. Here's my bio in third-person:
Kat Leonard is a motivational speaker who uses the combined forces of music and comedy, levity and wit, in order to help people build confidence, creativity, healthy body image and self-esteem. She does this through performances, workshops and conversation engagements on TV and online. Whichever way you digest it, your experience with Kat will be feisty and dynamic, heartfelt and hilarious, leaving you with the drunken joy of a sugar rush and the guts to dare to live.
Kat has a degree in Science that hangs limp on a wall and a diploma in TV/Film Production that she puts to practical use. She is also a graduate of The Second City Conservatory and Tracey Erin Smith's Soulo Theatre Workshop.
Kat's touring show and workshop Myselfie is a musical comedic approach to loving your body, promoting healthy body image and self-esteem. It is available for schools, conferences, corporate events, house parties and other general good times.
Kat currently produces and hosts The Curve with Meghan Bradley of Curvy Expo. The Curve is a healthy deviation from the straight and narrow, broadening the scope of mainstream media.
Kat is Artistic Director of Let's Make Good Productions and WonderFest, the TV show and series of workshops and concerts spreading empowerment through art.
Kat is also a freelance voiceover artist, host and panel moderator.
For booking inquiries please contact kat@katleonard.com
Book MYSELFIE for schools and conferences!
Performance and Workshop building healthy body image and self-esteem!
FAQs
What are my transportation/parking options for getting to and from the event?
Attendees are required to cover their own parking cost. Parking is available at Old Mill Toronto for an additional cost. Attendees taking the Subway, can get off at Old Mill station and walk to Old Mill Toronto. Approximately a 5 minute walk.
Is Breakfast inlcuded in the event?
Breakfast is not included, however, lunch is inlcuded in the cost.
How can I contact the organizer with any questions?
Please email info@passion4dreamsinc.com
Do I have to bring my printed ticket to the event?
Please bring your printed ticket or have your ticket visible on your phone, Ipad or other device for registration purposes.
Is my registration fee or ticket transferrable?
Yes, if you are unable to attend after purchasing a ticket and would like to transfer your ticket to someone else, please email info@passion4dreamsinc.com
Is there a cost to stay at Old Mill Toronto overnight?
Yes, there is an additional cost to stay at Old Mill Toronto for Saturday night. Two ladies can share a room and split the cost. If you are planning on staying at Old Mill Toronto Saturday night, please email info@passion4dreamsinc.com so that arrangments can be made.
Event Details
Panel Discussion

Hands-on activities related to finances, education, career, family and goal setting, etc.

Networking

Break-out sessions

Interactive discussions

Opportunity to support women in business (vendors will be present)

Creating a personal vision board
Date and Time
Location
Refund Policy
Refunds up to 30 days before event