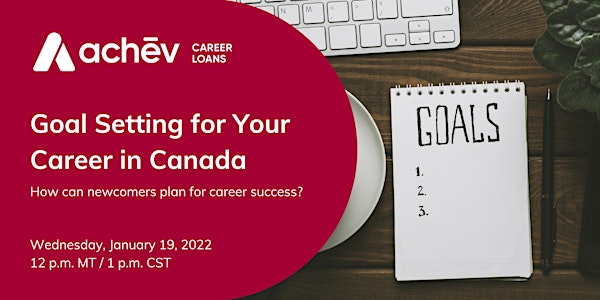 Goal Setting for Your Career in Canada
Make your new year resolution a success and achieve your career goals in 2022!
About this event
Join us for a webinar that will highlight how newcomers can achieve career success through goal setting. Learn about staying motivated and on track. After this webinar, you'll be ready to set smart goals and take control of your destiny!
Topics discussed in this webinar include:
the value of goal setting
the impact of career goals
staying motivated to accomplish goals
how ERIEC and Career Loans can assist newcomers with their career goals
Our Guest Speaker will be Sarah Tangan, Mentorship Facilitator with Edmonton Region Immigrant Employment Council (ERIEC).
"Goal setting is an important part of life, business, job search, and mentoring. No matter how daunting your goals may be, success begins with proper planning and breaking down each goal into smaller, more achievable pieces. SMART goal setting has always been coined to achieve success. Staying motivated is part of the process to remain on track in achieving your goal. Let us explore together in this session how to stay on track and stay devoted to your true north (your purpose and goals)!"
Career Loans is a virtual program for internationally trained professionals living in Alberta and Saskatchewan. The program helps newcomers continue their careers in Canada by providing free online career support services. Eligible clients can also apply for a micro loan of up to $15,000. This loan can be used to help pay for the costs of training and foreign credential recognition. Career Loans is funded by the Government of Canada (ESDC) and coordinated by Achēv.