GoalKeepers Quarterly Business Planning Sprint. Q3: Ready for Fall
Description
Ready2Grow

®
GoalKeepers Quarterly Business Planning Sprint
Double your business...90 days at a time.


Business growth is a marathon. It pays to be ready.
The GoalKeepers Quarterly 1/2-Day Planning Sprint equips you for growth. 90 days at a time.


Special Focus for our Planning Sprint for Q3: Market & Sell 2 Grow

Now is the time to get ready for the fall networking season. So on June 21st we will help you...

Craft your strategic marketing and sales funnel in a way that combines digital and in-person marketing, sales conversations, and client experience.

Consider joining a monthly mastermind group for continuing support.


Small changes make a BIG difference.
Every 90 days, GoalKeepers provides...
A structured thinking process evaluating leadership and management across 10 key areas of business.

A simple yet highly effective planning process that can be applied both quarterly and annually.

A regular quarterly time container where you consider, plan, and activate.

A broad range of thinking tools and templates can be used again and again.

A community of highly talented and like-minded peers.

Options for customized follow-up to support and sustain your growth efforts.


If you find yourself saying things like...
"I plan on the fly…when else am I going to do it??"

"No way can I delegate…no one else here can do what I do."

"Social media loves us…but we're not making sales..."

"How can we stabilize our cash flow?"


GoalKeeper Laurie Blaikie ...



"As small business owners, we often "don't know what we don't know". We think we can do things ourselves…except then we don't do them! The Quarterly Planning Sprint helped me get motivated and clear about what is important to accomplish during Q2. Thank you!
Laurie Blaikie MA, Psychotherapist, Blaikie Psychotherapy https://www.laurieblaikie.com/


Listen, we know how it feels.
Before starting GoalKeepers...
"... I had a fragmented view of what I was trying to accomplish." ~Greg
"... felt overwhelmed..." ~Rosalind
"... discouraged and out of ideas..." ~Terry
"... wasn't confident I was on track..." ~John
"... indecisive since I hadn't ironed out the message I was trying to deliver...." ~Greg


It pays to work smarter instead of harder.
It's time to stop putting out fires and guessing about your next move.
Instead, build your solid foundation for growth.


"...since joining GoalKeepers, I've been experimenting regularly with new ideas and strategies, and some of these have worked out really well. As I've touched base more often with current clients, I've uncovered hidden opportunities and noticed ways I could add further value. Growing your business doesn't happen overnight. But a steady focus on the right small actions makes a huge difference over time. Now my pipeline is full and my profits continue to increase."
Terry Cinel, Founder, ImpressMe Marketing




The Q-Sprint is your opportunity to:
Evaluate results from last quarter re business and leadership.


Reconsider your profit model and growth strategy, to answer the questions: "Are we actually making money?", and "What changes will help us become even more successful?"

Envision next steps.

Decide on your priorities for the next quarter considering many factors.

Map your most important goals, projects, and tasks.

Improve, tweak, delegate, automate.

ROCK your next 90 days!


How does it work?
A Q-Sprint is like a 1/2-day quarterly team meeting for small business owners.

You complete pre-work ahead of time that helps you analyze your business in an organized way.

You come ready to activate the changes you envision and move forward through discussion, problem-solving, troubleshooting, redesign, and skill development.


Growth is not Rocket Science.
Expensive programs and information dumps fill gurus' bank accounts much more easily than your own!

Here's a suggestion. Don't pay someone else to learn. Learn yourself.
Experts have their own context, their own learning and personality styles, intelligence level, and purposes. They're quite often extroverted, charismatic, and great at selling...which may explain how they convinced you to sign up in the first place.
But YOU are not them. How do you know anything they say is going to work for YOU? You don't.
So take a different approach.


Extract the Gold
from your
Own Experience
.
Get grounded by becoming a better observer of how you currently work.
Figure out what needs to shift and build a concrete plan for how you'll shift it.
Build the skills that increase your confidence. Become even more proactive. Take small steps.
Apply strategic paradigms that help you think more clearly about the future.
Learn at your own pace, according to your own style. Experiment, receive feedback from others.
Then apply all your learning in a way that connects the dots among the many moving parts it takes to actually run a successful business.
A way that makes energy and money flow through your business and attract new business.
So your business grows step by step through your own unique "Growth Apprenticeship."


No offense but...don't be fooled by Facebook Groups.
So many programs offer Facebook Groups. Great in theory! But too often you end up struggling along with peers who are at about the same level as you, with nary a guru in sight. Many GoalKeepers have completed a few of these. But as Bre notes...

"I love that GoalKeepers is a local, hands-on program where we sit around an actual table and help each other grow. "It takes a village…" really applies in the small business community…we all need this kind of support.
"Now I know what my top 5 goals are for the next 90 days, and have a clear idea of what I need to work on to accomplish them. I also have a concrete way to track my progress monthly and weekly – LOVE the sheets!"
Bre Hamilton, Content Strategist, https://rosegoldcontent.com/


Who should attend?
ANY business owner can benefit from our approach, since our goal is to strengthen leadership, and build best practices that ensure your vision gets implemented and your promise to customers is fulfilled.
The GoalKeepers Business Growth Program has been especially designed to support:
Small business owners with 1-30 employees in any industry or sector.

Professional practice owners with or without associates.

Creative, knowledge-based and New Economy professionals and solopreneurs.

Emerging businesses who want to improve systems, processes, culture, and talent retention.

Established businesses needing a progress check and new ideas.

Exiting businesses who could really use a thinking framework that will help them increase business value and options.

Professionals in career transition who want to clarify their options or start a new business.


Why wait? Now's good.



Lois here, founder of Ready2Grow and GoalKeepers. I would like to share a growth principle I observed long before "The Secret" became a bestseller.
The principle is this: when you make any good decision, other good changes start happening in life and business.
I'm not making this up. I have a strong and credible reputation and would like to keep it that way!
It's just that 30 years' experience helping so many different types of people and businesses grow has shown me that...
When a person or business firmly commits to moving in a good direction and takes even one step, then G.O.D. / "Good Orderly Direction" / "The Universe" seems to step up and help them in all kinds of ways. Like the Wind beneath their wings.
If you see yourself anywhere in the description above, please go ahead and...




We know you are going to benefit, and we would love to have you join our unique learning community!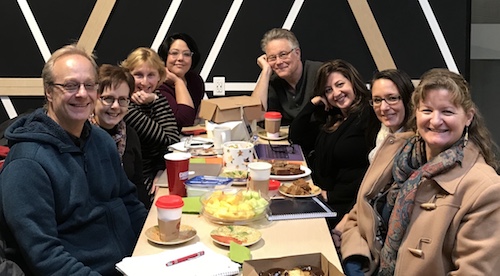 Don't take our word for it.
The final word rightly belongs to our GoalKeepers themselves…

"Before starting GoalKeepers, I had a fragmented view of what I was trying to accomplish. My pitch was indecisive since I hadn't ironed the message I was trying to deliver. The GoalKeepers program has helped me clarify my approach and know exactly what I am trying to achieve.
The group itself really assisted me with my planning. Since we were struggling with similar issues, we were able to share different approaches and strategies with each other.
I certainly found a wealth of information in this group. I appreciated how the group was structured to provide guidance but gave me the freedom to be creative and tailor the ideas to my own business.
If you are stuck or don't have a clear picture of where you're headed and feel you are spinning your wheels...use this program to map out your Vision and Goals. It is certainly worth your time! Lois and the group are a huge asset, offering valuable insights into many areas that may not be a strength for you."
Greg Wood CPA, CA, CBI, CM&AA Founder and Business Broker, Phoenix Exchange Corporation https://phoenixexchange.ca/

"GoalKeepers has helped me get clear about my Q2 focus, and I now have new and useful thinking tools that are going to help me accomplish my goals."
John Vandeweerd, Founder and Principal Consultant, Benefits Interface https://www.benefits.org/

"GoalKeepers has helped me get out of my creative head and focus on a solid business strategy and getting things done. It's a high-value, low-cost program and it has helped me both master new skills and develop my inner growth mindset."
Rosalind Keith, Founder, Triskelion Growth Coaching https://www.linkedin.com/in/rosalind-keith-b8bb4327
"Through GoalKeepers and individual coaching, my business revenue has grown 20% year over year for the last 3 years. Lois has given me so many tools and resources and taught me how to use them and develop them further in my business. She has asked me the tough questions, challenging me to get to the root of why I think something can't be done. She has taught me the importance of consistency and accountability and how this benefits both my business and my clients. All along, I've learned to work from my strengths and celebrate the progress and growth that I have attained as an individual and as a business owner."
Brian Hamilton, Accountant and Business Consultant, BH Business Consulting https://www.linkedin.com/in/brian-hamilton-b0784a133/

"The GoalKeepers' monthly and quarterly planning structure provides follow-up and accountability and ensures I won't go home and forget about what I've committed to do! The thinking tools helped me confirm my most important priorities for the Quarter. If you feel like you're spinning your wheels, GoalKeepers might be just what you need to gain traction and get a grip on growth."
Victoria Turner Shoemaker MBA, Founder, Building BetterBusinesses https://www.linkedin.com/in/victoriaturnershoemaker/

"I really appreciate GoalKeepers' individualized focus and collaborative approach. The other business owners in our group know the territory and offer a lot of helpful feedback and advice. The Quarterly Planning Sprints help me focus my Vision 90 days at a time, and the monthly Masterminds help me set do-able goals and stay accountable between Sprints!"
Kristin Spark ND, Naturopathic Doctor and Wellness Expert https://kristinspark.com/


Early Bird ends June 7.
Registration closes June 14...
...to provide time for PRE-WORK...
Don't wait.
These events tend to SELL OUT.