Sales Have Ended
Ticket sales have ended
Ticket sales have now ended. Thank you to everyone for their support!
Sales Have Ended
Ticket sales have ended
Ticket sales have now ended. Thank you to everyone for their support!
Join the Goats of Yamnuska, resident mini-donkey Cooper and their livestock guardian dogs, Yeti and Sybie, for summer Goat Yoga fun!
About this event
Back by popular demand!
For the month of August, we will be continuing the Goat Yoga fun!
Join us every Saturday and Sunday from 1 - 2pm as we move, stretch and flow with the Goats of Yamnuska! Also joining us for this class will be Yeti and Sybie who are the dynamic duo that keeps watch day and night over the Goats of Yamnuska and Cooper, the Sanctuary's resident mini-donkey!
With the proceeds raised going to the wolfdogs, there has never been a better time to try something new! There is no prior yoga experience required for this gentle yoga class, only love for goats, sheep, dogs, and donkeys!
Goat Yoga Details:
Dates: Every Saturday & Sunday for the rest of August
Times: 1-2pm each day
Location: On-site at Yamnuska Wolfdog Sanctuary
Style: Gentle Yoga
Cost: $25+tax
Ages: Open to ages 12+
Equipment: Please bring your own yoga mat, water bottle, hat, sunscreen, etc. and expect to get a little dirty!

Come for the goats 🐐 stay for the wolfdogs 🐺!
We are so excited to announce the launch of our all-inclusive Goat Yoga & Sanctuary Walk pass! Starting August 1st, the Goat Yoga & Sanctuary Walk pass will grant you access to both Goat Yoga and our signature Sanctuary Walk. This pass is only available and valid for this August!
With Goat Yoga classes running from 1 - 2pm every Saturday and Sunday on the Sanctuary grounds, it has never been easier to see and do it all at the Sanctuary. After your Goat Yoga class, pop on over to the Sanctuary grounds to participate in your very own Sanctuary Walk where you get to meet the very sweet and lovely Mawko at 3pm!
At a rate of $40/person, this ticket provides you with a 17% discount compared to purchasing Goat Yoga and the Sanctuary Walk separately! Here are all the details:
🐾 Dates: Every Saturday & Sunday for the rest of August ONLY
🐾 Times: 1 - 2pm
🐾 Location: On-site at Yamnuska Wolfdog Sanctuary
🐾 Price: $40/person (plus tax/booking fees)
🐾 Includes: Admission for 1 to our signature Goat Yoga class, Sanctuary Walk and Summer Enrichment Activities
🐾 Age Restrictions: Ages 12 and over
Meet Your Instructors!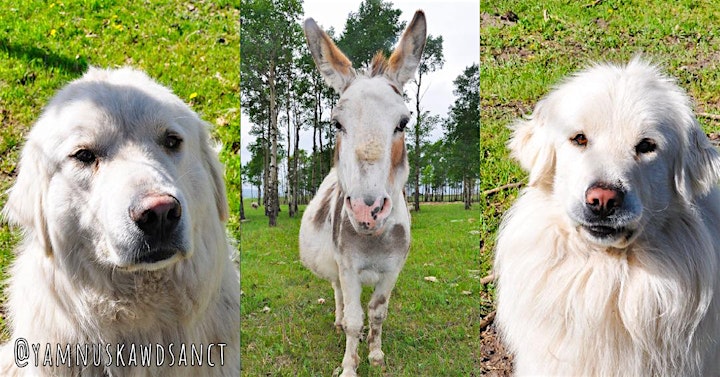 Introducing Yeti: Hi! I am Yeti! I love people and I love, love, LOVE attention! I think it is a lot more fun to do my own thing than what I am supposed to be doing. You can usually find me taking the final savasana first and the harder poses later (like super later). I will challenge your balance and focus during your Goat Yoga class as I need a lot (a lot) of attention and love!
Introducing Sybie: Sybie here! I think it is important to keep focused on the task at hand! Unless there are treats, or humans, or any sort of distractions like treats, or humans. I love working hard but I love affection and attention even more! You can be sure that I will be right there with you doing all the yoga poses we are supposed to be doing. But don't hesitate to take a few (or a lot) of breaks so that we can cuddle!
Introducing Cooper: Hi, I am Cooper! I don't let the fact that I am a mini-donkey stop me from doing all the things donkeys do! For instance, I am a superstar when it comes to sunbathing and a top-notch food critic when it comes to eating apples. I also find it really fun to bray super loudly and get all those silly wolfdogs howling! I will make sure your downward dog is actually a downward dog and not something strange that Yeti and Sybie are doing . . .
Yeti, Sybie, and Cooper will also be assisted by Blaire and Jessica who are both certified yoga instructors.
Meet Your Goat Yoga Assistants!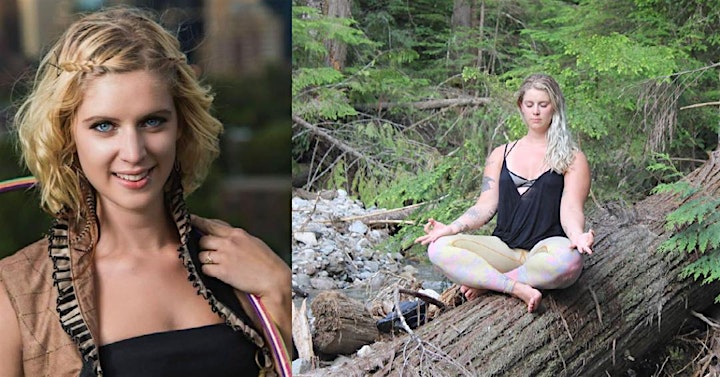 Meet Blaire:
Blaire has always been drawn to yoga practice from a young age with her Mom and Aunt on the beautiful beaches of Shuswap Lake. Being surrounded by many different spiritual teachers in her upbringing, her path has been that of a student, enjoying every lesson that has come her way. She loves anatomy and the science of the body. This led her into Kinesiology. Her love of yoga and dance led her into the flow arts community. When she found hula hooping the joy and connection to the prop took over into a journey of movement expression. For many years Blaire could be found sharing her love of hula hooping with children and adults, teaching many workshops and classes across Western Canada. Blaire believes movement is medicine and loves sharing this with all who are open to learning. Blaire completed her 200 Yoga Teacher Training at Yoga Passage in March 2019, learning from four very knowledgeable teachers. Blaire was able to soak in their lessons and blend them with her years of teaching movement meditation and hoop dance. Her classes bring the fusion of her two passions alongside joy and light-hearted playfulness. You can feel the pure happiness she feels when teaching others. That infectious positive nature she shares, hoping to inspire all to move their bodies for mental health and balance within their lives.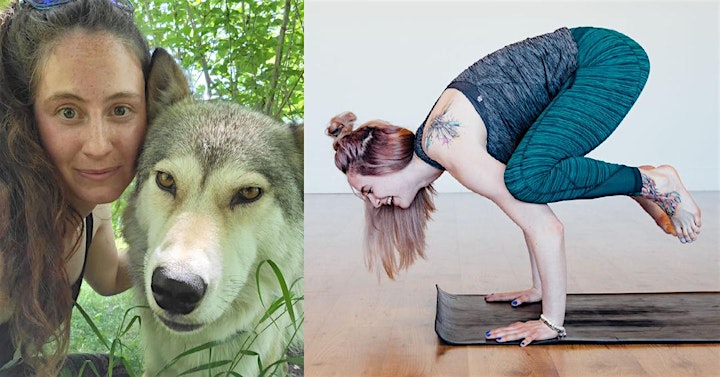 Meet Jess:
Jess is both a certified Yoga and Meditation instructor. Stemming from a sport and fitness background, she has always been drawn to the challenges and benefits of the yoga practice. Now Jess combines her passion for animals and the outdoors with her love for yoga and mediation. She is grateful for an opportunity to join you, the Goats of Yamnuska as well as Yeti, Sybie, and Cooper for this unique opportunity!