About this Event
Experience a day on the farm during one of our Goat Yoga classes.
As an operating micro-dairy, and home of Alberta' First Goat Yoga (4 years and counting) we offer a much different Goat Yoga experience. Our goats are hand milked and treated with the ultimate respect and care because of the important jobs they have on our farm. We believe that great tasting cheese requires the best goat's milk.... and the happiest goats make the best milk! Each of our goats has a name and is extremely personable and with their own unique character.
Our Goat Yoga classes are an opportunity for us to socialize our goats with other people in a calm, controlled, and peaceful manner. We encourage slow movements, quiet voices, and calm energy; although the occasional wandering goat nose or flying leap from a goat kid can result in an uproar of laughter!!!
Each class begins with an introduction to the goats and how to safely interact with them throughout the Goat Yoga class experience. After stepping through a disinfectant boot wash prior entering the goat pen (to protect our dairy herd, and your pets at home) you will take part in a 90 minute Goat Yoga class. The actual "yoga" portion of the class is sometimes quite short as the class becomes consumed with laughter, goat snuggles, and goat selfies! Our certified yoga instructors do a great job of keeping the yoga flow going while accommodating those who are most interested in acknowledging the goat who has graced them with their presence with a chin scratch or a shoulder rub.
After our 90 minute class session has concluded, we will serve a small sampling of snacks (often consisting of apple slices and our Goat's Milk Caramel Sauce) and offer anyone interested with an opportunity to purchase some of our handmade products including Goat's Milk Soaps, Lotions, and Moisturizers, Goat's Milk Caramel Sauce, Fresh Made Goat Cheeses, or the occasional specialty product like Goat Cheese Fudge (kind of like a Goat Cheese Cake!)
The entire goat yoga experience at Early Dawn Farm takes approximately 2 hours and includes personalized attention and instruction from Dawn our head cheese-maker and dairy owner, one of our certified yoga instructors, and our socially forward goats. We are occasionally blessed with a visit from "Soup" the barn cat, "Zuli" the adventure Dog, or one of our other farm animals roaming around that may be so inclined to stop by for a visit.
We run the classes rain or shine. If the weather is not overly enjoyable we will hold the classes inside the barn. When we are fortunate enough to have a beautiful sunny day, we host the classes outdoors in an area we call the "Goat Living Room" which is where the goats can be found sunning themselves in the early afternoons.
Join us for an awesome day on the farm with one of our seasonal Goat Yoga classes!
We also offer Private Goat Yoga classes for Corporate Team Building, Birthday Parties, or as a great excuse to spend time with family and friends in a beautiful rural setting in the Foothills of the Rocky Mountains of Water Valley, AB. Contact us at info@earlydawn.farm to request more information or to book your private class!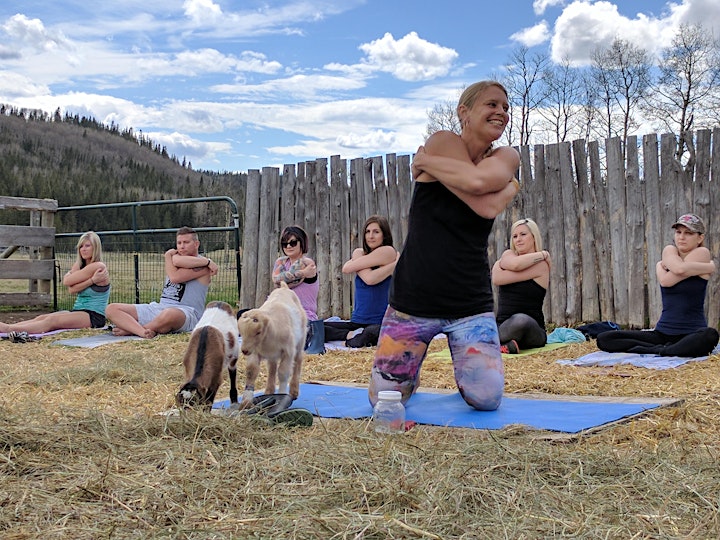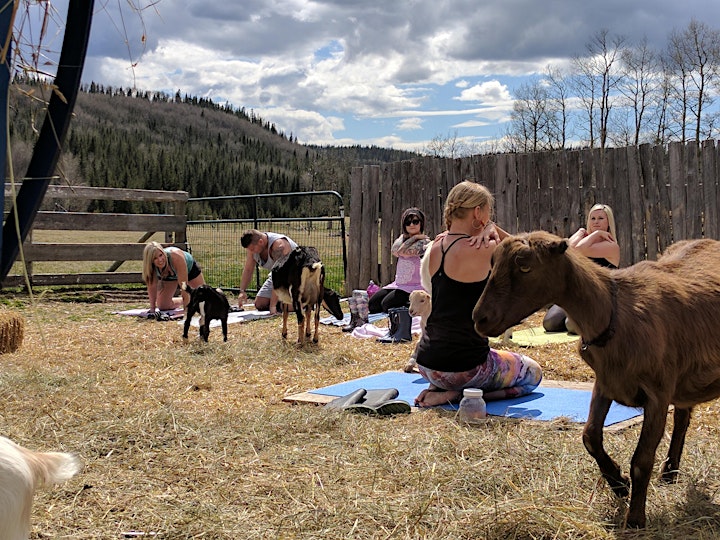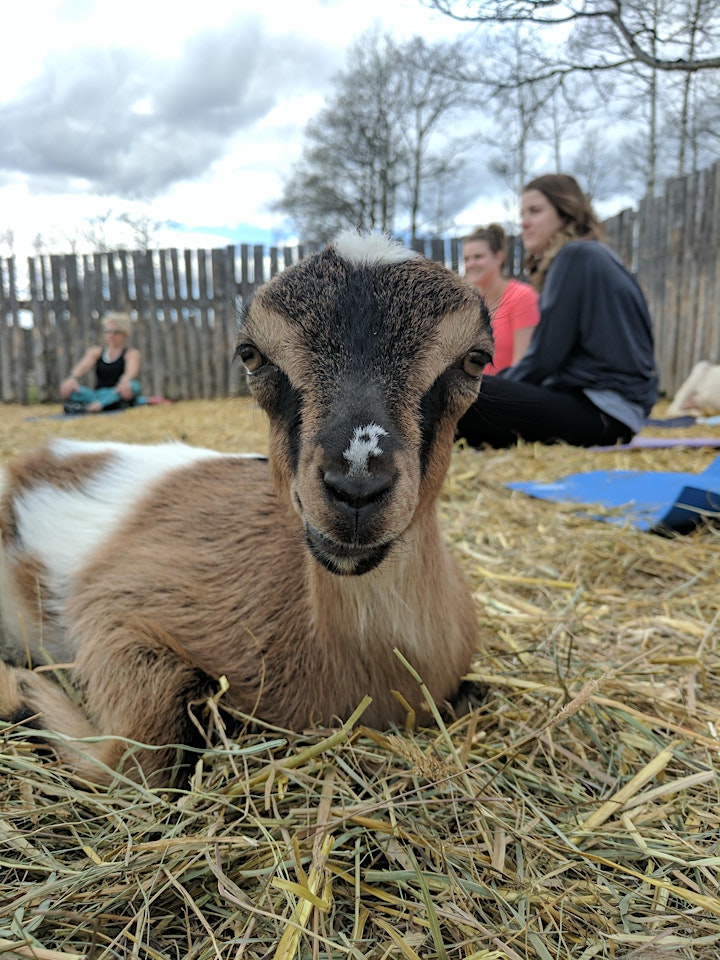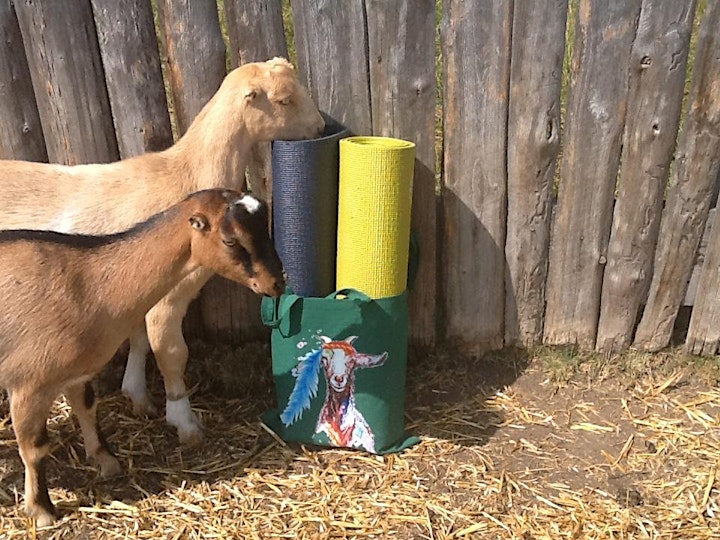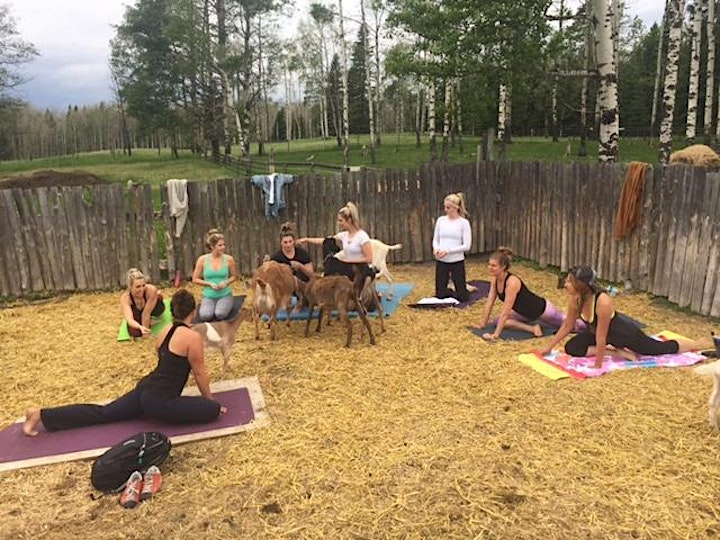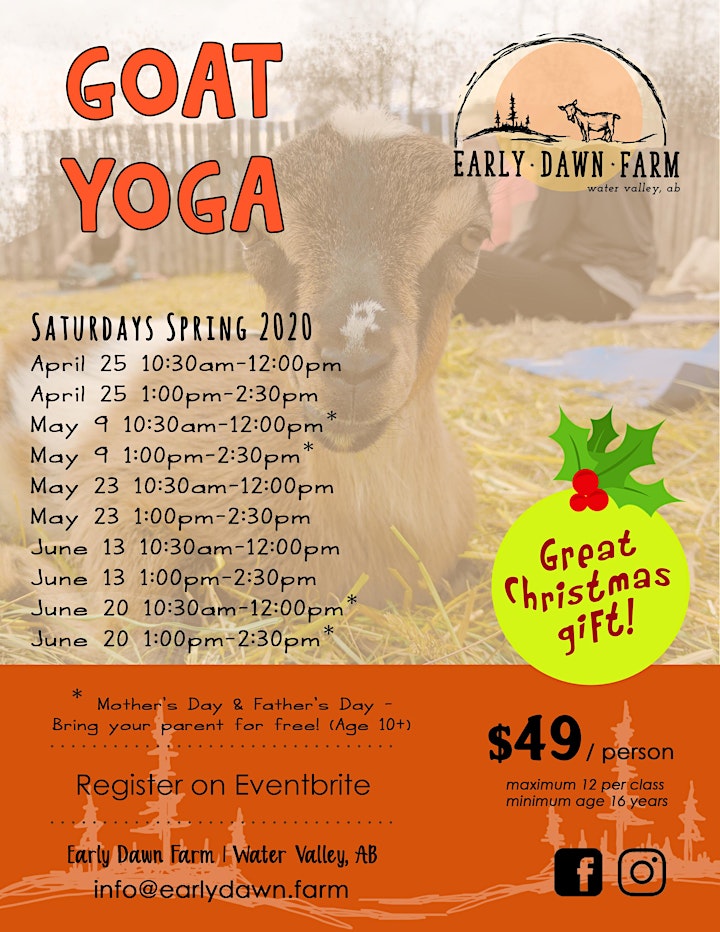 Other Opportunities at Early Dawn Farm!