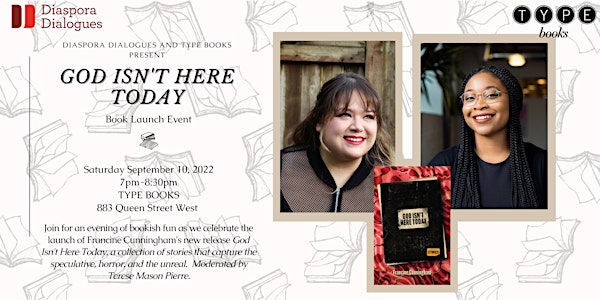 God Isn't Here Today Book Launch
Join us as we celebrate the launch of Francine Cunningham's debut collection, God Isn't Here Today. Moderated by Terese Mason Pierre.
When and where
Location
Type Books 883 Queen Street West Toronto, ON M6J 1G5 Canada
Refund Policy
Contact the organizer to request a refund.
About this event
Join for an evening of bookish fun as we celebrate the launch of Francine Cunningham's debut collection, God Isn't Here Today, stories that capture the speculative, horror, and the unreal. Francine will be in conversation with moderator, Terese Mason Pierre.
About the Book
Driven by desperation into moments of transformation, Cunningham's characters are presented with moments of choice-some for the better and some for the worse. A young man goes to God's office downtown for advice; a woman discovers she is the last human on Earth; an ice cream vendor is driven insane by his truck's song; an ageing stripper uses undergarments to enact her escape plan; an incubus tires of his professional grind; and a young woman inherits a power that has survived genocide, but comes with a burden of its own.
Even as they flirt with the fantastic, Cunningham's stories unfold with the innate elegance of a spring fern, reminding us of the inherent dualities in human nature-and that redemption can arise where we least expect it.
About the Author
Francine Cunningham is an award-winning Indigenous writer, artist and educator. God Isn't Here Today (Invisible Publishing) is her debut collection of short fiction. Her debut book of poems On/Me (Caitlin Press) was nominated for the BC and Yukon Book Prize, the Indigenous Voices Awards, and the Vancouver Book Award. She is a winner of the Indigenous Voices Award in the 2019 Unpublished Prose Category and of The Hnatyshyn Foundation's REVEAL Indigenous Art Award. Her fiction has appeared in The Best Canadian Short Stories 2021, in Grain Magazine as the 2018 Short Prose Award winner, on The Malahat Review's Far Horizons Prose shortlist, and in Joyland Magazine, The Puritan and elsewhere. Francine is a graduate of the Creative Writing MFA program at the University of British Columbia, and currently resides in Alberta. Learn more at www.francinecunningham.ca.
About the Moderator
Terese Mason Pierre is a writer and editor whose work has appeared in Canthius, The Puritan, Quill and Quire, and Strange Horizons, among others. She is currently the Senior Poetry Editor of Augur Magazine, a Canadian speculative literature journal, and the author of chapbooks Surface Area (Anstruther Press, 2019) and Manifest (Gap Riot Press, 2020). Terese lives and works in Toronto.
Presented By
Diaspora Dialogues (DD) supports emerging writers to turn their craft into a career through mentorship, professional development and opportunities to publish and present their work. Our mentoring programs are the most successful in the country for alumni getting published. More than 750 writers/artists have participated as mentors or mentees, emerging playwrights or dramaturges, commissioned artists or panelists, readers or performers. 450+ new literary works have been created through DD programs, 300 events produced and a live audience well in excess of 150,000 Canadians has attended those events. DD also publishes TOK Magazine, an online platform for fiercely honest, freshly original writing and convenes TOK Symposiums, multi-day events for readers and writers which combine author talks and professional development seminars.
During these strange and challenging times, Diaspora Dialogues continues to support those who create stories we turn to for comfort, solace, and strength — our authors. To do that we need your help.
This event is registered by donation, please consider supporting us at this time. Thank you.