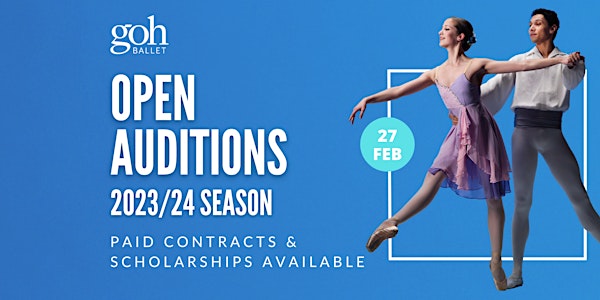 Goh Ballet Youth Company and Scholarship Audition
Audition for the opportunity to reach your goals training as part of the Goh Ballet Youth Company or Senior Professional School.
When and where
Location
Goh Ballet 2345 Main Street Vancouver, BC V5T 3C9 Canada
About this event
3 hours 30 minutes

Mobile eTicket
Goh Ballet Youth Company Open Company Audition
4:30PM-6:00PM Pacific Standard Time (Vancouver)
Goh Ballet Youth Company Canada is looking for exceptional dancers to propel their technical skill, evolve in their creative capabilities and achieve their highest potential. As one of Canada's leading professional youth ballet organizations, the Goh Ballet Youth Company Canada (GBYC) was formed as a bridge for students who desire continued intensive training and professional performance opportunities. For those 16 and up, GBYC offers the chance to refine technical and artistic skills while providing the support and guidance needed to pursue a rewarding dance career. Full-time paid soloist contracts and scholarships for the 2023/24 season are available!
Eligibility:
Dancers ages 16 to 22, with at least five-years advanced dance training, and soloist performance experience welcome. By registering to attend this audition students confirm that they are able to demonstrate the minimum required vocabulary, as listed here.
Register to audition for a GBYC soloist contract, or to join the company as a Member or Apprentice. All participants will be assessed for the opportunity to receive a scholarship. Participants can take part in studio or virtually via Zoom. Alternatively, you can submit a video audition.
For more information: www.gohballet.com/gbyc/ or email: reception@gohballet.com
Senior Professional School Scholarship Audition - 6:30PM-8:00PM Pacific Standard Time (Vancouver)
Chan Hon Goh and Goh Ballet Academy Canada believes in assisting families who are in need of financial aid as well as rewarding students with artistic merit and achievements. Up to $100,000 in scholarship funds are awarded each year to support students on their career trajectories. Audition on February 27th for your opportunity to receive a scholarship for our Senior Professional School program in the 2023/24 school year.
Discover limitless progress & foster dance distinction in Goh Ballet's combined academic half-day program, designed to produce graduates who are capable of integrating effortlessly into dance companies all over the world. Exceptional training and dedicated attention to each student provides a strong technical foundation in classical ballet and encourages uninhibited artistic expression in all disciplines of dance.
Eligibility:
Students aged 13+ who are working towards RAD Intermediate or equivalent with a minimum of four-years of ballet training welcome.
Participants can take part in the audition in person or virtually via Zoom.
For more information visit: GohBallet.com/senior-professional-school or email: reception@gohballet.com