Description
Session Aims:
Hearing the experience of a Portsmouth University Graduate whose career in marketing spans over 16 years, 12 of which have been self-employed.
This session is ideal for students who:
Robin will be giving insight into how he has conducted his unusual career path in marketing, explaining how he has used the knowledge acquired at the University of Portsmouth and inviting questions to help students understand the world of marketing after their studies.'
Biography of presenter: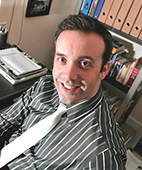 Robin Lander Brinkley studied his Masters Degree in Marketing at the University of Portsmouth part-time whilst starting his career at a local agency. He graduated in 2004, started his own business, 'Maxwell Communications', the following year and has since worked for a variety of clients ranging from professional services to fashion and beauty and visited countries all over the world. In 2011, he was named the UK's 'Best Freelance Practitioner' by the Chartered Institute of Public Relations and in 2014 was awarded in the 'Business Personality and Achievement of the Year' category of Portsmouth's Business Excellence Awards.