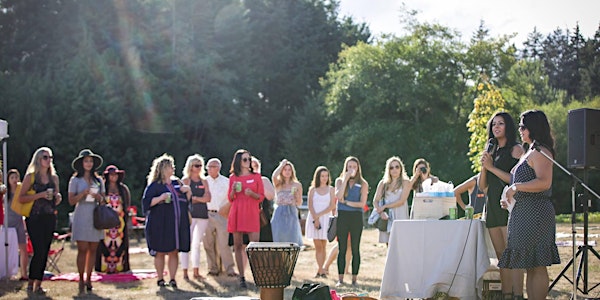 Good in the Hood Summer Jam 2018
When and where
Location
UBC Farm 3461 Ross Drive Vancouver, BC V6T 1W5 Canada
Description
Come and join our Summertime Celebration - Good in the Hood Summer Jam at UBC Farm.
On Wednesday August 22, Vancouver's entrepreneurs will come together for an upscale soiree featuring a non-alcoholic cocktail reception, plant based dinner, readings and healing sessions and mini workshops, featured entrepreneurs, guest speakers, and dancing. YES -all in one day!
The hi-light of the event will be an outdoor yoga class accompanied by live music with Allegra Chamber Orchestra and some of the top yoga teachers in the city!
Since many in our community have children, we are making this event family friendly and would also like to invite all the kids of the charities and non-profits we have sponsored in the last 2 years.
This is THE party for us as a community. You know what heart-based events are all about: We show up, as ourselves, struggles and celebrations, ready to share, present and open minded, ready to listen and connect - heart to heart and soul to soul. Kindness and compassion are key to our interactions. Truth telling is our only story.
We are setting the stage for a magical evening and your presence, co-creation and laughter, wonderment and curiosity are all welcome!
+ THE EXPERIENCE +
+ WELCOME RECEPTION + 5:30- 5:55
We are happy to welcome you to the festivities! Grab a healthy refreshment and say hello to old friends and make new ones. Pick up a paintbrush and add some colour to our collective artwork created by Paintillio!
+ OUTDOOR YOGA + 6:00 - 7:00
Grab your yoga mat at Supported Soul vendor table or bring your own. Get ready for an amazing outdoor yoga experience with Allegra Chamber orchestra, led by Janna Sailor and be guided by incredible lineup of local yoga teachers: Tiara Sorenson, Rose Rizutto, and Rhiannon Whitney. Special savasana musical performance by Juno Parlange
+ PICNIC BLANKETS and TABLES DINNER +
7:00-8:30pm
Savouries and sweets to your heart's content. An abundant gourmet dinner will be prepared by Chickpea Food Truck and laid out buffet style for our enjoyment. There will be picnic table and blanket seating for easy interaction among guests. Beverages provided by Squamish Water Kefir Co., The True Nosh Company Ltd., Himalayan Hydration Drink Co, King Island acoconut water, Snacks and appies by The True Nosh Company Ltd., WineCrush, Koji Fino Foods, Wholley Veggie, King Island Coconut chips, LevelV vegan bakery, Coconut Bliss, and Granola Girl.
+ READERS & HEALING SESSIONS +
7- 8:30pm
Select and book a session (individual or small group) with our high vibe healers. Check out their bios and feel the tug of your heart strings to sign up with who you are meant to visit. We are honored to have:
Kathleen Whalen - Conscious Calendars Vedic Astrology Sheila Scott - BEMER Mat
Richelle Payer - Angel healing and meditation
Cobina - Tarot readings
Melanie O'Leary - Energy work and Shaman
James Eisner - 5D Cosmic Heart
** Guests can sign up and visit a practitioner with suggested $10-20 cash donation for a 20 min session.
+ FUNDRAISER +
Proceeds raised from this event will be donated to Allegra Chamber Orchestra. Meet Janna Sailor, conductor of Allegra Chamber Orchestra who will introduce us to her organization of 40 all female talented musicians.
+ KUNDALINI YOGA & DANCE PARTY + 8:45-9:15
Find your mats along with the music of Elise's Surya and get ready for so much fun with Kundalini teachers Will Blunderfield and Mahan Khalsa.
DJ' Baljit Rayat will continue to take us on a musical journey from behind the decks as we dance into the moonlight.
+ END OF EVENT + 10:00pm
++++++++++++++++++++++++++++++++++
+ OUR PASSION FOR COMMUNITY +
The Granola Girl Foundation provides scholarships for local organizations with a focus on Entrepreneurship and Girl Empowerment. For this event, we have selected fundraising partners Beautynight Society Youth Program and Allegra Chamber Orchestra who will share more about their program and how they create a positive impact in our community.
+ MINI MARKETPLACE CO-CREATION +
mix and mingle with our featured local businesses and hear their stories, enjoy samples, and win Door prizes!
+ HEALERS AND READINGS CO-CREATION +
book your 20 min session in advance
+ EVENT STAGING DECOR CO-CREATION +
Photographers: Peter Toth, Bien Matute | Rennie & Associates Realty
Videographer : HundredFold Productions
Event AV : Tom Lee Music
Green Powered by Portable Electric
+ TICKET PRICES +
go up every month so don't delay!
May 1-31: $33
Jun 1-30: $55
July 23-Aug 7: $77
Aug 8-21:$88
Family rate (2 adults + 2 kids over 11): $122
Pets and kids under 10: free
Vendor tickets: $66
++++++++++++++++++++++++++++++++
* This is a family friendly, non-alcoholic event.
** Consider carsharing, bike, or transit. Offsite parking lot is about 2 blocks away
*** Attire: comfy yoga gear. Flat shoes
**** Don't forget your yoga mat, water bottle, camping chairs or picnic blanket. Some picnic benches are available