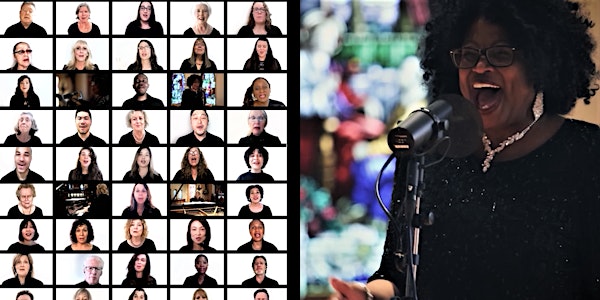 Good Noise Classic: Hope, Freedom, Joy!
A dynamic online video concert that brings together Good Noise, guest artist Crystal Hicks and the Good Noise Gospel Band.
Refund Policy
Contact the organizer to request a refund.
About this event
Sign-In information to view the video concert will be included in your Eventbrite ticket purchase confirmation.
NOTE: Important information if purchasing multiple tickets:
1. If purchasing a ticket for yourself or your family, include your name and email address (Ticket 1)in order to receive concert link and password information on your ticket purchase confirmation sent by Eventbrite. (Scroll down on the confirmation to see the information)
2. If purchasing additional tickets as a gift for an individual or family, include that individual or family's name and email address (Ticket 2, Ticket 3, etc.) so they receive the concert link and password information via ticket confirmation set by Eventbrite. (Scroll down on the confirmatoin to see the information)
Good Noise Classic: Hope, Freedom, Joy!
Good Noise announces the upcoming Spring video concert, "Good Noise Classic: Hope, Freedom, Joy!" The Good Noise virtual choir is once again joined by the Good Noise Gospel Band and this season's artist in residence, Crystal Hicks, presenting a concert that is sure to not only ignite a spark of joy and gladness, but also provide hope and encouragement as we continue to experience the challenges faced during this Covid-19 pandemic.
Throughout the history of gospel music, centuries-old gospel songs and Spirituals have been the foundation of the musical expression of those oppressed by slavery, discrimination, and intolerance. It is the music that has been both a channel through which a cry for freedom and justice has resounded, and a powerful vehicle to vocalize sorrow and despair. Yet it is also this music that has revealed glimmers of hope in the midst of sorrow, and radiated joy in the realization of freedom.
Join Good Noise on this powerful musical journey that connects the spiritual messages of hope, encouragement and joy to our day-to-day experiences, whether they be fighting our way through the challenges we have had to take on during this pandemic, or in being a part of the continuing journey to find justice and bring about equality for all.
Gail Suderman, Artistic & Executive Director of Good Noise, has once again brought together the team that created the tremendously popular Christmas video concert. The online audience response was remarkable, reflecting the brilliant work of the production team and the inspiring vision of what an online video concert could be.
Once again, you are invited to bring the singing and music of Good Noise into your own home to watch a uniquely designed video concert that brings together the musicians and soloists along with the music and voices of Good Noise through creative technology. When you purchase your tickets for "Good Noise Classic: Hope, Freedom, Joy!", know that you will be not only helping to keep the choir alive during this very challenging time, but providing an opportunity for us to continue to creatively share our voices and music with you, our beloved audiences.
What our online audiences said about our previous video concert:
"We just watched Good Tidings video. Oh, well done Gail! Brillliant! Musical and personal and authentically Good Noise."
"From a fellow musician, I have to say that everything about the concert was AMAZING - sound, camera work, soloists, choir, band - everything. So professional, uplifting, inspiring, and soothing to the soul. Thank you for all the work you and your team did to make it happen. Left us wanting more."
"Dear Gail and all the INCREDIBLE members of Good Noise, I just wanted to write and extend my hugest congratulations for your recent virtual concert. It was OUTSTANDING. The sound! The editing! The camera work! The singing! The soloists! The piano playing! All across the board. Top notch!